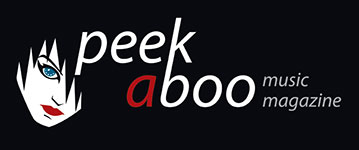 like this concert review

---
KRYONIX, SYNTHATTACK, BLEIB MODERN, WHISPERING SONS, THE VISION BLEAK
Zondag 4 juni
Concert
26/06/2017, Jurgen BRAECKEVELT
---
Jurgen BRAECKEVELT
26/06/2017
---
De programmatie van de optredens lijkt jaarlijks toch wat op te schuiven. Op de meeste podia klinkt het startschot pas rond 17 uur. Er is vanzelfsprekend vanalles te beleven in de stad, maar als liefhebber van de optredens zoek ik die toch op. De Non Tox bracht al vanaf 12u50 uur snoeiharde beats. Dus tramsgewijs richting rand van de miljoenenstad, waar Kryonix als eerste het podium mocht bestijgen. Ontzettend jonge muzikanten, met heel dansbare aggrotech en cyberelectro. Het publiek lustte er wel pap van, maar de set was heel eigenaardig. Als er zang was, klonk het stevig hard en donker. Bij andere nummers zag en hoorde ik dance-tunes die op tomorrowland perfect hun plaats kunnen hebben. Hoe bezielend en doorleefd de twee heren hun ding ook deden, er zaten lang uitgesponnen nummers in de set die mij het gevoel gaven van 'handjes in de lucht en feesten'. Muzikaal gezien stak het uitermate knap in elkaar, zij het iets te dancingachtig van klank. Maar ook hier weer: over kleur en smaak valt niet te discussiëren!
SynthAttack is een in 2015 ontsaan dark electro project uit Hanover. Hun sound is een melting pot van genres: dark electro, industrial, aggrotech, harsh en EBM. En als sausje op een gerecht krijgen we stevige, harde beats met huilende synths en sterk overstuurde stemmen. De banners op het podium vatten perfect samen wat we op het podium kregen: power up your nightlife. Een krachtig optreden, zo vroeg in de namiddag danste de cybermeute de stukken van hun lijf.
Tijd voor een tramritje richting Volkspalast voor Bleib Modern. De heimat van de band is Berlijn, waar het in den beginne, anno 2014, het solo-project was van Philipp Läufer. Intussen is het een vijfkoppge ensemble: drie gitaristen, een bassist en drums. De sound is even divers als de lieden: er wordt geschakeld tussen coldwave, postpunk, tot zelfs stevige rock en flarden noise en shoegaze. Ze speelden drie weken voor WGT in Gent waar ik ze had gemist, dus heb ik wel met wat gezonde goesting voor het podium postgevat in de Kantine van De Volkspalast. Hoe zwart kan je muziek zijn als je als zanger in een roze T-shirt het podium beklimt? (I'm sorry, they ran out of black?) Wel: heel donker. Maar vooral immens krachtig, bombastisch en pakkend tegelijk. De regelmatige uithalen van de gitaristen, met evenveel pedalboards met een resem effectpedalen, hulden de zaal in een wall of sound. Het optreden boeide elke seconde, maar één bizar gevoel blijft nog steeds bij mij hangen: is dit een band? Want de muzikanten hadden immens weinig contact met elkaar. Ze zaten als het ware élk in hun wereld, één met het instrument dat ze bespeelden. En dat was enorm intens. Het lijkt alsof ze elk 'zomaar' iets spelen, maar wat een synergie. Dit mocht blijven duren.. hoewel.. in de Kuppelhalle van diezelfde Volkspalast was een groepje uit Belgisch Limburg aan het soundchecken: Whispering Sons.
Vele bands doen er lange jaren over om op hét gothic en wave event te mogen spelen. En daar staan ze: jonge veulens met een passie voor postpunk. In de lokale pers waren ze aangekondigd als een must see en als je bekeek hoe gestaag de zaal vol liep, was die boodschap blijkbaar duidelijk gemaakt. De Kuppelhalle kan 1500 mensen herbergen, als je ze mooi klasseert. En die zat aardig volgestouwd. Een blik op het podium leerde dat er toch wel enige zenuwachtigheid was bij de jonge snaken. In de zin misschien dat het daar voor een select publiek was, toch anders dan het ruimere publiek waar ze misschien anders voor optreden. En Whispering Sons dacht: inpakken die zaal… Meteen Wall in de strijd gooien. En dan overweldigd worden door applaus dat blijft duren. Na drie nummers was alle nervositeit weg en was het genieten op het podium. Zangeres Fenne met haar blik die soms dreigend over het publiek dwaalde, spelplezier en immense (én terechte) appreciatie vanuit het talrijke en heel diverse publiek in de zaal. De postpunk van de sympathieke band stond als een oude eik heel sterk verankerd in de Leipzigse bodem. Het applaus op het einde van de set van een uur bleef duren en de band slikte het met een zeker ongeloof. En geweldig optreden en ze mogen zich, hoe pril ook, nestelen bij de 'groten'…
Nagenieten en al uitkijken naar het volgende: The Vision Bleak. Ulf Theodor Scwhadorf (Empyrium) en Allen B. Konstanz (Nox Mortis) gingen in 2000 samen aan de slag. Nooit hadden ze toen durven dromen dat hun gezamenlijke project zou uitgroeien tot een blijver. Intussen heeft de band zijn plaats in het metal genre al meer dan verdiend. In een goed gevulde Felsenkeller speelden ze bij wijlen doomy, dan weer thrash-metal, met donkere vocalen. Inspiratie zit bij klassiekers uit de horror, maar ook uit het mystieke. Het zal u niet verbazen dat het luid en hard klonk. De tweekoppige kern is duidelijk omringd met de juiste muzikanten om hun diverse en eigenzinnige muziek live op een podium te brengen. Veel omkadering, noch videowalls was nodig om dit te laten knallen…. It was a nice day…
Jurgen BRAECKEVELT
26/06/2017
---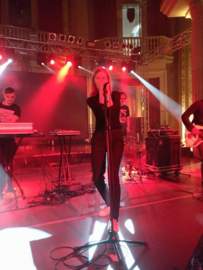 ---