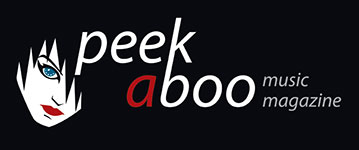 like this movie review
---
LAKE BELL
In A World
Movie
Romantic
[40/100]

SONY SPHE
01/10/2014, Didier BECU
---
Not so long ago Hal Douglas passed away: he was the voice-over who narrated immortal lines from various film trailers like Forrest Gump and Lethal Weapon. Everybody is familiar with their voices, but no one really knows who is behind them. That's quite an interesting subject for a movie, not? Just think of the documentary Twenty Feet From Stardom about background singers: another job nobody wants in the show business!
That's probably what went through Lake Bell's mind: the actress who became famous for her role in the comedy No Strings Attached starring next to (the always great) Natalie Portman. It's sad to see that Bell, who is both lead actress and director, decided to go for an ordinary romcom. The movie certainly has its charm, but that's the most positive thing you can say about it.
Carol (Lake Bell) has the dream to become just like her dad Sam (Fred Melamed) a famous voice-over. She daily practises to become the best, but her biggest competitor is her own dad who takes all the important roles. There's some quarrelling between daughter and dad and to make the classic romcom-picture complete, Bell also added a relation that is doomed to fail. What about that mysterious world from those voice-overs? Well, you won't one word about that!
Lake Bell tries to do a decent job, but at the end of the day you can only conclude that In A World is an ordinary romcom. The characters are just too flat and created from clichés you will only notice in films, not in the real world. Agreed, this last remark can be our fault either!
Anyway, for those who want a popcorn bag and a package of handkerchiefs on the couch when watching a film can give it a try. Out now on DVD on Sony SPHE.
Didier BECU
01/10/2014
---
Nog niet zo lang geleden overleed Hal Douglas: de man die ontelbare trailers (van Forrest Gump tot Lethal Weapon) insprak. Iedereen is vertrouwd met de voice-overs, maar niemand weet (ondanks hun bekendheid) wie er achter de stem schuilt. Een meer dan interessant onderwerp om er een film over te maken zou je verwachten, denk maar aan Twenty Feet From Stardom (de documentaire over achtergrondzangeressen, een al even ondankbaar showbizzberoep).
Dat zal wellicht ook Lake Bell hebben gedacht, de actrice die bekend werd door haar rol in de komedie No Strings Attached met de altijd onweerstaanbare Natalie Portman. Helaas vond de Amerikaanse actrice die zowel de hoofdrol als de regiestoel opeiste het nodig om van In A World (zo beginnen trailers vaak, vandaar de titel) een romcom van te maken. Charmant is de film alleszins, helaas ook verwaarloosbaar.
Carol (Lake Bell) wil net zoals haar vader Sam (Fred Melamed) een beroemde voice-over worden. Ze is dagelijks in de weer om de beste in haar vak te worden, alleen moet ze vaak de duimen leggen voor haar vader die nog altijd de beste in het vak is en dus ook alle belangrijke rollen opstrijkt. Naast het bekvechten tussen vader en dochter is er in het verhaal ook nog (te veel) plaats voor een romance die wankelt. En wat over die wereld van de voice -overs? Wel, daar wordt niks zinnigs over gezegd.
Lake Bell doet wel haar best, maar In A World overstijgt niet het niveau van een ordinaire romcom. De personages zijn oppervlakkig en bestaan vooral uit platgetreden clichés uit de filmwereld die je in de realiteit nauwelijks tegenkomt. Ofschoon dat laatste natuurlijk ook aan ons kan liggen.
Wie evenwel behoefte heeft aan zo'n romcom waar je naast een pak popcorn ook nog best een pakje papieren zakdoekjes bij de hand hebt kan het alsnog proberen. Nu uit op dvd via Sony SPHE.
Didier BECU
01/10/2014
---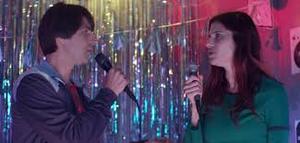 ---