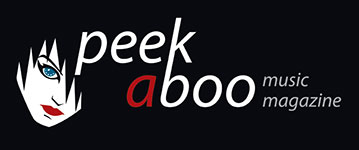 like this concert review
---
LES NEGRESSES VERTES
Live at De Casino, Sint-Niklaas - Belgium - 05.05.2018
Concert
24/05/2018, Kris TIECK
---
Artists By Nature Back For Festival Summer
One of the most original, playful and rhythmic bands from France, Europe and even the world has decided to tour again and to visit Flanders and Holland in April and May for that reason. Les Négresses Vertes… wasn't that those punks in costumes with their mix of rock, chanson and world music? Sort of… Because Music rebought their back catalogue and rereleased the four studio albums of the band, also on LP. And they wanted to celebrate that in the best way. The idea was launched, they talked… et voilà. At the end of February their secretly prepared tour was started carefully with three shows in Wallonia. In the end there were more than eighty dates fixed and there are still new shows being added to the list. The interest in this band remains big and rightfully so. That the poet and parttime clown from the 19th arrondissement of Paris isn't present anymore because of death is known. His cheeky lyrics and first fellow bandmembers, for a good part, still are. Those that remember the record sleeve of debut Mlah (1988), to which the tour's being dedicated, know that they were a numerous family. The first two drummers and accordionist Canavese have been replaced for this tour and also the pianist/multi-instrumentalist already left a long time ago. That still makes five of the original gang joining in: the Mellino's, the brothers Paulus (or Paulo and Sirinix) and also film maker Ochowiak aka Twist. Mlah roughly means 'it's okay' in Arabian slang and was a good indication for the musical ode the band brings to the diversity in Paris and suburbs.
An old friend's visit
Having outgrown the Paris' subway and the flea market of Saint-Ouen, it went fast upwards for Négresses Vertes. That changed suddenly with the disappearing of their figure-head. The rise has been stopped since then but the pleasure in music and life of the band members hasn't. The fervour may have gone away or become less but the fire, the accordion melodies, the southern guitar rhythms and the trumpet and trombone blowing – what made them so unique – are still present. However it must be noted that the impressive percussion of the debut is missing. New drummer Rabaté often plays a serious beat and Iza Mellino does her trick well but only a tambourine or shakers are not a match for the original hand rhythm section. It might be the reason the pace in their show has weakened a bit. Besides that, replacing the astute frontman Helno is a nearly impossible task. The Négresses solved it again among themselves and that certainly was and is the most noble choice. The loss of the inspiration and counter-balance that street rascal Helno gave to the other singer (and also guitarist) Mellino and the members after all caused a creative impoverishment with the band, ultimately performing until the beginning of 2002.
Gathered around a common no future-sentiment, the first but also second album stood full of realistic and dark pessimistic songs despite the cheerful folk sounds. A brilliant paradox so to say! Maybe therefore current accordionist Cizzko started their magnificent Valse out of the dark. Following immediately was a line thrown out to those others tormented by life, the fishermen, with their anthem Pas La Mer À Boire. The song started out a bit slowly but what ingenious lyrics and accordion melody! The merry Voilà l'Été gets dug up every year with the first sun rays and that timing was right on here again. It's a classic and not only with the lovers of the French chanson. Paolo on the vocals and with his little ukulele managed to give the song yet another life. The first climax also for the fans of trumpet and trombone thanks to Sirinix and Twist. Furthermore, guitar player Mellino has been touring long enough to articulate his Dutch words perfectly. Little things maybe but it feeds the good vibes. The concert needed some time – let's say as with the visit of an old friend – but once loose it went swinging from Orane with its mysterious arabic (electric) tones and completed by organ over Hey Maria, a complaint against suicide, to Mellino's equally rhythmic L'Homme Des Marais which made the party explode for the first time. An ode to love but surrounded by a swamp, what did you expect? While most of the songs were played on a classic and acoustic guitar the band moulded Les Yeux De Ton Père in a more modern rock jacket with Mellino on electric guitar, Cizzko on portable keyboard and Paulo at vocals. Undoubtedly they know their punk classics – The Clash wasn't far off – but it was somewhat more upbeat which yielded a lot of applause.
Post-punk manifest
On Les Rablablas Mellino and Cizzko, reunited with his Parisian trademark, threw themselves – not for the last time - enthusiastically to the front of the stage near or under the fans. And during the close of Zobi, in fact a genuine post-punk manifest, trombonist Sirinix this time played for living fly that fears to be crushed. You don't have to sing perfectly if you have a sense for the song but what a vibrating atmosphere! With Mellino driving the rhythm as a worthy gypsy king and finishing it off solo. As for show and artistry he and his 'copains' don't need lessons. While they're in their fifties they even more resemble a travelling musical street theatre group. In the encores that same man soloed in the beautifully shady Face À La Mer after which he picked the melancholic sounding slow Hasta Llegar on his Spanish guitar, supported by Paulo and his familiar bass. Also Les Mégots, a somewhat slow song from the same record, showed up. Only for a real festival band to make a ska version of it and that's when the trombone plays a leading role while Ochowiak took over the bass. And even rapping wasn't lost to the Parisians. They used it to wrap around the public and their final song Soleil De Bodega. That was the absolute climax of the evening with the whole crowd on fire at the southern flamenco rumba guitar rhythms. Conclusion: musically maybe a little less perfect and sharp, it's obvious that Négresses Vertes remain artists by nature with a big joie-de-vivre, with strong danceable folk songs with a twist. At the same time they're punks that don't give a damn about likes on the internet. No, they prefer to play music! Who missed them in Sint-Niklaas, Rijkevorsel or Leuven: don't panic, in Belgium you can still see them in August at Dranouter, the Brussels Summer Festival and in Namur (Festival Des Solidarités). La fête, mlah!
Setlist: La Valse/ C'est Pas La Mer À Boire/ Voilà l'Été/ La Faim Des Haricots/ Orane/ Hey Maria/ L'Homme Des Marais/ La Danse Des Négresses Vertes/Il/Marcelle Ratafia
/ Les Yeux De Ton Père/ Les Rablablas Les Roubliblis/ Zobi La Mouche

Encore 1: Face A La Mer/ Hasta Llegar/ Les Mégots
Encore 2: Sous Le Soleil De Bodega
Kris TIECK
24/05/2018
---
LES NÉGRESSES VERTES

Live at De Casino, Sint-Niklaas - Belgium - 05.05.2018
Rasartiesten Hervinden Weg Naar Festivalzomer
Eén van de meest originele, ludieke en ritmische bands uit Frankrijk, Europa en bij uitbreiding de wereld besliste om opnieuw te touren en in april en mei ook Vlaanderen en Nederland aan te doen. Les Négresses Vertes... waren dat niet die punks in kostuum met hun mix van rock, chanson en wereldmuziek? Zoiets toch... Because Music herkocht hun back catalogue en bracht net de vier studioplaten van de band opnieuw uit, ook op LP. En dat wilden ze graag extra in de verf zetten. Het idee werd gelanceerd, er werd gepraat... et voilà. Eind februari werd hun in het geheim voorbereide tournee voorzichtig gestart met drie shows in Wallonië. Uiteindelijk werden er meer dan tachtig data geprikt en komen er nog steeds nieuwe optredens bij. De interesse was dus groot en terecht. Dat de poeet en clown in bijberoep uit het 19e arrondissement van Parijs er niet meer bij is wegens overleden weet bijna iedereen. De ongezouten teksten en de meeste medestanders van het eerste uur bleven wel overeind. Wie de hoes van het debuut Mlah (1988) kent, waar de tournee aan opgedragen wordt, weet wat voor een uitgebreide familie het was. De eerste twee drummers en de accordeonist Canavese zijn voor deze tour vervangen en ook de pianist/multi-instrumentalist is er al lang niet meer bij. Dat maakt nu nog vijf overblijvers: de Mellino's, de broers Paulus (ofwel Paulo en Sirinix) en filmmaker Ochowiak alias Twist. Mlah betekent ongeveer 'het is goed' in de Arabische straattaal en dat was dan ook een goede aanduiding voor de muzikale ode die de band brengt aan de diversiteit in Parijs en zijn buitenwijken.
Bezoek van een oude vriend
Pas de Parijse metro en de vlooienmarkt van Saint-Ouen ontgroeid ging het steil omhoog voor Négresses Vertes. Dat veranderde plots met het wegvallen van hun boegbeeld. De opgang mag dan al een tijdje gestaakt zijn, het plezier in muziek en leven van de groepsleden niet. Het snedige is er tegenwoordig wat af maar het vuur, de accordeonmelodieën, de zuiderse gitaarritmes en het trompet- en trombonegeschal - wat hen zo uniek maakte - zijn er nog steeds. Wel wordt de indrukwekkende percussie van op het debuut gemist. Nieuwe drummer Rabaté speelt soms wel een stevige beat en Iza Mellino doet haar best, maar een tamboerijn of schudbus alleen kan niet tippen aan de oorspronkelijke handritmiek. Het verklaart misschien ook waarom er wat minder vaart in zit. Bovendien is de cassante frontman Helno vervangen een quasi onmogelijke taak. De Négresses lossen het nu ook weer onder elkaar op en dat was en is zeker de meest integere keuze. Het verlies van de inspiratie en het tegengewicht dat straatschoffie Helno gaf aan die andere zanger (en ook gitarist) Mellino en de andere leden zorgde immers toch voor een creatieve verarming bij de band die uiteindelijk nog doorging tot begin 2002. Gegroeid uit een gezamenlijk no future-gevoel stond de eerste maar ook de tweede plaat ondanks de vrolijk wereldse klanken dan ook vol met realistische en zwartgallige songs. Een geweldige paradox dus! Misschien daarom dat huidig accordeonist Cizzko hun magnifieke Valse in het donker startte. Meteen erna was er al een lijntje voor die andere levensgekwelden, de vissers, met hun lijflied Pas La Mer A Boire. Het nummer begon wat traag maar wat een tekst en geniale accordeonmelodie! Ook het vrolijke Voilà l'Été wordt nog ieder jaar bovengehaald bij de eerste zonnestralen en daarmee zat die timing alvast opnieuw perfect. Het blijft een klassieker en niet enkel bij de aanhangers van het Franse chanson. Paolo aan zang en op zijn kleine ukulele wist de song niettemin wat nieuw leven in te blazen en ook ook voor trompet- en trombonefans was het een eerste hoogtepunt met dank aan Sirinix en Twist. Gitarist Mellino toert ondertussen ook al lang genoeg om zijn Nederlandse woordjes perfect uit te spreken. Kleine dingen maar wel sfeersetters. Toch had het concert wat tijd nodig - zeg maar als bij het bezoek van een oude vriend - maar eens op dreef ging het swingend over van Orane met zijn mysterieuze arabische (elektrische) tonen aangevuld met orgel naar Hey Maria, een uptempo aanklacht tegen zelfmoord, tot Mellino's even ritmische L'Homme Des Marais dat het feestje voor het eerst deed losbarsten. Een ode aan de liefde maar wel omringd door een moeras of wat dacht u. Terwijl de meeste songs op klassieke en akoestische gitaar gespeeld werden stak men Les Yeux De Ton Père in een moderner rockjasje met Mellino op elektrische gitaar, Cizzko op draagbare keyboard en Paulo aan de vocals. Ze kennen ongetwijfeld hun punkklassiekers - The Clash was niet veraf - maar het was ook wat meer upbeat en dat oogstte veel applaus.
Post-punk manifest
Op Les Rablablas gooiden Mellino en Cizzko, opnieuw hét Parijse handelsmerk in handen genomen, zich met veel enthousiasme vooraan tot bij en onder de fans, trouwens niet voor het laatst. En tijdens afsluiter Zobi, eigenlijk een heus post-punk manifest, speelde trombonist Sirinix deze keer voor de levende vlieg die vreest te worden verpletterd. Je hoeft niet perfect te zingen als je het nummer aanvoelt maar wat een zinderende atmosfeer! Met Mellino die het ritme stuurt als een volwaardige zigeunerkoning én het solo ook afmaakt. Show en vakmanschap moet je hem en zijn copains niet meer leren. Nu ze vijftigers zijn doen Les Négresses Vertes zelfs nog meer denken aan een reizend muzikaal straattheatergezelschap. In de bissen soleerde diezelfde man tijdens het prachtige, ingetogen Face À La Mer en tokkelde daarna de melancholisch klinkende slow Hasta Llegar uit Trabendo (1999) op zijn Spaanse gitaar, ondersteund door Paulo op zijn vertrouwde bass. Ook Les Mégots, een ietwat traag nummer van dezelfde plaat, kwam er nog bij. Een echte festivalband maakt er dan een ska-versie van en daar speelt trombone natuurlijk een hoofdrol in, terwijl Ochowiak de bass overnam. En zelfs de rap hebben de Parijzenaars onder de knie. Daarmee wisten ze op het eind Soleil De Bodega én het publiek helemaal in te wikkelen. Het was het absolute hoogtepunt van de avond met de volledige zaal in vuur en vlam op de zuiderse flamenco rumba gitaarritmes. Slotsom: muzikaal mag het dan iets minder perfect en scherp zijn, Négresses Vertes blijven rasartiesten met een grote joie-de-vivre, met sterke, dansbare folksongs én met een twist. Tegelijk zijn het punks die geen moer geven om likes op internet. Nee, ze spelen liever muziek! Wie hen gemist heeft in Sint-Niklaas, Rijkevorsel of Leuven: geen nood, in België staan ze in augustus nog op Dranouter, op het Brussels Summer Festival en in Namen (Festival Des Solidarités). La fête, mlah!
Kris TIECK
24/05/2018
---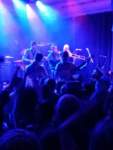 ---