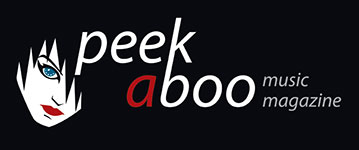 like this concert review
---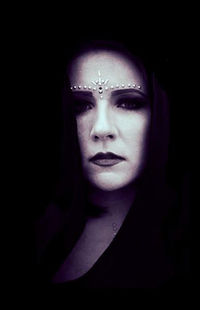 LISA CUTHBERT
Kinky Star, Ghent (15/06/2016)
Concert
10/12/2016, Wim GUILLEMYN
---
When i discovered Paramour a few years ago, I immediately became a fan of Lisa's voice and music. I was curious how it would sound live, especially as this month she released her new album The Hextapes.
About the support act I can only say that the songs by Circle Bros all sound a bit the same: soundscapes which can be interesting, but I missed some variation.
Lisa Cuthbert brought some candles with her. The curtains were closed. She was alone on stage with just her voice and her Korg. She immediately started strong and after a few songs we heard a first highlight with The Sooner You Know. A song with beautiful and emotional vocals.

The songs also did it very good in a stripped version. At moments I imagined some green landscapes, some sheep, a knight on a horse, with now and a flash of a funeral procession that walks through a grey village. The music breathes also a sense of melancholy and sorrow. The distortion on her piano reinforces that feeling even more. She also made contact with her audience, and in such a little venue like the Kinky Star that's a must. She also played one of her new songs which sounded more modern than her previous material. At the end of the set there were also covers like the unknown (at least for me) Clare Maguire and the almost inevitable, but beautiful version of This Corrosion by The Sisters of Mercy. With another encore (The Party's Over) we came to the end of a fine evening.
Wim GUILLEMYN
10/12/2016
---
Toen ik enkele jaren geleden het album Paramour mocht bespreken, was ik meteen gewonnen voor deze dame. Ze heeft een prachtige en sterke stem. Ik was dan ook benieuwd hoe dit alles live zou klinken. Bovendien komt deze maand haar album The Hextapes uit.
Over het voorprogramma Circle Bros (Wim Lecluyse) kan ik kort zijn: alle nummers klonken hetzelfde. Hij brengt een soort klanktapijt (en dat kan interessant zijn), maar hier ontbrak variatie in uitwerking en klankkleur. Hij merkte een paar keer op dat we toch wel een stil publiek waren.
Lisa Cuthbert had de kamperfoelie en de kaarsen aangestoken. De gordijnen waren dichtgetrokken. Ze vulde het podium met haar Korg en haar stem. Ze begon meteen sterk en na een paar songs kwam, voor mij althans, het eerste hoogtepunt: The Sooner You Know. Wondermooie en emotievolle vocallijnen in die song. Live een sterke song. De liedjes doen het trouwens ook goed in een sobere en uitgeklede versie. Bij momenten zag ik in mijn verbeelding uitgestrekte graslanden, kuddes schapen, ridders te paard… met hier en daar flitsen van bv. een rouwstout die door grijze dorpjes trekt.
De muziek en de zang ademen immers ook een vorm van weemoed en smart uit. De distortion op haar piano versterkte dat gevoel nog meer. Ze stak ook tijd in haar publiek tussen de songs door. In een kleine ruimte moet dat wel een beetje, vind ik. Ze bracht ook een song uit haar nieuwe album, waarvan de begeleidingsmuziek iets minder klassiek klonk dan op haar vorige albums. Tegen het einde bracht ze ook enkele covers zoals van de mij onbekende Clare Maguire en het (bijna) onvermijdelijke maar prachtig gezongen This Corrosion van The Sisters of Mercy. Met nog een toegift (The Party's Over) kwam er een einde aan een heel fijn concert.
Wim GUILLEMYN
10/12/2016
---