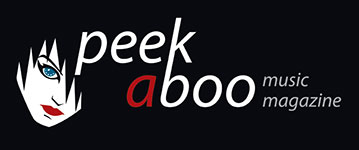 like this concert review
---
LLUMEN, PSY'AVIAH, MILDREDA
B52 Eernegem - 25 november 2016
Concert
08/12/2016, Jurgen BRAECKEVELT
---
The Belgian electro scene is more alive than ever. On Friday, November 25, three Belgians performed at club B52 in Eernegem.
Pieter Coussement started the evening with his project Llumen. The danceable and melodic EBM was truly enchanting. Ever since the 90s, Pieter is active in electronic music through various collaborations and projects. With Llumen he released a first EP (Cold in December) in March 2016. EBM is the general genre, but it also contains more danceable up-tempo songs and synth-pop melodies. He made a cover of U-man (Front 24. Really nice! Peter brought his set with conviction. The songs are great and make us yearn for that full album that has been announced.
Then is was time for Psy'Aviah, the band around Yves Schelpe. The music cannot be put in one genre. Psy'Aviah flirts with various genres and influences from different music styles. Live on stage, Yves is assisted by Ben van de Cruys on guitar. On the last album Seven Sorrows, Seven Stars, Yves used various singers, but live the vocals are sung by Marieke in a most excellent way! She has a very diverse and beautiful voice that really works on all tracks. The band opened with Alcubierre Drive, followed by Paused. Halfway through the set we heard a fine cover of Coldplay's Clocks. Psy'Aviah has not performed live for a few years, but even though the music sounds a bit more poppy, there still is a dark edge to it.
To conclude the evening Jan Dewulf and his wife Gwenny Cooman took the stage with the dark electro project Mildreda. The digital album released earlier this year is quite dark with a lot of beats. And those were very present during this performance. Opener How Do We Tell The Kids was sublime, painfully slow and yet so deep. In the same mood, but extended with some excerpts of classical music, the song Aborted followed with hard thumping bass drums. It was a nicely built and intense set. The stage in the B52 was too small and Jan Dewulf cried out his pain a few times, standing in the middle of the audience. You could feel his emotions. Mildreda also did a cover of the marvelous Fate (Suicide Commando). It was a tribute to Johan. Relentlessly Mildreda continued with very strong and dark electro, but with Zugabe Rush the marvelous set ended.
As usual, the absentees were wrong. Three Belgian acts in various genres, that actually deserve a larger stage and more support. A more than successful evening!
Setlist Llumen:
Where We Collide
Lux Aeterna
Silicon Cinema
World on Mute
Force Of Nurture
Death Walks On High Heels
Cold In December
U-men
Setlist Psy'Aviah:
Alcubierre Drive
Paused
Into The Game
Not What I Expected
Our Common End / Clocks
Sacrifices
Face To Face
Words
Never Look Back
Deliverance / Virtual Gods / Wild Ride
Frozen
Setlist Mildreda:
How Do We Tell The Kids
Aborted
This Time
Stories
Fate (Suicide Commando-cover)
Erazor
Anthem Of Tomorrow
Into The Dark Night
Fire
The Parting
Pale Blue Dot
Rush
Jurgen BRAECKEVELT
08/12/2016
---
De Belgische elektroscène is meer dan levend. Vrijdag 25 november stonden drie Belgische acts op de planken in de fijne Eernegemse club B52.
Pieter Coussement mocht met zijn Llumen de avond openen. De dansbare en melodieuze EBM kon meer dan bekoren. Al sedert de jaren 90 is hij doende met elektronische muziek en samenwerkingen in diverse projecten. Met Llumen, dat in maart 2016 een eerste ep Cold In December uitbracht, is compromisloze EBM het uithangbord. De diverse stijlen zijn heel herkenbaar: van meer dansbare uptempo songs, tot synthpopmelodieën. En met U-man van Front 242 kregen we nog een mooie cover cadeau ook. De darkbeats vliegen je om de oren en vocaal klopt het ook: Pieter bracht het met overtuiging, de songs staan en doen ons uitkijken naar het full album dat is aangekondigd.
En dan tijd voor een andere gevestigde waarde: Psy'Aviah, de band rond Yves Schelpe, die al heel wat muzikale watertjes doorzwom. De muziek is niet te vatten in een 'genre' of 'stijl'. Niet dat dat een must is. En wat Psy'Aviah betreft: het is niét te labelen. Er wordt geflirt met diverse genres en er zijn invloeden uit uiteenlopende muziekstijlen. Live on stage omringt Yves zich met Ben van de Cruys op gitaar. Op het laatste album Seven Sorrows, Seven Stars deed Yves een beroep op diverse zangers en zangeressen. Live doet Marieke het, en hoe! Ze heeft een heel divers en mooi stemgeluid dat in alle tracks wérkt. De set had alles om het lijf. Openen deed de band met Alcubierre Drive, gevolgd door Paused, een eerder gezapiger song. Halverwege de set kregen we een fijne cover van Coldplays Clocks. In Face To Face trok Marieke haar vocale registers open. Haar stem klinkt van heel opzwepend tot zagerig, klagend monotoon, wat karakter geeft aan de sfeer van de songs.
Psy'Aviah staat na jaren opnieuw op de podia en dat is ook de plaats waar de band het beste tot zijn recht komt. Ook al klinkt het wat meer afgelijnd en poppy, toch heeft het nog altijd een donker(der) randje.
Om de avond af te sluiten betraden Jan Dewulf en zijn eega Gwenny Cooman het podium met hun darkelectro-project Mildreda. Het digitale album dat eerder dit jaar verscheen is vrij donker en bulkt van de darkbeats. En live waren die heel sterk aanwezig. In opener How Do We Tell The Kids was het meteen prijs: tergend traag en toch zo diep. Aborted tapt uit hetzelfde vaatje met flarden klassieke muziek tussen keihard dreunende basdrums. De set werd aardig opgebouwd en Jan ging diep. Heel diep. Het podium in de B52 was te klein en een paar keer ging hij de club in, keihard zijn pijn uitschreeuwen. Jan ging heel diep. Je voelde de emotie. Maar er was ook bij Mildreda tijd voor een 'cover' en wel van Fate van Suicide Commando. Het was een eerbetoon aan Johan die de scène en Mildreda een heel warm hart toedraagt. Meedogenloos liet Mildreda heel stevige darkelektro los op de club die daverde op haar grondvesten. Met de Zugabe Rush doofden de beats finaal uit.
Het lijkt en is een dooddoener, maar toch: de afwezigen hadden ongelijk. Drie Belgische acts in diverse genres, die eigenlijk grotere podium en meer support verdienen. Een meer dan geslaagde avond.
Setlist Llumen:
Where We Collide
Lux Aeterna
Silicon Cinema
World on Mute
Force Of Nurture
Death Walks On High Heels
Cold In December
U-men
Setlist Psy'Aviah:
Alcubierre Drive
Paused
Into The Game
Not What I Expected
Our Common End / Clocks
Sacrifices
Face To Face
Words
Never Look Back
Deliverance / Virtual Gods / Wild Ride
Frozen
Setlist Mildreda:
How Do We Tell The Kids
Aborted
This Time
Stories
Fate (Suicide Commando-cover)
Erazor
Anthem Of Tomorrow
Into The Dark Night
Fire
The Parting
Pale Blue Dot
Rush
Jurgen BRAECKEVELT
08/12/2016
---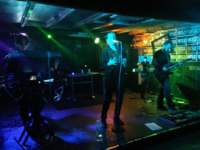 ---