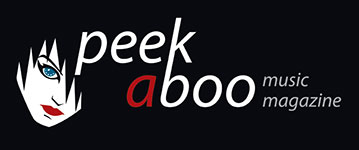 like this movie review
---
LOUIS LETERRIER
Now You See Me
Movie
Crime
[54/100]

E1
02/12/2013, Didier BECU
---
Since the Oceans-trilogy from Steven Soderbergh, Hollywood is aware of the fact that today you can gain money with heistmovies. This thought must also been running through Louis Leterrier's head who had the brilliant idea to develop a heist with some magicians. And yes it's bingo, as Now You See Me became one of this autumn's greatestest blockbusters.
Four magicians (Jesse Eisenberg, Woody Harrelson, Isla Fisher en Dave Franco) still know how to do their tricks, but unfortunately enough they are street performers. One day they got an invitation by an unknown. They form themselves as The Four Horsemen and a year later they perform their show at the biggest venues in Las Vegas. And then one day it happens, as they succeed in robbing a bank in Paris while they're at the American gambling town. The four get immense popular as they throw the money to the audience, just like some modern Robin Hoods. The FBI isn't that amused with their tricks and under the command of Dylan Rhodes (Mark Ruffalo), the Feds are chasing the magicians. But how can you put someone behind bars when you don't have any proof? The detectives are forced to resolve the magic trick, and you can guess who's best at playing this game.
Admitted, on paper this sounds absolute great for an excellent entertaining movie, but the result is far from overwhelming. This is definitely the fault from Louis Leterrier who made his movie just too hip. Agreed, we haven't expected something else from the maker of The Transporter, The Incredible Hulk or Clash of the Titans, but it's a shame nonetheless. The problem is that this movie is far too fast. Through this, it's absolutely not simple to comprehend the complicated (silly) plots and the explanation of all those magic tricks. After two hours you're completely tired, and of course everything has to be presented in those unattractive CG-effects which makes everything even seem more unbelievable. Worst of all is the dumb ending which is so exaggerated that afterwards you feel like regretting the two hours you have spent in front of your telly.
Now You See Me is having a huge cast, but only Jesse Eisenberg and Woody Harrelson (who has the ideal face to perform a charlatan) are able in convincing us. Michael Caine has become nothing but a shadow, Morgan Freeman is playing so much on automatic pilot that it gets boring, the brother from James Franco can't act and also Isla Fisher is lost in this mess.
When you regard Now You See Me as pure entertainment then it has its merits, but the main feeling after two hours is that this movie looks to much like a cheap trick box. The movie is out on Entertainment One on both DVD and Blu-ray.
Didier BECU
02/12/2013
---
Sinds de Oceans-trilogie van Steven Soderbergh weet men in Hollywood dat men met mits dat ene tikkeltje geluk met heistmovies de kassa's weer opnieuw kan doen rinkelen. Dat moet ook Louis Leterrier hebben gedacht. En tja, waarom niet eens zo'n kraak laten uitvoeren door vier goochelaars? Bingo, want Now You See Me werd deze herfst één van de grootste blockbusters.
Vier goochelaars (Jesse Eisenberg, Woody Harrelson, Isla Fisher en Dave Franco) hebben hun kunstjes nog lang niet verleerd, wel zijn ze ondertussen aan lager wal geraakt. Geheel onverwachts worden de vier uitgenodigd door een onbekende. Ze vormen The Four Horsemen en maken een jaar later het mooie weer in de grote zalen van Las Vegas. En dan gebeurt het, vanuit de gokstad kraken de vier in een paar luttele minuten een bank in Parijs. De vier raken er wel ontzettend populair mee, want het geld wordt gewoon over het publiek uitgestrooid. Wie minder kan lachen met deze moderne Robin Hoods is de FBI. Onder leiding van Dylan Rhodes (Mark Ruffalo) zet deze politiedienst een achtervolging in op de illusionisten. Alleen, moeten de speurneuzen eerst nog ontrafelen hoe het allemaal precies is verlopen, je kan immers moeilijk iemand veroordelen voor een misdrijf in Parijs terwijl die op hetzelfde moment in Las Vegas was.
Toegegeven, het klinkt allemaal zeer mooi, toch is het eindresultaat heel wat minder. De hoofdschuldige is zonder twijfel regisseur Louis Leterrier die zijn film veel te hip heeft gemaakt. Niet dat we de van de maker van The Transporter, The Incredible Hulk of Clash of t he Titans iets anders hadden verwacht. De film (en dus ook de plots, maar vooral ook de uitleg over de goocheltrucs) gaan zodanig snel dat Now You See Me een ontzettend vermoeiende filmrit is geworden. Bovendien maakt Leterrier gretig gebruik van allerhande (saaie) CG-effecten die niet de minste aantrekkingskracht hebben. Nog erger is de ontknoping. Je moet geen getrainde speurneus zijn om de ware toedrachtal na een tijdje al te kunnen raden. Het slot is trouwens zo ongeloofwaardig (om niet te zeggen debiel) dat je al gauw spijt krijgt van de twee uur die je voor het televisiescherm hebt doorgebracht.
Now You See Me pakt eveneens uit met een grote sterrencast, toch weet (op Jesse Eisenberg en Woody Harrelson na) niemand echt te overtuigen. Michael Caine (de geldschieter) is ondertussen niet meer dan een schim van zichzelf geworden, Morgan Freeman speelt zodanig op automatische piloot dat het vlug verveelt, het broertje van James Franco kan voor geen meter acteren en ook Isla Fisher loopt hopeloos verloren in dit zooitje.
Als je Now You See Me als puur entertainment bekijkt, mag je de film gerust bij de grote hoop gooien, toch blijft het al bij al niet meer dan een trukendoos van de witte producten. De film is nu op dvd en Blu-ray uitgebracht, en dit door Entertainment One.
Didier BECU
02/12/2013
---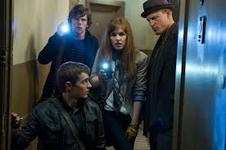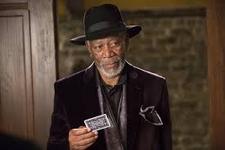 ---