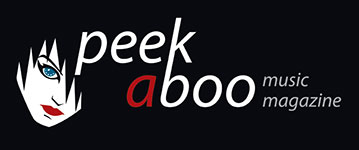 like this cd review
---
MAD MASKS
Mad Masks
Music
•
CD
Industrial
•
Minimal
[82/100]

Peripheral Minimal
09/12/2016, Didier BECU
---
Last year, the debut album of the French duo Mad Masks was released on the British label Peripheral Minimal. The record features eleven instrumental tracks, and they all have something in common: they suggest fear. This is the kind of music that will make you shiver as you might think someone touches your shoulder, even if there is no one behind you.
It's hard to stick a label on this album. One considers it as an ode to non-existing horror movies, others see it as pure industrial and we regard it as minimal synth with much distortion and a very creepy atmosphere. Despite the fact that the eleven songs are heavy, they are easy to digest and because of the added post-punk sound, the distorted compositions are more accessible.
Sometimes it sounds ice cold, sometimes repetitive, militaristic drums are added (Khel), or you just relive the heyday of Deutsch Nepal (Tragodia).
The dark music of Zio Voodoo and Dominique Stela is definitely not made for everyone (as sometimes it seems like a trip to death), but they certainly will charm a lot of people because of the diversity of this great album.
Didier BECU
09/12/2016
---
Vorig jaar verscheen het debuut van het Franse duo Mad Masks op het Britse label Peripheral Minimal. Je vindt er elf instrumentale tracks op terug, en ze hebben allemaal iets gemeenschappelijk: bij het beluisteren krijg je het er behoorlijk benauwd van. Dit is het soort muziek waarbij je het angstige gevoel hebt dat men (misschien een geest) op je schouder klopt zonder dat er iemand achter je staat. Muziek voor paranoïde zielen, zeg maar.
Het is moeilijk om een etiket op deze plaat te plakken. De ene beschouwt het als een ode aan niet-bestaande horrorfilms, anderen zien het als pure industrial, maar laten wij het bij minimal synth houden met veel distortie die verrijkt wordt met een uiterst creepy sfeertje. Ondanks het feit dat de elf songs loodzwaar klinken, kan je ze toch vrij gemakkelijk verteren doordat de vervormde geluiden tevens een postpunkgeluid hebben dat de composities een meer toegankelijk karakter geeft. Dit is niet zo maar de zoveelste experimentele release waar geen mens (of weinig toch) raad mee weet.
Soms klinkt het ijskoud, soms repetitief, dan weer worden er militaristische drums aan toegevoegd (Khel) of denk je gewoon aan de hoogdagen van Deutsch Nepal (Tragodia).
De donkere muziek van Zio Voodoo en Dominique Stela is zeker geen voer voor iedereen (soms lijkt het wel een reis naar de dood), maar wegens de diversiteit van stijlen, zullen ze hiermee zeker heel wat mensen bekoren.
Didier BECU
09/12/2016
---