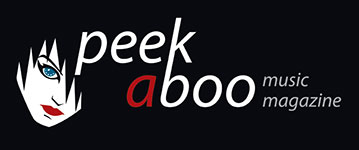 like this movie review
---
MARC ROTHEMUND
Heute Bin Ich Blond
Movie
Drama
[66/100]

A-Film
31/01/2014, Didier BECU
---
Even if cancer is one of the most terrible diseases that cause the death of many, I think the world is a bit fed up with movies that deal about this subject. Not because we're made of stone, but just because we saw it too many times (and mostly in a bad way), or just tearjerkers without a real message. The best movie about cancer since years has been a comedy, 50/50. But German filmmaker Marc Rothemund is changing that with
Heute Bin Ich Blond (or The Girl With The Nine Wigs like it's been called in some countries). The film is based upon the novel by Dutch girl Sophie van der Stap who had cancer at a very young age. With her book she could charm lots of readers, and also Rothemund: the director from Sophie Scholl, die letzten Tagen.

Sophie (Lisa ­Tomaschewsky) is 21 and she's a very happy girl. The young woman enjoys life, goes to the disco, makes young men going awol and likes shopping in Antwerp with her best friend. But then thunder strikes when the student finds out that she's suffering from a very rare form of cancer. The changes to survive are rather small, but Sophie is ready to battle. Unfortunately she discovers another enemy. Her family wants her of course to be healthy, but they also want her to forget to live. Sophie refuses as life's not over yet....

From Germans you don't expect many emotions and that's also the case with this drama. Marc Rothemund shows in a cold (but touching way) how this young girl has to go through hell. Cancer is terrible, but no movie can camouflage this. There are some moments you better have your Kleenex with you, but this movie is in the first place a story about hope (without forgetting hard reality though). This drama flirts with arthouse and Hollywood. The directing is okay but without surprises. Lisa ­Tomaschewsky surely is a beauty, but not a superb actress. But good, The Girl With The Nine Wigs is a tip, even if you're bored of the subject.

Also remarkable is the fine score by Belgian composer Johan Hoogewijs.

Heute Bin Ich Blond is out on DVD on A-Film.
Didier BECU
31/01/2014
---
Het blijft een verschrikkelijke ziekte die dagelijks ontelbare mensen het leven ontneemt, maar eigenlijk hebben we het wel gehad met films die over kanker gaan. Ten minste, traditionele films die nauwelijks het niveau van dat van een weekendfilm overstijgen. De beste film van de laatste jaren over kanker was een komedie (50/50), maar gelukkig zorgt Marc Rothemund daar met Heute Bin Ich Blond (of in het Nederlands Het Meisje Met De Negen Pruiken) voor verandering in. Deze op waargebeurde feiten gebaseerde roman van de Nederlandse Sophie van der Stap wist heel wat lezers te ontroeren, en ook Rothemund: de cineast van Sophie Scholl, die letzten Tagen.


Sophie (Lisa ­Tomaschewsky) is 21 en droomt volop van het leven. Met haar hartsvriendin trekt de Duitse (tja, de regisseur transformeerde haar maar onmiddellijk om tot een Teutoonse meid) naar modestad Antwerpen, flirt met de jongens, studeert, gaat uit....kortom: Sophie leeft. En dan komt het bikkelharde verdict dat de studente aan een zeldzame vorm van kanker lijdt. Haar overlevingskansen zijn niet bepaald groot, maar Sophie besluit om te vechten, maar vooral wil ze verder leven. Daarmee duikt meteen een tweede vijand op, want haar familie bedoelt het wel allemaal goed, toch vinden zij dat Sophie zich op haar ziekte moet concentreren.

Van Duitsers moet je niet veel emoties verwachten en op een vrij koude (maar aangrijpende) manier toont maker Marc Rothemund door welke hel het Duitse meisje moet. Er zijn wel zakdoekmomenten, maar Rothemund schuwt de goedkope aanpak. Kanker is een verschrikkelijk monster en geen enkele filmverhaal die dat kan camoufleren. Heute Bin Ich Blond is een film met hoop, maar wel met voldoende oog voor de harde realiteit. Deze eigentijdse Duitse film flirt met zowel arthouse als de betere Hollywoodfilm. Het resultaat is misschien bij momenten net iets te oppervlakkig (Lisa ­Tomaschewsky is een prachtige meid, maar zeker geen topactrice), maar toch eentje die achteraf aan je broek blijft plakken. En zolang dat kwaliteit is zullen wij dat niet zo vlug van onze kledij schrapen.

Ook opmerkelijk is de leuke score van landgenoot Johan Hoogewijs.

Heute Bin Ich Blond is nu uit op dvd via A-Film.
Didier BECU
31/01/2014
---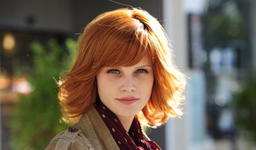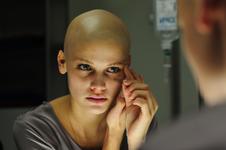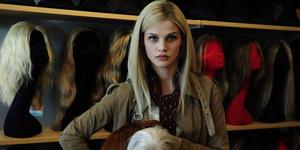 ---