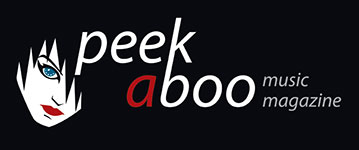 like this movie review
---
MARC WEBB
The Amazing Spider-Man 2
Movie
Action
•
Science Fiction
[74/100]

SONY SPHE
20/08/2014, Didier BECU
---
The big bosses from Sony have definitely balls. That is the least you can say about them! It takes a lot of courage to come up after ten years with a reboot from one of the most successful trilogies ever. Of course there are now refined techniques and a bigger budget, but it's nonetheless a risk.
Everybody was convinced that Sam Raimi gave Spidey a perfect movie-image, but the new trilogy from Marc Webb was made to let us forget the adventures from Tobey Maguire and Kirsten Dunst. The first reboot from 2012 The Amazing Spider-Man was a difficult matter for the comic fan to deal with. There were some differences (especially the fact that the lovely Mary Jane had been replaced by Gwen Stacy), but everyone had the feeling that they've seen it before.
This problem no longer occurs in the sequel. Everybody knows by now how and why Peter Parker (Andrew Garfield) flies with a spandex-suit throughout the streets from New York. All ways are open now for more big adventures to come! Spidey himself however is going through tough times. He keeps asking himself why his parents died and his girlfriend (Emma Stone) gives him another headache as she wants to study in Britain!
The superhero doesn't have much time to think about his love life because he has some enemies to destroy! In this movie Spidey is faced with three villains! First of all there is Maxwell Dillon (Jamie Foxx): an employee from Oscorp (the company where Peter Parker's father worked) who tumbles in an aquarium of genetic mutated fishes that turns him into the feared Electro. His second rival is Harry Osborne (Dane DeHaan), the young guy who inherits the company. Harry is an old schoolmate from Peter Parker and begs him to get him in touch with Spiderman; Peter was a reporter in the previous movie who made pictures from Spidey. Harry needs the blood from the superhero as he suffers from a disease. The plans fails and Harry transforms into the mean Green Goblin. Finally there is the lunatic Aleksei Sytsevich (Paul Giamatti) who makes New York his playground.
More than enough problems to fill a movie that lasts two hours and a half. And no, even if you have seen this story before, the new Spidey-adventures don't bore one minute! It takes a while to get used to the performers. The weak link is probably Emma Stone who will never be able to let us forget Kirsten Dunst. How can she anyway? Andrew Garfield is made to wear the spider suit. In the supporting roles we absolutely have to notice the excellent Dane DeHaan who starred also this year in Kill Your Darlings. Marc Webb plays on automatic pilot, but he has added the superhero with a large dose of humour and that makes The Amazing Spider-Man 2 more than just a reboot!
As always on Sony, the fan is spoiled with lots of bonus material. There is the audio commentary with the screenwriters and producers. Hmmm yes, no director! But you can hear the comments from Marc Webb on the 23 minutes long deleted scenes. Of course you have to be a real fan to watch this, but then again only fans buy Blu-Ray's so…
The pearl on this disc however is the documentary The Wages Of Heroïsm: Making The Amazing Spiderman 2 that lasts almost two hours! So yes, that's what we call a bonus! Everything is included in here (locations, costumes, the evolution from Spiderman, the music from Hans Zimmer and for those who like to torture their ears there's even a clip from Alicia Keyes included). A big candy for the fans and the rest of the world probably don't give a damn.
The Amazing Spider-Man 2 is now out on DVD and Blu-ray on Sony SPHE. And yes, if you think the curtain has fallen, we have some news for you as in 2016 Peter Parker will be back!
Didier BECU
20/08/2014
---
De grote bonzen van Sony hebben ballen aan hun lijf. Dat is in ieder geval het minste wat je over hun kan zeggen, want je moet toch over een flinke dosis moed beschikken om amper tien jaar na een succesvolle franchise het allemaal (weliswaar met een meer verfijnde techniek en meer centen) nog eens over te doen.
Iedereen was er destijds wel volkomen van overtuigd dat Sam Raimi de superheld een definitief gezicht had gegeven, maar de nieuwe trilogie die door Marc Webb wordt aangevoerd heeft toch de opdracht gekregen om de avonturen van Tobey Maguire en Kirsten Dunst te doen vergeten.
Met de in 2012 verschenen The Amazing Spider-Man was dat iets moeilijker, want de kijker had net iets te veel het idee dat het hele verhaal opnieuw moest worden verteld. Er waren wel wat verschillen (vooral het feit dat de lieve Mary Jane voor Gwen Stacy moest wijken), toch had je het een ongelooflijk déjà-vu gevoel.
Dat probleem is met deze sequel volledig van de baan. Iedereen weet nu hoe het komt dat Peter Parker (Andrew Garfield) met een spandex-pakje door de straten van New York vliegt en dus liggen alle wegen open om op zoek te gaan naar nog meer spectaculaire verhalen. Onze spinnenvriend heeft het deze keer zeker niet gemakkelijk. Hij blijft zich voortdurend afvragen hoe het komt dat zijn ouders zijn omgekomen en ook zijn blonde vriendinnetje (Emma Stone) baart hem zorgen, want die wil in het verre Engeland gaan studeren.
Echt veel tijd om over zijn liefdesleven te tobben heeft Spiderman echter niet, want hij moet in deze tweede prent drie vijanden verslaan. De meest spectaculaire is Maxwell Dillon (een volledig onherkenbare Jamie Foxx): een werknemer van Oscorp (waar Peter Parker zijn vader werkte) die in een aquarium genetisch gemuteerde vissen is gevallen en zo in het monster Electro is veranderd. De tweede rivaal is nog erger nl. Harry Osborne (Dane DeHaan) die net Oscorp van zijn vader heeft geërfd. Harry is een oude vriend van Peter Parker en hij gaat bij hem ten rade om een afspraakje met Spiderman te kunnen versieren (in de vorige film was Parker immers reporter van de Daily Bugle die foto's van de spinnenheld kon maken). De nieuwe erfgenaam is immers zwaar ziek en heeft het "superbloed" van Spiderman nodig. Het plannetje lukt niet en hij verandert in de Green Goblin die het op een akkoordje gooit met Electro. Ten slotte is er nog de krankzinnige Aleksei Sytsevich (Paul Giamatti) die New York onveilig maakt.
Stof genoeg dus om een film van twee en anderhalf uur (die geen minuut verveelt!) te maken, ofschoon je de inhoud eigenlijk al eerder hebt gezien. Het is wel een beetje wennen aan de vertolkingen, vooral Emma Stone slaagt er maar niet in om Kirsten Dunst uit het geheugen van de Spidey-fans te wissen. Maar dat is dan ook niet meer dan normaal, niet? Andrew Garfield is ondertussen wel al het spinnenpak waardig en in de bijrollen onthouden we vooral de excellente Dane DeHaan die eerder dit jaar al in Kill Your Darlings mocht schitteren. Marc Webb speelt op automatische piloot, maar is niet vergeten om zijn superheld van de nodige humor te voorzien waardoor The Amazing Spider-Man 2 meer dan zo maar een reboot is.
Zoals dat vaak het geval is bij Sony wordt de fan op een flinke pak bonusfilmpjes verwend. Allereerst is er de audiocommentaar met de scenaristen en de producenten. Tja, geen regisseur dus. Wel hoor je zijn commentaar op de in totaal 23 minuten durende verwijderde scènes. Natuurlijk moet je een echte fan zijn om dat allemaal te willen bekijken, maar Blu-ray's worden nu eenmaal voor fans gemaakt, dus…
Het kroonjuweel is de documentaire The Wages Of Heroïsm: Making The Amazing Spiderman 2 die (hou je vast!) net geen twee uur duurt, over extra's gesproken dus! Alles komt hier aan bod (locaties, kostuums, de evolutie van Spiderman, de muziek van Hans Zimmer en voor wie zin heeft om zijn oor te pijnigen is er ook nog een videoclip van Alicia Keyes). Een flinke hap dus en zoals gezegd: snoepgoed voor de fans en wellicht verwaarloosbare rommel voor zij die geen moer om Spiderman geven.
The Amazing Spider-Man 2 is nu uit op dvd en Blu-ray via Sony SPHE. En jawel wanneer je denkt dat het doek is gevallen ben je mis, want in 2016 hebben we opnieuw een afspraak met Peter Parker!
Didier BECU
20/08/2014
---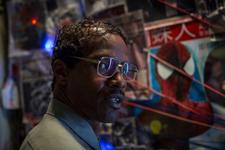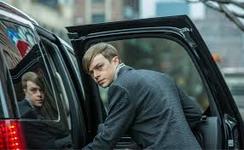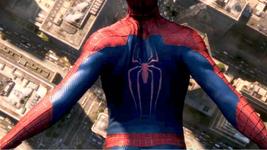 ---