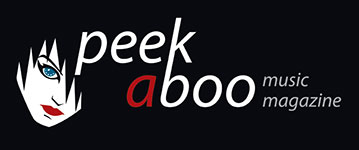 like this cult movies review
---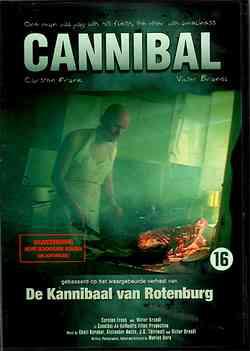 MARIAN DORA
Cannibal
Movie
•
Cult movies
Horror
[60/100]

Shock DVD
15/08/2014, Didier BECU
---
If you needed a bag to puke in when seeing La Grande Bouffe by Marco Ferreri then we really have no idea what you will be doing when you have the courage to start watching Cannibal. By now the movie has gained some popularity among horror fans, but in fact this was a project from video artist Marian Dora. Anyone who is familiar with his sort movies (there are four of them included on here) knows that the German is keen on the dark and pervert sides of humankind.
This 90 minutes long video production is based on true facts. It was the wish from Bernd Jurgen Brande (Carsten Frank) to be eaten by another person. After some search on the net he came across Armin Meiwes (Victor Brandl) who always have dreamt of eating human flesh. A sick event that shocked Germany and inspired some artists. Rammstein wrote a song about it: Mein Teil.
Marian Dora also was interested in filming the unusual event. Just don't expect an ordinary horror movie! It lasts almost 50 minutes before Meiwes sets his teeth in the meal. In those moments you see some explicit sexual scenes with the two men who are preparing themselves to become "one". Once the dinner starts, most viewers will end the trip. It's disgusting, perverse and dirty. It's not "haute cuisine" as with Hannibal Lecter, this is just dirty meat!
For the real fans. And saying that it all began with Hansel & Gretel!
Didier BECU
15/08/2014
---
Wie begon te kokhalzen bij het zien van La Grande Bouffe van Marco Ferreri zal (ten minste indien hij de moed vindt) bij Cannibal een hele resem kotszakjes nodig hebben. Deze film is ondertussen een eigen leven beginnen leiden bij de horrorliefhebbers, maar in feite gaat het om een eigenzinnig project van videokunstenaar Marian Dora. Wie eeder al zijn kortfilms (er staan er vier als extra op deze dvd) weet beslist dat deze Duitser verkikkerd is op de duistere en perverse kant van de mens.
Deze 90 minuten durende videoproductie is gebaseerd op waargebeurde feiten. Het was de wens van Bernd Jurgen Brande (Carsten Frank) om door een ander mens te worden opgepeuzeld. Na lang zoeken vond hij uiteindelijk Armin Meiwes (Victor Brandl) die er steeds van droomde om eens mensenvlees op zijn tafel te hebben staan. Een ziekelijk gebeuren dat heel Duitsland op stelten zette en heel wat kunstenaars inspireerde, bijv. Rammstein die er een nummer over schreef (Mein Teil).
Ook Marian Dora zag graten in het relaas van de kanibaal van Rotenburg. Verwacht je evenwel aan geen gewone horrorfilm. Zo duurt het bijna vijftig minuten vooraleer Meiwes zijn tanden in zijn avondmaal zet. Eerst krijg je wat intense liefkozingen tussen de mannen te zien, maar eens Meiwes aan zijn maaltijd begint zullen de meeste kijkers wel de ogen dichtslaan. Cannibal is nooit schrikwekkend, wel ontzettend vies, pervers en weerzinwekkend. Het gaat om een zeer goedkope productie met een matig beeldkwaliteit, maar de details zijn goed te zien. Is dit nu een goede film? Je kent het antwoord, maar je hem blijven herinneren doe je wel!
Voor de liefhebbers. En zeggen dat het allemaal met Hans & Grietje begon!
Didier BECU
15/08/2014
---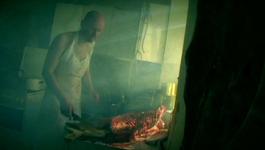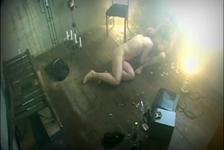 ---