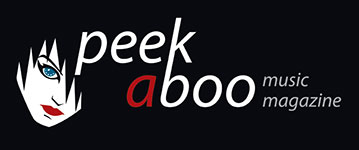 like this cult movies review
---
MARIO GARIAZZO
Amazonia (The Catherine Miles Story)
Movie
•
Cult movies
Adventure
•
Horror
[62/100]

88 Films
03/02/2014, Didier BECU
---
88 Films is, like we told before, a British label that is specialised in obscure horror movies. The label also has an own section named Grindhouse in where you can find reissues from old movies that previously were only available on some dusty videotape.


Amazonia, or The Catherine Miles Story (even White Slave in some countries) is a movie that is completely based upon the Cannibal Holocaust-hype from Ruggero Deodato. In these days it was no problem to cast inhabitants from other continents as mad barbarians. In an exploitation-movie it's very normal that every wilderness has its own cannibalistic tribe. Amazonia is not better than the rest (at contrary!), but definitely different. In fact we can talk about a romantic exploitation-film, or how the Stockholm-syndrome made its entrance in the exploitationgenre!


Catherine Miles (Elvire Audray) is a schoolgirl from London who travels each summer to the Amazone-jungle to visit her parents. One day it all goes wrong when her family invites the young Catherine for a boat trip, as some miles further the whole family got brutally murdered by a gang of headhunters. The only person who survives this tragedy is Catherine. Not that she's better off, as the blonde got kidnapped and later exposed to the whole village who never saw such a beauty before. That counts for Umukai (Will Gonzales) as well who got blinded by Catherine's beauty and falls head over heels in love with her.


Mario Gariazzo made earlier movies with bizarre titles like Very Close Encounters of the Fourth Kind. It's obvious that the Italian director was inspired by Cannibal Holocaust. Just like the original cannibal fest, Amazonia is also directed as a documentary. Gariazzo didn't have that much money and to add great scenes, he simply used footages from existing documentaries like a panther that is killing a lovely monkey. Elvire Audray can't act at all, but that's not a problem because all she has to do is scream and walking naked through the amazone.


Amazonia used to be classified as trash, today it has become delicious cult. The movie stays bad, but it's great to see it anyway…


Amazonia is released on 88 Films on DVD.
Didier BECU
03/02/2014
---
88 Films is, zoals we vroeger reeds hebben gezegd, een Brits label dat zich specialiseert in het heruitbrengen van obscure, goedkope griezelfilms. Het label heeft ook een aparte sectie onder de noemer Grindhouse alwaar je heruitgaven kan vinden van cultfilms die voorheen alleen maar op (onvindbare) videobanden zijn uitgebracht. Films die zo slecht zijn, dat ze plots cult zijn geworden.


Amazonia, ofwel The Catherine Miles Story (of zelfs ook White Slave) is een film die volop profiteert van de Cannibal Holocaust-hype van Ruggero Deodato. Blijkbaar had men er in de jaren 80 helemaal geen probleem mee om onze medemens uit andere continenten af te schilderen als krankzinnige barbaren. In de exploitation-films is het dan ook normaal dat er in ieder oerwoud zich wel één of andere kannibalistische stam huisvest. Amazonia is wel niet beter (integendeel) dan zijn soortgenoten, toch volledig anders. Eigenlijk gaat het hier om een romantische exploitation-film, of hoe het Stockholm-syndroom tevens zijn intrede in het horrorgenre vond!


Catherine Miles (Elvire Audray) is een braaf schoolmeisje uit Londen dat iedere zomer naar de Amazone-jungle afreist om haar ouders een bezoekje te brengen. Op een dag loopt het mis wanneer de familie Miles dochterlief op een boottochtje trakteert, want enkele kilometers verder wordt Catherines familie door een bende wilden met gifpijlen uitgemoord. De enige die het drama overleeft is Catherine zelf. Niet dat het veel beter met haar is gesteld, want de blondine wordt ontvoerd en tentoongesteld aan het hele dorp dat nog nooit zo'n mooie vrouw heeft gezien. Inboorling Umukai (Will Gonzales) is ook verblind door haar schoonheid en raakt tot over zijn oren verliefd op haar....

Mario Gariazzo die eerder films met bizarre titels als Very Close Encounters of the Fourth Kind maakte, had duidelijk Cannibal Holocaust in gedachten toen hij Amazonia draaide. Net zoals het legendarische kannibalenfestijn is ook deze prent als een pseudodocumentaire opgenomen. Veel geld had Gariazzo evenwel niet en daarom gebruikte hij gewoon enkele schrikwekkende scènes uit reeds bestaande natuurdocumentaires (bijv. een aapje dat door een poema wordt opgepeuzeld) om zijn film wat extra aantrekkingskracht te bezorgen. Elvire Audray kan voor geen meter acteren, maar dat is ook niet nodig, het enige wat ze moet doen is af en toe een gil slaken en poedelnaakt door de amazone lopen.

Vroeger lag Amazonia tussen de rommel, vandaag is het heerlijke cult. De film blijft verschrikkelijk slecht, maar tegelijkertijd ongelooflijk leuk.

Amazonia is uitgebracht door 88 Films op dvd.
Didier BECU
03/02/2014
---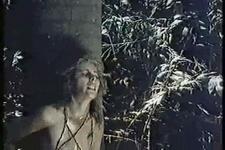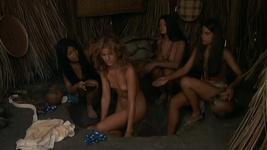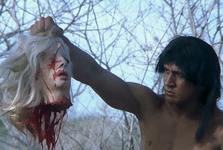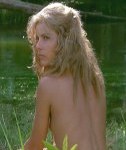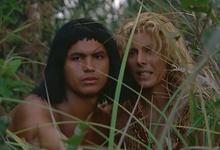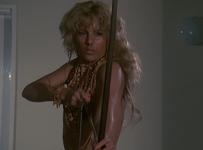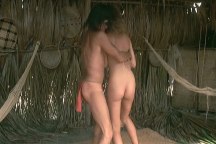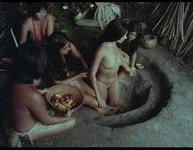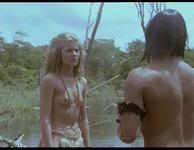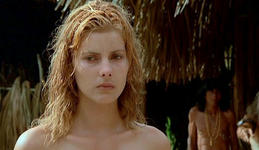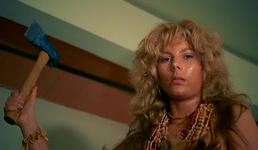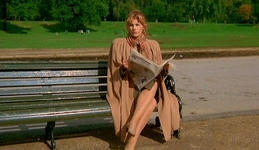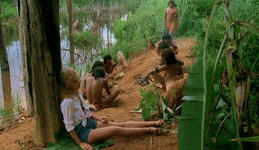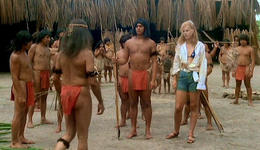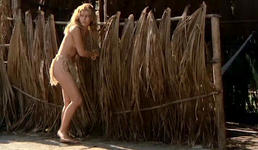 ---