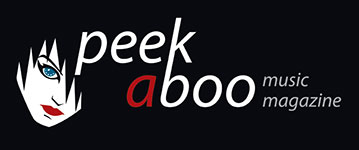 like this movie review
---
MARJANE SATRAPI
The Voices
Movie
Comedy
•
Thriller
[72/100]

Remain In Light
07/07/2015, Didier BECU
---
These days, there are not many horror comedies like in the 80's. The Voices is one of them, and a good one too; but it is strange that Marjane Satrapi is responsible for it. Her previous works (the animation film Persepolis and Poulet Aux Prunes ), which were loved and hailed by the film critics and the public, are indeed miles away from her Hollywood debut.
In The Voices we meet Jerry. Thanks to his toothpaste smile, you would think that Ryan Reynolds is the ideal son, but because of a childhood trauma, the guy is completely nuts. His boss praises his exemplary attitude, but his colleagues think he's an odd chap. Of course, as always the women won't listen, and the first one who literally loses her head is Fiona (Gemma Arterton). Her head is put in Jerry's refrigerator so he can chat every night with her. Jerry can not only communicate with sawn-off heads, he also imagines that he can talk with animals. It is precisely these voices that define his plans. Will he listen to his dog Bosco, who counsels him to care about his new love and colleague Lisa (Anna Kendrick) or will he obey his sly cat Mr. Whiskers, who thinks it is wiser to kill the poor woman?
A serial killer who talks to animals. It is a strange thing for a movie. It works or you go flat on your face. Fortunately for Satrapi it has become the first option, because of the funny scenario and the first-rate performances. I've always had my doubts about Ryan Reynolds, but as a crazed killer he delivers a great job. Anna Kendrick is for me one of the most delicious actresses (in all senses) of this moment, so no problem with that either. Admittedly, compared to Satrapis previous films, The Voices is a lightweight, and far from being a bold choice. But it does not always have to be like that, The Voices is a wonderful homage to the horror comedy of the 80s without being grotesque. This release is available from on both DVD and Blu-ray through Remain In Light.
Didier BECU
07/07/2015
---
Er worden tegenwoordig veel te weinig horrorkomedies gemaakt, een genre dat in de jaren 80 bij producers en filmhuizen bovenop de stapel lag. The Voices is eentje en zelfs een geslaagde, alleen is het vreemd dat Marjane Satrapi daar verantwoordelijk voor is. Haar vorige werken (de tekenfilm Persepolis en Poulet Aux Prunes), waarmee ze de filmcritici en het publiek wist te paaien, liggen immers mijlenver van haar Hollywooddebuut af.
In The Voices maken we kennis met Jerry. Dankzij de tandpastaglimlach van Ryan Reynolds zou je denken dat hij de ideale schoonzoon is, maar door een jeugdtrauma heeft de kerel ze niet alle vijf op een rij. Zijn baas is wel te spreken over zijn voorbeeldige houding, toch vinden zijn collega's hem maar een vreemde snoeshaan. Natuurlijk zijn het zoals altijd de vrouwen die niet willen luisteren, en de eerste die letterlijk en figuurlijk haar hoofd verliest is Fiona (Gemma Arterton). Haar afgezaagde hoofd wordt netjes in Jerrys koelkast gestopt zodat hij er nog iedere avond leuk mee kan kletsen. Jerry kan niet alleen met afgezaagde hoofden communiceren, ook beeldt hij zich in dat hij met dieren kan praten. Het zijn net die stemmen die zijn plannen bepalen. Zal hij naar zijn hond Bosco luisteren die hem de wijze raad heeft om zich gewoon knusjes in de schoot van zijn nieuwe vlam en collega Lisa (Anna Kendrick) te nestelen, of gehoorzaamt hij zijn sluwe kat Mr. Whiskers die het toch verstandiger vindt om het arme wicht meteen te doden?
Een seriemoordenaar die met dieren praat. Het is een vreemd uitgangspunt waar je ofwel mee weg kunt of volledig plat op je bek mee gaat. Gelukkig voor Satrapi is het de eerste optie geworden en dat ligt zowel aan het grappige scenario als aan de zeer puike vertolkingen. Ik heb altijd een beetje mijn twijfels gehad over Ryan Reynolds, maar als krankzinnige moordenaar doet hij het zeer goed. Anna Kendrick is voor ondergetekende op alle vlakken een heerlijke actrice, dus daar is ook geen probleem mee. Toegegeven, in vergelijking met Satrapis vorige films is The Voices echt wel een lichtgewicht, en verre van een gedurfde keuze. Maar dat hoeft niet altijd zo te zijn, The Voices is een heerlijke hommage aan de horrorkomedie van de jaren 80 zonder dat het potsierlijk wordt. Een film die je terecht als prettig gestoord mag bestempelen. Deze fijne release is vanaf nu zowel op dvd als Blu-ray via Remain In Light verkrijgbaar.
Didier BECU
07/07/2015
---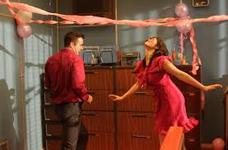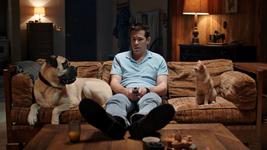 ---