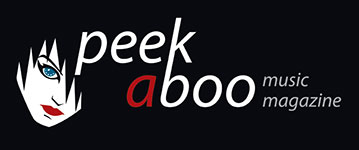 like this movie review
---
MARK BURTON & RICHARD STARZAK
Shaun The Sheep, The Movie
Movie
Animation
[90/100]

LumiŤre
11/08/2015, Didier BECU
---
2015 is a golden year for animated film. In just two months we got three sublime titles: Inside Out by Pixar, the hilarious Minions, and of course the adventures of Shaun,The Sheep. The sympathetic creature is actually more than ten years old and played only a small part in the Wallace & Gromit film A Close Shave, but in short time the animal became one of the darlings of the Aardman-fans. After numerous adventures of five minutes, the sheep finally got its own feature film.
Whether you are 7 or 77, we are pretty sure that you will fall for the charm of the animal that is a little stubborn, but nevertheless always manages to stop the other sheep before they become victims of great follies. In this feature film, the sheep are tired of living on Mossy Bottom. In order to escape another shave, Shaun decides to walk with the other sheep in a circle so the farmer falls asleep. The plan succeeds and the sheep close their shepherd in a caravan so they can do a whole day long what they want. The disaster strikes, when the sheepdog Bitzer noticeswhat is going on. During the squabble, the caravan suddenly gets loose, and at a breakneck speed it dives into the big city. The animals follow their owner, but they can not prevent that he is slipping away. Once in the city, a glass bulb of a lighting pole falls on the farmer's head, he looses consciousness and once that is over, it seems that he is suffering from amnesia and doesn't even remember that he was once a farmer. However, he still has the talent of shaving and by coincidence becomes the trendiest hairdresser in town. The sheep become friends with a stray dog, not only do they have to re-conquer the heart of the farmer, they are also on the run as the cruel Trumper wants to catch them.
The story is a bit shallow, and reminiscent of Beethoven, The 101 Dalmatians or The Aristocats, but the genius is in the details. Just like Pixar, Aardman is aware that animation films have to be modern, and appeal to both the youngest and mature viewers. There are a lot of scenes for adults (there is for example a caricature of the "You Talking To Me?" scene from Taxi Driver), while the little ones will have plenty of joy with the many antics of the animals. Just like Paddington, Shaun The Sheep is a bit naughty. Sorry, but a pig with some dirty underpants that swings to Rocks by Primal Scream, speaks simply to our imagination. The creations are cute and it is again an Aardman animation film without CGI. The characters are all made manualy of clay and it probably has lasted an eternity to make this film, but the result is genius. Even if you have an aversion to animated films (or just are too embarrassed to admit it), you must spend 85 minutes of your life with this sheep. Bet it's addictive?
Didier BECU
11/08/2015
---
2015 is een gouden jaar voor de animatiefilm. In amper twee maanden tijd kregen we drie sublieme titels: Inside Out van Pixar, het dolkomische Minions en natuurlijk ook de avonturen van het vrolijke schaapje Shaun. Het sympathieke beestje is eigenlijk al meer dan tien jaar oud en speelde destijds slechts een bijrolletje in de Wallace & Gromit-film A Close Shave, maar het beestje groeide uit tot één van de lievelingen van de Aardman-fans. Na talloze avontuurtjes van vijf minuten, kreeg het schaapje uiteindelijk een eigen langspeelfilm.
Of je nu 7 of 77 bent, we zijn er vrijwel zeker van dat je zal vallen voor de charme van het diertje dat een beetje eigenwijs is, maar er toch steeds in slaagt om de andere schapen van de kudde te stoppen voordat ze het slachtoffer worden van grote dwaasheden. In deze langspeelfilm zijn de schapen het leven op Mossy Bottom een beetje beu. Om aan nog maar eens een scheerbeurt te ontsnappen, besluit Shaun om samen met de andere schapen rondjes te lopen zodat de boer in slaap dommelt. Het plannetje lukt en de schapen sluiten hun herder in een caravan op zodat zij een hele dag lang lekker hun eigen ding kunnen doen. Natuurlijk slaat het noodlot toe, want herdershond Bitzer ddorziet hun plannetje. Tijdens het bekvechten raakt de caravan los, waardoor het gevaarte tegen een razendsnel tempo de grote stad induikt. De dieren hollen hun baasje achterna, maar ze kunnen niet verhinderen dat hij wegglipt. Eens in de stad krijgt de boer een glazen bol van een verlichtingspiloon op zijn kop, geraakt bewusteloos en eens hij terug bij zijn positieven is, blijkt hij aan geheugenverlies te lijden waardoor hij niet eens meer weet dat hij ooit een boer was. Wel bezit hij nog steeds het talent van het scheren en wordt door een stom toeval de hipste kapper van de stad. Voor de schapen die ondertussen met een zwerfhond bevriend zijn geraakt , ziet het er minder glamour uit, want die moeten niet alleen het hart van hun baasje zien te heroveren, ook slaan zij constant op de vlucht voor de wrede Trumper van het dierenasiel.

Het verhaal is een beetje oppervlakkig en doet denken aan Beethoven, De 101 Dalmatiërs of De Aristokatten, maar het genie zit hem in de details. Net zoals bij Pixar, weten ze bij Aardman dat animatiefilms modern moeten zijn en zowel de allerkleinsten als de volwassen moeten aanspreken. Er zijn heel wat scènes voor de volwassenen (er is bijv. een persiflage op de "You Talking To Me?"-scène uit Taxi Driver), terwijl de kleintjes volop jolijt zullen beleven aan de vele fratsen van de dieren. Net zoals Paddington is Shaun The Sheep zelfs een beetje stout, een varken dat met een vuile onderbroek staat te swingen op Rocks van Primal Scream spreekt nu eenmaal tot onze verbeelding. De creaties zijn schattig en het is wederom een Aardman-animatiefilm zonder CGI. De personages zijn allemaal met de hand uit klei gemaakt en het moet wellicht een eeuwigheid hebben geduurd om deze film te maken, maar het resultaat loont. Zelfs indien u een afkeer hebt van animatiefilms (of gewoon te beschaamd bent om het toe te geven), moet je beslist 85 minuten van je leven met dit beestje doorbrengen. Wedden dat het verslavend werkt?

En dan zijn er nog de extra's op dit schijfje. Qua tijd is het misschien een mager beestje, zelfs qua inhoud, maar voor mensen die weinig of niets van animatiefilms afweten (zoals ondergetekende) is het toch allemaal interessant. Op dit schijfje vind je vier documentaires waarvan Making Of Shaun De Film veruit het beste deel is. De titel legt alles uit, je krijgt een kijkje in de studio's, maar de interviews zijn niet echt informatief te noemen. Dat kun je ook niet zeggen van Ontmoet De Personages waarin men (tja) de personages van het verhaal voorstelt. Hetzelfde geldt voor Ontmoet De Crew waarin producente Julie Lockheart, regisseurs Mark Burton, Richard Starzak en producent Paul Kewley aan het woord komen. Je kan wel een gezicht plakken op degenen die achter de schermen staan, toch is het louter promopraat. Ten slotte is er nog Met Shaun Achter De Schermen, ook al is het in feite animator Andy Symanofski en ontwerpster Ellie Weston die de rondleiding geven.

Shaun The Sheep, The Movie is niet alleen de schattigste film van het jaar, het is ook het bewijs dat Aardman samen met Pixar eenzaam aan de top van de animatiefilm staat. Subliem, ook al mocht de bonussectie iets meer zijn!
Didier BECU
11/08/2015
---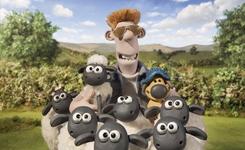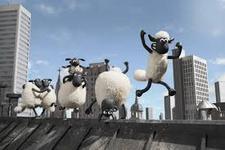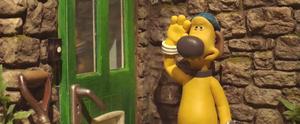 ---