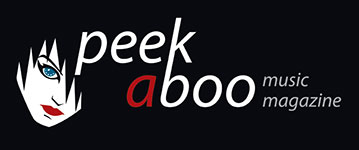 like this concert review
---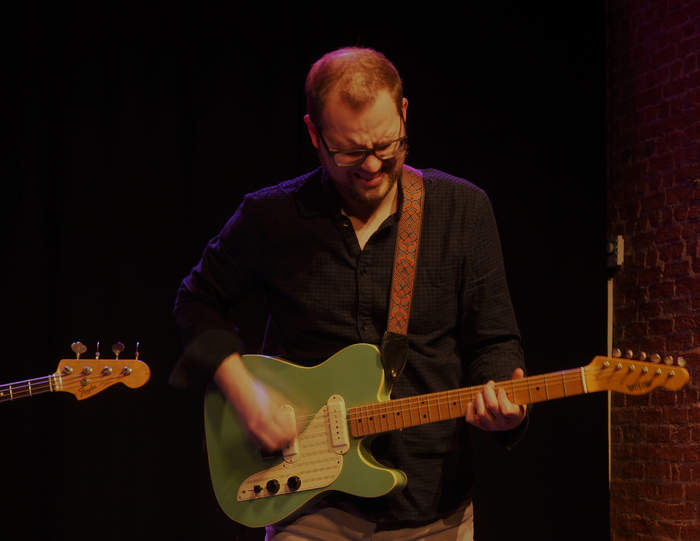 MARZIO SCHOLTEN TRIO
Mechelen, Jazzzolder (26/02/16)
Concert
Jazz
09/12/2016, Mark VAN MULLEM
---

On Friday 26th Frebruary the audience of Jazzzolder Mechelen was surrounded by soulful music by the Marzio Scholten Trio: warm guitar sounds, subtle bass lines, a compact and strong percussion, but what's more: great compositions, influenced and inspired by alt country, folk and blues, with jazz as a back bone. It really was a pleasant musical journey.
It was the first time guitarist Marzio Scholten presented his compositions as a trio. Without tenor and alt sax, which you find on almost every album by Scholten. The sound was narrowed down to guitar, bass and percussion. Percussionist Matk Schilders and bass player Sean Fasciani share Scholten's love for jazz, blues, folk and americana. The very enjoyable pure guitar playing of Scholten has an important role in the sound.

Does Marzio Scholten Trio play pure jazz? Maybe not. Earlier mentioned influences are clearly omnipresent in the overall band sound, but with jazz as the core and pumping heart. Maybe the only real exception is Blues Nr. 8, which clearly hints at blues rock.

The second part of the set seemed a bit more accessible, but that's maybe due to the fact that the listener was more familiar with the wayward approach of Scholten by now.

From the first song of both sets until the very end, the band played very tight, quite intense and with an utmost concentration. The trio swears by the less is more approach. With the warm guitar sound and moody compositions and great grooves, it helps you to get more easily into the music.

1997 proved to be a great set opener. Hands up for Heisenberg's stunning guitar solo's and the well balanced dose of imminent percussion.

True developed itself in a prog or post rock way, with a slow start, speeding up the tempo to let the sound die towards the end. A wonderful winter soundscape. True was followed by the next song Alarma, with its very subtle, but necessary bass lines. Groovy tune, too.

After the break, The Architect III (Garage Moi, 2013) was another perfect demonstration of Marzio Scholten's guitar skills. The album also features parts I and II, and so, I thought: why not play the whole trilogy during the gig?

If you closed your eyes during Man Make Fire, you surely believed the song featured a Moog! The guitar parts of Scholten truly sounded like a Moog. I'm not fooling you! With big grooves in this song too.

Announced as we don't have a title for it yet, a strong piece of music followed. A composition that would be great as the soundtrack for a road movie, well that's just my two cents of course.

Last song of the second set, The Great Race, had a big rock and roll-feel to it. With hectic drums and rhythms and wonderful guitar playing once again. A great party track, and a perfect way to end the gig. I'm sure the band must have thought so too.

It took some time before we got an encore. Marzio had to tune his guitar again for this last song, That same green guitar he had been playing on during the whole gig. Yes, no hussle with changing guitars all the time. All the great sounds and vibes came from that one guitar.

With a more 'naked' sound, compared to the albums in which also saxes are being used, the trio proved that less is more: just guitar, bass and percussion, resulting in a great rich warm sound.
Especially selections from the album Garage Moi (2013) were featured during the set list, good album. But may I suggest to have a listen to the current EP (as Identikit) Here Comes A Riot ? Just buy it, you won't regret it!
Setlist:
1997 / Heisenberg / True / Alarma / Blues Nr. 8 // The Architect III / Man Make Fire / Younger Year / Untitled / The Great Race / / The King Is Dead (Long Live the King)

More information on Marzio Scholten Trio and other projects on Marzio's website.
Mark VAN MULLEM
09/12/2016
---
Vrijdag 26 februari 2016 werd het aandachtige publiek in de kapel van Jazzzolder Mechelen omhuld door en verwend met zielvolle muziek van het Marzio Scholten Trio, met warme gitaarklanken, subtiele bas en potige percussie en bovenal met composities die gedrenkt waren in jazz, alt country, folk en blues. Het werd een bijzonder aangename kennismaking met de muziek van dit Nederlandse trio. Melomanen die elders waren, hebben wat gemist.

Gitarist Marzio Scholten stelde zijn muziek voor het eerst in een trioformule voor. Ontdaan van tenor en alt sax en uitgepuurd tot alleen maar gitaar, bas en percussie. Drummer Mark Schilders en bassist Sean Fasciani delen Scholtens voorliefde voor jazz, blues, folk en Americana. Het totaalgeluid van de band bevat dan ook elementen uit deze genres en centraal staat het prachtige verfijnde en pure gitaarspel van Scholten.

Geen pure jazz? Misschien niet of net wél! Jazz is de hartslag van de output van het drietal. Het vormde alleszins de ruggengraat van het uitstekende optreden, zeker in de eerste set, misschien op Blues Nr. 8 na dan, dat behalve bij blues ook behoorlijk bij rauwe rock aanleunde. De tweede set klonk een stuk toegankelijker dan de eerste, maar misschien waren we gewoon al gewend geraakt aan de eigenzinnige signatuur van Scholtens muziek.

Van bij het begin van de eerste set viel de grote concentratie, alsook intensiteit en less is more-aanpak van de muzikanten op. De warme gitaarklanken maakten dat je als vanzelf in vervoering kwam en meteen mee was, toegankelijk of niet. Veelal erg moody composities en ook heel fijne grooves waren ons deel. Met 1997 werd een flinke start genomen en we onthouden zeer zeker ook Heisenberg met zijn knappe opbouw, knappe gitaarsoli en bescheiden percussiegeweld.

In mijn notities lees ik bij True: song met gekke sprongen, ontwikkelt zich onverwacht en knap - true! True kwam op gang, culmineerde tot een catharsis en stierf op het einde helemaal weg. Mooie wintersoundscape. Na het uitdeinen werd geen adempauze gelaten en Alarma werd ingezet met knappe aanzwellende gitaren (nu ja, het gaat hem om die éne gitaar van Marzio!), fraai percussiewerk, met de bas die op een zuinige maar ook essentiële manier de ondertoon voedde. Een song met spannende wendingen, geweldig groovy ook.

Na de pauze kregen we eerst The Architect III, een erg atmosferische compositie waarbij het weerom puur genieten was van dat gitaarspel van Marzio. Op het album Garage Moi (2013), waarop deze compositie staat, vind je trouwens ook deel I en II. Waarom niet het drieluik brengen, vraag ik me nu af, met dat album in mijn bezit. Wie tijdens Man Make Fire zijn ogen sloot, kon vermoeden dat er een Moog in het spel was. Niets was minder waar; op een gegeven moment klonken die gitaarpartijen dus écht als een Moog! Vette groove trouwens!

Scholten was vrij zuinig met informatie over de muziek. Toen hij de ballade Younger Year aankondigde, althans dat is wat we verstonden, vroeg iemand het nog eens te herhalen, waarop Scholten antwoordde: je kunt dat googlen. De band speelde vervolgens een compositie waar ze naar eigen zeggen nog geen titel voor heeft, een altcountryachtig stuk met een erg filmisch karakter. Knap leitmotiv en drive.

Met The Great Race werd besloten, een song met een hoog rock 'n rollgehalte. Zenuwachtige drums en ritme, zalig gitaarspel. Een perfecte sfeerbrenger ook. Waarom niet afsluiten met een feestelijke track, moet het drietal gedacht hebben.

Het was heel even wachten voor de ingetogen toegift. Eerst de gitaar omstemmen, aldus Marzio, die het hele optreden al die mooie klanken produceerde met die éne gitaar. Nee, geen leger aan gitaren, geen voortdurende wissel. Het gebeurde allemaal met die ene groene gitaar.

Op de albums van Scholten zijn ook blazers te horen en die dragen bij tot een mooi geluid. Maar met het Marzio Scholten Trio bewijst de gitarist dat het ook zonder kan. De composities boeten er niet bij in, integendeel. En less is more. Met die naakte eenvoud bracht het trio een bijzonder rijk en aards geluid.
Vooral het album Garage Moi (2013) werd bezocht, vrijdagavond. Maar schaf zeker (ook) de voortreffelijke recente ep, Here Comes A Riot (2015) aan, aanrader!

Setlist:
1997 / Heisenberg / True / Alarma / Blues Nr. 8 // The Architect III / Man Make Fire / Younger Year / Untitled / The Great Race / / The King Is Dead (Long Live the King)

Meer info over Marzio Scholten op diens webstek.
Mark VAN MULLEM
09/12/2016
---