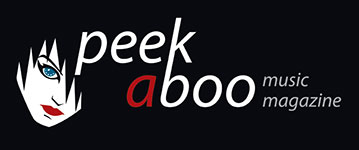 like this cinema review
---
MATT REEVES
DAWN OF THE PLANET OF THE APES
Movie
•
Cinema
Action
•
Science Fiction
[75/100]

20th Century Fox
10/08/2014, Didier BECU
---
The remake from Tim Burton that has been directed in 2001 wasn't strong enough to evoke a wave of sequels, but Rise Of The Planet Of The Apes by Rupert Wyatt made that happen. Everyone who saw the finale might remember that from the moment the apes were attacking the Golden Gate Bridge that there was no hope left for Mother Earth. And look, in the very first sequel (others will follow) total war explodes! The ape flu has caused many deaths among people. The few that have survived are gathered in a camp. There's nothing pretty about it as they have no electricity and so it's impossible to communicate with remaining survivors from other cities. The solution lies in a nearby wood that hosts a dam. The problem however is that this place is owned by (talking!) apes who don't accept human intruders on their soil. Only their leader Caesar (Andy Serkis) gives Malcolm (Jason Clarke) the benefit of the doubt. A decision that doesn't please ape Koba (Toby Kebbell).
This blockbuster is in many ways a winner. There's of course the fact that the box office from the first week was right on target, but as a film itself, Dawn Of The Planet Of The Apes is one of the greatest blockbusters you'll see this summer. A fact that might Michael Bay turn green as Transformers was in Europe the big looser. Even if the sequel from Matt Reeves (Cloverfield) is almost completely built upon CGI-effects, the movie can stand on its own feet. Dawn Of The Planet Of The Apes is a superb spectacle with an end that might be a bit too mellow, but even if it's not a cinematographic masterpiece, it will impress everyone!
Didier BECU
10/08/2014
---
De remake uit 2001 van Tim Burton was niet sterk genoeg om een golf van sequels te doen losbreken, maar Rise Of The Planet Of The Apes van Rupert Wyatt was dat wel. Wie zich nog het laatste halfuur herinnert waarin de losgeslagen apen de Golden Gate Bridge bestormden wist meteen dat er maar weinig hoop voor moeder aarde was overgebleven. En kijk, in deze eerste sequel (er zullen er nog volgen hoor!) is het meteen raak. De apengriep heeft er voor gezorgd dat de meeste mensen zijn gestorven. De weinige overlevenden hebben zich in een quarantainekamp verzameld. Een pretje is dat niet, want er is geen elektriciteit voor handen en dus is er geen mogelijkheden dat men met overlevenden uit andere steden kan communiceren. De oplossing ligt in het nabije woud waar een dam voor de nodige energie kan zorgen.
Alleen wordt dit oord door apen bewoond. Deze beesten kunnen ondertussen niet alleen praten, maar hebben ook hun eigen beschaving opgebouwd en daar is er geen plaats voor de mensheid. Alleen leider Caesar (een volledig onherkenbare Andy Serkis) geeft Malcolm (Jason Clarke) het voordeel van de twijfel, want aap Koba (Toby Kebbell) helemaal niet zint.
Deze blockbuster overtrof op alle vlakken de verwachtingen. Niet alleen aan de bioscoopkassa waardoor de transformers van Michael Bay wat verweesd achter zijn gebleven, ook als film zelf is het een voltreffer. De film bestaat wel uit bijna louter CGI-effecten, desalniettemin is Matt Reeves (Cloverfield) er in geslaagd om zijn apenepos een eigen gezicht te geven. Een twee uur durend strijdtoneel tussen aap en mens lijkt misschien lang, maar ook al verliezen de makers op het einde wat de trappers door net iets te melig te willen doen, blijft Dawn Of The Planet Of The Apes zonder enige twijfel één van de betere blockbusters van de afgelopen maanden. Een onderhoudende spektakelfilm die misschien cinematografisch net iets te veel op een ingenieus videospel lijkt, maar imponeren doet het wel!
Didier BECU
10/08/2014
---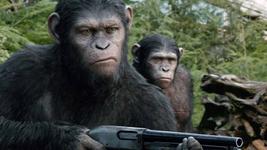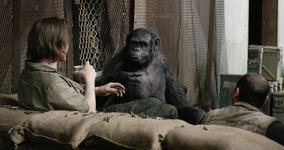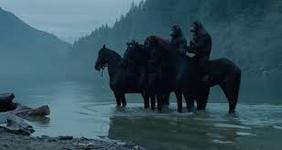 ---