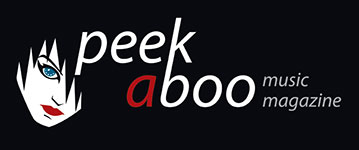 like this concert review
---
MERCURY REV
Brussels, Botanique (08/11/2015)
Concert
10/11/2015, Didier BECU
---
Imagine you're a musician from New Jersey who moves to Texas to be a teacher of country music and suddenly you come to the conclusion that you have an aversion to what the genre represents today. It happened to Nicole Atkins and she even wrote a song about it with the memorable words I do not know what country, but I know what was country. Nicole, who was asked by Mercury Rev to join the European tour, used these words to get power over the audience at the Botanique, and she managed to do so! It certainly is not easy to captivate an audience that is waiting for a rock act (or something like that) with a guitar only. Thanks to her intriguing voice that was not even a problem, and when Atkins ended her set with a beautiful version of Roy Orbison Crying, the public knew that it had seen a great musician at work. Only no one knew in which category her music belongs. Perhaps it's country, but the kind of country you get when you listen too much to the Deserter's Songs!
One look at the crowd made you aware of the fact that Mercury Rev thrives on an older crowd, loyal fans who follow them from the beginning and people who might think, just like so many others, that their latest album The Light In You misses the usual Mercury Rev magic.
After an existence of almost 25 years, these New Yorkers know how to handle the tricks, and they chose a very balanced set that included both new (often unknown) material and old classics that everyone knows from the first to the last note. The set began with the new song The Queen Of Swans, and was immediately followed by the touching The Funny Bird from Deserters' Song. An ideal choice as during 90 minutes, singer Jonathan Donahue was (literally and figuratively) a magician who lead us through a musical landscape full of lost dreams, melancholy and macabre fairy tales that you only can see in David Lynch movies.

There was no shortage of old hits: Holes, Diamonds, Endlessly and Opus 40, they all were played. But the best , and certainly the highlight of the evening was the majestic version of Frittering from their best album ever (Yerself Is Steam). The quintet proved with that song that it is one of the pioneers of shoegaze, and that its sound is still sounds essential!

After seventy minutes the band came back for two encores: The Dark Is Rising and the inevitable (but still) masterly Goddess On A Highway. Mercury Rev proved yesterday in the Botanique that it still sounds as good as many years ago! Excellent!
Thanks to our friends of ConcertMonkey for sharing their photos by Manu Golenvaux with us.
Didier BECU
10/11/2015
---
Het zal je maar gebeuren, je trekt als muzikant van New Jersey naar Texas en je geeft daar les over country en plots kom je tot de vaststelling dat je een afkeer hebt van wat het genre vandaag voorstelt. Het overkwam Nicole Atkins en ze schreef er zelfs een nummer over met de memorabele woorden I don't know what country is, but I know what country was. Nicole, die op vraag van Mercury Rev mee op Europese toernee ging, wilde met deze woorden het publiek van de halfvol gelopen Botanique beroeren, en het lukte haar nog aardig ook. Het is zeker niet evident om alleen maar met een gitaar het publiek dat op een rockact (of zoiets toch) wacht een halfuur lang in de ban te houden. Dankzij haar intrigerende stem was dat niet eens een probleem voor deze vrouw, en toen Atkins haar set eindigde met een prachtige versie van Roy Orbinsons Crying, wist men dat men een grote dame aan het werk had gezien. Alleen wist geen mens in de Brusselse concertzaal onder welke categorie haar muziek moet geplaatst worden. Wellicht country dus, maar het soort country dat je krijgt als je teveel naar Deserter's Songs hebt geluisterd!
Een blik in de zaal verraadde meteen dat Mercury Rev op een ouder publiek teert, trouwe fans die vanaf het begin de band hebben gevolgd en die wellicht zoals zo vele anderen denken dat hun laatste plaat The Light In You net iets te mager is om van de gebruikelijke Mercury Rev-magie te kunnen spreken.
Na een bestaan van bijna 25 jaar, kennen de heren uit New York de knepen van het vak en kozen ze voor een zeer gebalanceerde set die bestond uit zowel (vaak nog onbekend) nieuw materiaal en oude klassiekers die iedereen uit het hoofd kan meezingen. De set begon met het nieuwbakken nummer The Queen Of Swans, en werd onmiddellijk gevolgd door het ontroerende The Funny Bird uit Deserters's Song. Een betere keuze was ondenkbaar en zanger Jonathan Donahue toonde (letterlijk en figuurlijk) dat hij als een bezwerende tovenaar ons anderhalf uur zou leiden door een muzikaal landschap vol verloren dromen, melancholie en macabere sprookjes die je alleen maar in films van David Lynch ziet.
Aan oude hits was er geen gebrek: Holes, Diamonds, Endlessly en Opus 40, ze werden allemaal gespeeld. Maar het mooiste, en zonder meer het hoogtepunt van de avond, was de majestueuze versie van Frittering uit hun allerbeste album ooit (Yerself Is Steam), waarmee het vijftal bewees dat het één van de pioniers van de shoegaze is.

Na een zevental minuten kwam de band terug voor twee bisnummers: The Dark Is Rising en het onvermijdelijke (maar nog steeds) magistrale Goddess On A Highway. Mercury Rev bewees gisteren in de Botanique dat het nog steeds van tel is en dat er nog geen sleet zit op hun dreampop.
Peek-A-Boo dankt onze vrienden van ConcertMonkey voor het verlenen van de foto's van Manu Golenvaux.
Didier BECU
10/11/2015
---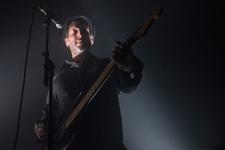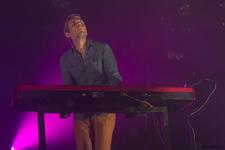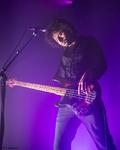 ---