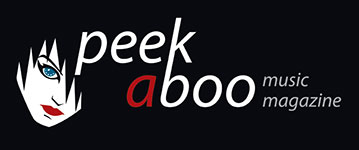 like this concert review
---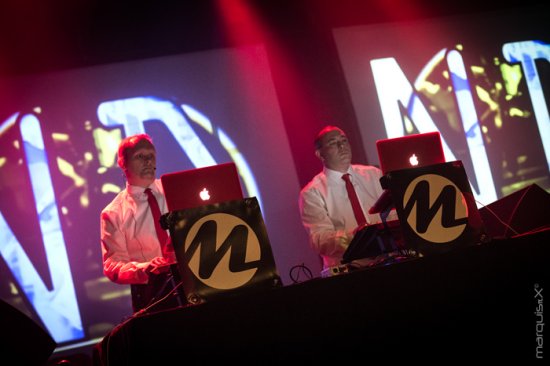 METROLAND
Review of the concert and interview at the BIM Fest in Antwerp on 15 December 2012
Concert
Electronics
•
Krautrock
•
Synth Wave
[85/100]

Alfa-Matrix
19/12/2012, Philippe BLACKMARQUIS
---
The first act of Day 2 of the BIM Fest was another exclusive event: the first ever live concert of Metroland, a new band from Belgium that had already created quite a buzz on the music scene with its amazing electronic music. The band is composed of Sven Lauwers and Andy De Decker, who were previously in the EBM project Ionic Vision. As Andy told us in the interview after the show (see video below), "we had been doing this EBM project for 20 years and had even realized our dream ie play as supporting act before our heroes, Nitzer Ebb, so we thought it was time for change". They took a direction which is directly inspired by the likes of British Mute Records act Komputer and German pioneers Kraftwerk, but also by artists like Anthony Rother.
The whole musical and artistic concept of Metroland is based on metro, commuting and public transport in general. Their debut album "Mind The Gap" was released by Alfa-Matrix. On the stage, the two musicians (called "Passenger A" and "Passenger S") were dressed with a white shirt and a red tie (a clear nod to Kraftwerk) and stayed behind the equipment table, on which the "m" logo of the band was hanging. They took us for a ride through an electronic landscape, layered with authentic warm sequences and robotic vocals and supported by very nice visual animations. Watch the band performing "Theme For Metroland" below:
The sound was typically vintage and analog oriented, and we learned in the interview that all the music is made via one single software program: Reason from the Swedish company Propellerhead. One of the highlights of the show was the track "The Passenger", especially at the end with the wonderful synth harmonies. On some tracks, the band had some feedback problems, due to their vocoder effects, so they had to reduce the level of effects, which gave a more 'human' sound to the vocal parts. The song "Moscow Main" was a clear hint to another influence for the band: TELEX.
As a conclusion: it was a very promising first concert! Don't hesitate to buy their 2CD! The band already has 6 new songs ready for the next album and is planning a small tour in Germany. Maybe they should organize gigs in metro stations, that would be special!
Watch the interview with Andy De Decker after the show!
Setlist: 1 welcome, 2 theme for metroland, 3 inner city transport, 4 enjoying the view, 5 moscow main, 6 m.e.t.r.o., 7 it's more fun to commute, 8 harry beck, 9 the passenger
Check the pictures of the concert here.
Philippe BLACKMARQUIS
19/12/2012
---