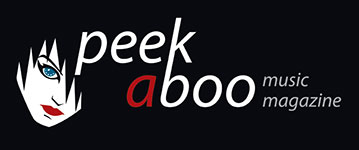 like this cinema review
---
MICHAEL R. ROSKAM
CINEMA: The Drop
Movie
•
Cinema
Action
•
Drama
20th Century Fox
26/09/2014, Didier BECU
---
These days Flanders is happy to have two directors who are doing their thing in that dream far away named Hollywood. For Erik Van Looy it already looks like a shattered dream as his remake from The Loft has to conquer one problem after the other, but perhaps Michaël R. Roskam (famous for Bullhead) has a bit more luck, although he had an extra promotion tool no one really wants: the death of James Gandolfini. And then of course there's Matthias Schoenaerts: an actor who is destinated to become (at least in the mind of Flemish tabloids) the next Brad Pitt.
Do you feel some irony in here? Well, let's be honest about it: if The Drop should have been directed by someone else, changes were big no one should care about it. But as the movie is in the spotlight we can better drop (ha!) in it. The gangster movie that's been based upon a short story by Dennis Lehane (who also wrote Gone Baby Gone) is certainly not bad, at contrary! The film misses some explosion, but that minor point is camouflaged by great jokes and impressive performances. The story is set in a drop bar in Brooklyn, that's a place where the local mob drops their money for one evening. Everybody betrays everyone as only the color of money matters, and there's also a cute little dog running around there with a special mission. What mission? Go and see it!
The direction by Michaël R. Roskam is okay, but a bit too standard to make you go awol. The performances definitely work, especially Tom Hardy and someone who no one never mentions: Noomi Rapace! Gandolfini is (well, was) Gandolfini and Schoenaerts is really born to star on the silver screen. A tip? Yes.
Didier BECU
26/09/2014
---
Ja mijnheer, we zijn er trots op dat Vlaanderen twee regisseurs in Hollywood heeft rondlopen. De vraag is alleen of dat nu ook goede cinema oplevert. Van Looy mag dan wel het Filmfestival van Gent openen, toch ziet de toekomst van de Amerikaanse remake van zijn kind er allesbehalve rooskleurig uit. Misschien heeft Michaël R. Roskam wel wat meer geluk, ook al zorgde de plotse dood van hoofdrolspeler James Gandolfini voor extra aandacht die niemand wil. En dan is er natuurlijk ook nog Matthias Schoenaerts: de man waarvan de modale Vlaming denkt dat hij de nieuwe Brad Pitt zal worden.
Verdenk je ons van een vleugje ironie? Wel, laten we eerlijk blijven: moest The Drop niet door Roskam zijn gemaakt dan zou de film hier nauwelijks aandacht krijgen, maar nu hij toch in de schijnwerper staat kunnen we er maar beter volop van proeven! En jawel, deze misdaadfilm waarvan het scenario op het kortverhaal Animal Rescue van Dennis Lehane (zie ook Gone Baby Gone) is gebaseerd is verre van slecht. Ofschoon er net iets te weinig vuurwerk is, zit de film toch boordevol geslaagde grappen en vaak meesterlijke vertolkingen. Het maffiaverhaal speelt zich in een bruine kroeg in Brooklyn af waar iedereen elkaar belazert. De rode draad is een hondje, waarom precies moet jezelf maar uitzoeken.
De regie van Michaël R. Roskam is geslaagd, maar net iets te braaf om echt te imponeren. Wat wel indruk maakt zijn de vertolkingen met vooral een ijzersterke Tom Hardy, ofschoon je Noomi Rapace ook niet moet onderschatten! Gandolfini is Gandolfini (lees dus briljant) en Schoenaerts is echt wel voor het witte doek geboren. Een kans geven? Jawel.
Didier BECU
26/09/2014
---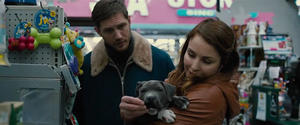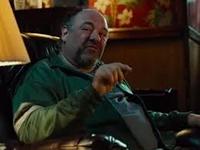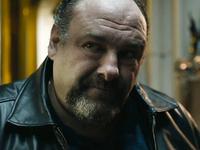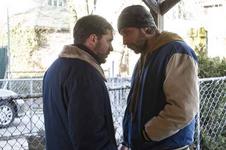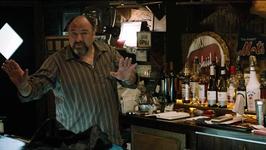 ---