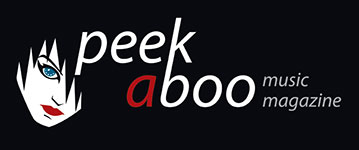 like this concert review
---
MY BABY
Ghent, De Charlatan (11/12/2015)
Concert
14/12/2015, Didier BECU
---
By now, the Flemish concept of Glimps (Ghent) is kind of familiar: during three days you can discover the bands that are most interesting to follow. A commendable initiative, even though many genres are totally ignored.
Peek-A-Boo opted for My Baby. If you are not Dutch, then the name probably means nothing to you, but in homeland Holland this trio already sold out the large venue Paradiso. "No problem," said the extremely sympathetic Cato, "our band always did it all alone and everything we reached is done by our audience". Well, if that is the way to make it, then it will be no problem for My Baby to conquer Flanders too. Despite the early hour (two o'clock in the afternoon) and a too short set (25 minutes) Cato, her brother Daniel and Joost managed within the shortest time to overwhelm the venue with their talent.
Even though we like the second album Shamanaid, recently is released by Starman Records in Belgium, My Baby is first and foremost a live band.
For most of the attendees My Baby was a brand new band, but from the first note you noticed that this trio is formed by experienced professionals who handle their instruments (from self-built guitars to a violin) as masters. Most songs of the (way too short) set came from the second album. If you fail to describe the sound of this Dutch band on CD, then it even is a more difficult assignment when My Baby plays live, a delicious mixture of indie, funk, rock and blues and a considerable amount of crazy energy.
Cato apparently was impressed by the enthusiastic audience. The public realized that it saw a great lady (with an even bigger voice) at work. Afterwards, the Dutch singer almost apologized for the praise she received. Not necessary at all, with such a sound (and especially talent) My Baby's fame will only expand.
Didier BECU
14/12/2015
---
Het concept van Glimps is ondertussen meer dan bekend: in een recordtempo van drie dagen probeert men in de Gentse binnenstad de muziekliefhebber te tonen welke bands het meest interessant zijn om te volgen. Een lovenswaardig initiatief, ook al worden jammer genoeg heel wat genres over het hoofd gezien.
Peek-A-Boo koos voor My Baby. Als je geen Nederlander bent, zegt de naam je misschien bitter weinig, maar dit drietal verkocht in zijn thuisland al Paradiso uit. "Geen nood," vertelde de uiterst sympathieke Cato aan deze reporter, "onze groep heeft het steeds helemaal alleen geklaard en we staan er vandaag dankzij ons publiek". Als dat de manier is om het te maken, dan zal het voor My Baby wellicht ook geen probleem zijn om Vlaanderen in te palmen. Ondanks het ondankbare vroege uur (twee uur 's middags) en een veel te korte set (25 minuten), slaagden Cato, broer Joost en Daniel er binnen de kortste tijd in om de aardig volgelopen Charlatan van hun talent te overtuigen.
Ook al waren we op onze pagina's te spreken over hun tweede plaat Shamanaid die onlangs door Starman Records in België werd uitgebracht, is My Baby in de allereerste plaats een liveband. Want, wat een kracht zeg!
Voor de meeste aanwezigen was My Baby een nieuwe en te ontdekken band, maar vanaf de eerste noot merkte je dat dit trio ervaren rotten bevat die hun instrumenten (van zelfgebouwde gitaren tot een viool) perfect beheersen. De meeste nummertjes uit hun (veel te korte) set kwamen uit hun tweede plaat. Als je op cd er niet in slaagt om deze Nederlandse band te omschrijven, dan is dat live nog een moeilijkere opdracht omdat My Baby aan zijn heerlijke brouwsel van indie, funk, rock en blues ook nog een flinke portie energie toevoegt.

Cato was blijkbaar sterk onder de indruk van het enthousiaste publiek dat besefte dat het een grote dame (met nog een grotere stem) aan het werk zag. Na afloop verontschuldigde de Nederlandse zich bijna voor de lof die ze kreeg. Niet nodig, met zo'n geluid (en vooral talent) kan hun roem zich alleen maar uitbreiden.
Didier BECU
14/12/2015
---