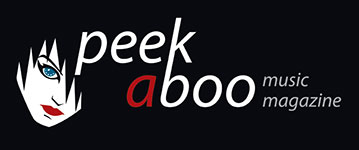 like this concert review
---
'N TALES, INTERZONE, GROUND NERO
At B52 Club Eeernegem
Concert
14/06/2022, Jurgen BRAECKEVELT
---
While the Corona pandemic seems to slowly lose ground, concerts and performances can continue again in a 'normal' way. So we headed off to the B52 club, a nice music club in Eernegem (Belgium) in West Flanders for an evening of cold wave, dark wave and goth rock. On the bill the equal nice 'n Tales, Interzone (Joy Division tribute) and the Belgian goth rockers Ground Zero.
'n Tales was allowed to kick off the evening with their wave sound, situated somewhere between The Cure, a hint of She Past Away and Clan Of Xymox, but above all: astrong live show, very strong indeed! The pleasure in playing, solid and also quite good in terms of vocals which many other frontmen fail to maintain live. After the intro and opener 'Reincarnation', the audience immediately started to move in an enthusiastic way. The song starts atmospheric with a nice bass line and some synths. Sammy's guitar sneaks into the song almost unnoticed giving this great song even some more grayness and danceability. Their first album Descending is a really a great disc but in addition, these gentlemen succeed to perform it just as convincingly live, albeit with a more lived through touch. Then 'Stories', a nice dark-wave song with a post-punk edge and 'All The Rain' blast through the speakers. The latter definitely has some The Cure allures. I know, comparisons mean nothing really but It just sounds tantalizingly good. 'Wrecked ' passes through soaring almost like a ballad, followed by 'Diamond', carried by a lingering slow bass line. With 'Japan', blissfully upset musical sandstorms are pouring into the small but fine concert space of the B52. With some, what I think are Russian, ramblings, the next song 'Pripyat' opens. A dark-wave song of the purest kind. The synths, which are unobtrusive in all songs, spread a special atmosphere. Same ingredients in 'Far Away Plains'. I can almost feel Clan Of Xymox vibes here. Whatever I feel, think, invent, fantasize, can't express, find inexplicable… this was simply a very strong performance. Sammy and Christophe did very well! Sounding great, lived through and rightful. This is a band that should get a foothold in Belgium and after seeing the quality of this performance, perhaps far beyond the borders. Why? Because they deserve it!
Then Interzone. A Joy Division tribute band. They themselves state that they '(...) bring an honest interpretation of songs by Joy Division, not an imitation (...)'. Well that's right. Just an interpretation that didn't really captivate me and most of the audience. It sounded too forced and far from inspiring. 13 in a dozen? Yes, Interzone was the 13th… Another problem, as it turned out later, is the band played a bit too long, so that Ground Nero had to shorten their set. Shit happens. Half an hour of good music taken away from those music lovers who came to see bands bringing their own songs, with enthusiasm…
No time for complaining, since that doesn't make a fuck of difference now. Ground Nero still gave a performance during new songs for the upcoming album which were fired at the audience with absolute passion, professional and lived-in manner. And how? Well, the way we are used to from Ground Nero. Firm, dark, rocking and yet compelling across the board. Their songs are gothic rock, then laced with a bit more psychedelic/shoe-gaze vibe. But above all: this is one of those bands that pop even more live than on their albums. And if you know how strong those albums already are, they only add a dash of solid spirit on top live. The new frontman, who appears to be a hybrid in look between our star Freddy de Vadder and a pinch of Eldritch, takes his place with his own stamp on songs like 'Promesse', 'The Furnace' and 'The Blood', and of course on the new songs that are on the way.
We may show some chauvinism with Ground Nero. If you lonce liked the (old!) The Sisters Of Mercy, or let The Fields Of The Nephilim use some guitars, appreciate shoe-gaze here and some sturdier guitars there, then Ground Nero is the Belgian band that can do this also and in superb manner live on stage. After this very convincing performance it is just a matter of counting down the days to their new album.
In short, the evening at B52 club was a success, except for the timing issue. If there had been only two bands who were allowed to do their thing even longer, I would have gone home with on an euphoric vibe, unfortunately I was not allowed. But I do remember: Belgium has still some great talent that hopefully will be able to smash through the national borders to conquer the rest of Europe (and beyond) with musical violence. Amen!
Jurgen BRAECKEVELT
14/06/2022
---
Nu de corona-pandemie langzaam maar zeker wat aan snelheid inboet, kunnen ook concerten en optredens op een 'normale' manier doorgaan. We trokken dus op 9 juni richting B52, de sympathieke muziekclub in het West-Vlaamse Eernegem (Belgium), voor een avondje coldwave, darkwave en gothrock. Op de affiche stonden het sympathieke duo 'n Tales, Interzone (Joy Division-tribute) en de Belgische gothrockers Ground Zero.
'n Tales mocht de aftrap geven. Hun wave houdt het midden tussen The Cure, een zweem She Past Away en een paar uithalen waarin je Clan Of Xymox kan herkennen. Maar bovenal: live sterk. Heel sterk. Het plezier in het spelen, degelijk, qua zang ook dik OK (wat veel frontmannen bij veel bands live niet in stand houden…). Het publiek was na intro en opener Reincarnation al meteen sfeervol aan het meebewegen. De song begint sferisch met een lekkere baslijn en synths. Sammy's gitaar sluipt bijna geruisloos het nummer in en geeft de geweldige song nog wat meer grauwheid en dansbaarheid. Hun eerste album Descending is echt een topschijf. Daarbij komt dat de heren het live even overtuigend brengen, zelfs nog doorleefder, dan op CD. Dan knallen Stories, een lekkere darkwave song met een postpunkrandje, en All The Rain door de boxen. Deze laatste heeft dan weer Cure- allures. Vergelijkingen beteken niets, I know. Het klinkt gewoon verleidelijk goed. Wrecked komt er als bijna-ballade even tussendoor gefietst, gevolgd door Diamond, een nummer dat gedragen wordt door een slepende baslijn. Japan strooit zalig overstuurde muzikale zandstormen de kleine maar fijne concertruimte van de B52 in. Wat – naar ik vermoed - Russisch gewauwel leidt Pripyat in. Een darkwave-song van de zuiverste soort. De synths, die in alle songs onopvallend aanwezig zijn, verspreiden een speciale sfeer. In Far Away Plains dezelfde ingrediënten. Ik 'voel' Clan Of Xymox-vibes. Wat ik ook voel, denk, verzin, fantaseer, niet uitgedrukt krijg, onverklaarbaar vind… dit was een géweldig sterk optreden. Sammy en Christophe staan er. Het klinkt live vol, doorleefd, het klopt. Dit is een band die in België en wellicht ver buiten de grenzen, voet aan wal zou moeten krijgen. Waarom? Omdat ze het verdienen.
Dan Interzone. Een Joy Division tribute band. Zelf stellen ze dat ze '(…) een eerlijke vertolking brengen van songs van Joy Division, geen imitatie (…)'. Wel, dat klopt. Alleen een interpretatie die mij, en met mij nog heel wat aanwezigen, niet echt wist te boeien. Het klonk te geforceerd en verre van begeesterend. 13 in een dozijn? Ja, Interzone was de 13de… Probleem, zo zou later blijken, is dat de band zo lang speelde, dat Ground Nero hun set – kwalitatief 100 keer beter dan…- noodgedwongen moest inkorten, gezien het ver gevorderde uur. Shit happens. Een halfuur goéde muziek afgenomen van de muziekliefhebber die komt voor bands die eigen songs begeesterd brengen.
No time for complaining, gezien dat geen fuck uithaalt. Het was dan nog een optreden waarbij nieuwe songs voor het komende album met absoluut gedreven, professionele en doorleefde manier op het publiek werden afgevuurd. En hoé? Wel, op de manier die we van Ground Nero gewoon zijn. Stevig, donker, rockend en toch weer meeslepend over de gehele lijn. Hun songs, nu eens gothic rock zijn, dan weer doorspekt met eerder psychedelische/shoegaze-vibe. Maar bovenal: dit is één van die bands die live nog meer knallen dan op albums. En die zijn al sterk. De nieuwe frontman, die zowat een hybride blijkt qua look tussen onze vedet Freddy de Vadder en een snuifje Eldritch, neemt met een eigen attitude zijn plaats wel in. Zowel op nummers als Promesse, The Furnace en The Blood, als op de nieuwe songs.
We mogen enig chauvinisme aan de dag leggen met Ground Nero. Als we de (oude!) Sisters Of Mercy toch wel ooit goed vonden, Fields Of The Nephilim ook wel wat gitaren laten hanteren, wat shoegaze hier en wat steviger gitaren daar wel appreciëren, wel dan is Ground Nero dé Belgische band die dit op superbe wijze live op een podium zet. Na dit héél erg overtuigende optreden is het een kwestie van aftellen naar het nieuwe album.
De avond in B52 was geslaagd, op één valse noot na dan. Hadden hier twee bands gestaan die nog meer hun ding mochten doen, ik was orgastisch buitengegaan. Jammer genoeg was het me niet gegund. Maar ik onthoud: België heeft geweldig talent lopen dat hopelijk doorheen de landsgrenzen mag beuken om met muzikaal geweld de rest van Europa (én daarbuiten) te veroveren. Amen.
Jurgen BRAECKEVELT
14/06/2022
---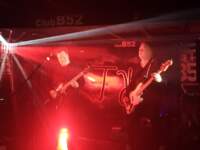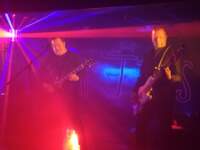 ---