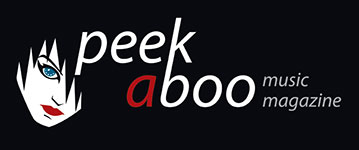 like this cd review
---
NADJA
The Stone is Not Hit By The Sun, Nor Carved With A Knife
Music
•
CD
Dark Ambient
•
Doom Metal
•
Drone
[80/100]

Gizeh Records
11/12/2016, Wim GUILLEMYN
---
Nadja caught my attention because of the collaboration of Aidan Baker and Leah Buckareff. Some of you will probably known Aidan Baker. I got to know him through his excellent solo album The Sea Swells A Bit: soundscapes whch contain dark but haunting ambient sounds and drones. The project Nadja has a long history and this is the twentieth album (CD-Rs included) in 13 year (I didn't count the numerous EPs).
The Stone is Not ... has three tracks and seventy minutes of music. Opener The Stone begins with a doom ambience.The guitars seemed to be hidden behind a curtain while recording. Afterwards they sound less muffled and they come to the fore. The song unfolds slowly. The vocals fade between the instruments and mainly provide the atmosphere. The Sun starts slowly and sounds open and warm. The doom and metal elements come to the fore after six minutes and in The Knife they are completely absent. It remains an atmospheric drone and ambient track until the end.
Those who love this style of music will surely like this album. Again, Aidan Baker and his companion have made some fine soundscapes.
Wim GUILLEMYN
11/12/2016
---
Nadja trok mijn aandacht vanwege het feit dat het om een samenwerking gaat tussen Aidan Baker en Leah Buckareff. Aidan Baker zullen sommigen onder jullie vermoedelijk kennen. Ik heb hem leren kennen via zijn voortreffelijk soloalbum The Sea Swells A Bit. Daarop maakte hij soundscapes die grotendeels donkere maar beklijvende ambiente geluiden en drones bevatten. Met zijn project Nadja is hij trouwens niet aan zijn proefstuk toe want dit is ongeveer hun twintigste album (cd-r's meegerekend) in 13 jaar tijd. Dan zijn de talrijke ep's nog niet eens bijgeteld.
The Stone is Not… telt drie tracks, samen goed voor zeventig minuten muziek. Opener The Stone begint in een doom-sfeertje. In de mix lijkt het alsof de gitaren achter een doek zaten tijdens de opnamen. Langzaam klinken ze minder gedempt en komen ze iets meer op de voorgrond. De song ontvouwt zich heel langzaam. De zang verdwijnt een beetje tussen de instrumenten waardoor die vooral dienst doet als sfeerschepper. De teksten zijn niet echt verstaanbaar. The Sun heeft een rustige aanloop en klinkt vrij open en warm. De doom- en metalelementen komen pas na een zestal minuten om de hoek kijken. Op The Knife blijven de doom- en metal elementen zo goed als achterwege en blijft een sfeerrijke drone- en ambienttrack over die heel genietbaar blijkt te zijn.
Wie houdt van deze stijl van muziek heeft met deze schijf een goed album in handen. Aidan Baker en zijn compaan hebben ook deze keer een aantal fijne soundscapes uit hun hoge hoed getoverd.
Wim GUILLEMYN
11/12/2016
---