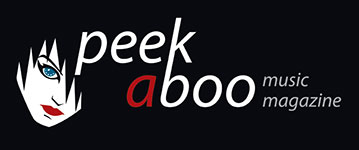 like this cd review
---
NATURE OF WIRES FT. COUNTESSM.
Cyber Rendezvous
Music
•
CD
Future Pop
•
Synth Pop / Electro Pop
[85/100]

AnalogueTrash Records
10/12/2016, Peter HESELMANS
---
Nature Of Wires was founded in 1986 by Gary Watts and Andrew Stirling Brown. Until 1994 they regularly played gigs with the album Modus Operandi as the final result. Twenty years later, Gary started writing songs again, this time in collaboration with the American Maren Northway, known as CourtessM.
After a real live performance for BBC radio, there is now the all-new CD Cyber Rendezvous, a 10- piece electro pop album made with the necessary skill.
Opener 'Til Tomorrow gets a nice tone and starts with hesitating electronics and a slowly invading rhythm box. The boyish voice of Maren sounds somewhat depressing, especially in the beautiful lyrics about unrequited love. The icing on the cake: a fresh and danceable chorus. Perfect future pop, and that goes for title track Cyber Rendezvous as well: delicious dreamy synths with solid rhythms and bass that evolve to a cool chorus, topped with icy vocals.
The synth arrangements in Dance With Your Own Skeletons are very nice, with a sampled intro, brutal percussion and hard rhythmic sounds, while Do not Let the Vultures In is flawless synth pop with poetic stories, and occasionally a whining synthesizer from the eighties. More romantic stories on the very poppy Perfect Menagerie.
Reaction contains some patches of EBM, a track which made me think of VNV Nation. Big bass and throbbing rhythms dominate and show the different electronic future pop styles and varying synth sounds on this album.
The album concludes with the delicious We Kill All: experimental, with harder percussion, cool rhythms and dark synths. Beguiled Or Fertility has an unenlightened atmosphere, with dreamy but at the same time anxious choir samples in the background.
The collaboration between these artists can be seen as complementary and successful. One of the better projects of this year: varied and uncompromising song material, exactly what we can expect from a good synthpop CD.
Peter HESELMANS
10/12/2016
---
Nature Of Wires is al opgericht in 1986 door Gary Watts en Andrew Stirling-Brown. Tot 1994 werd er nog regelmatig opgetreden met het album 'Modus Operandi' als eindresultaat. Twintig jaar later nam Gary de draad weer op en begon opnieuw songs te schrijven, ditmaal in samenwerking met de Amerikaan Maren Northway, beter bekend als CourtessM.
Het eindresultaat liet dan ook niet zo lang op zich wachten en na een heus live-optreden voor BBC-radio, is er nu de nagelnieuwe cd Cyber Rendezvous, een 10-delig elektropopalbum dat met het nodige vakmanschap en de nodige zorg in elkaar is geknutseld.
Opener 'Til Tomorrow zet mooi de toon, de aarzelende elektronica en langzaam invallende ritmebox trekken deze song op gang, de ijle jongensachtige stem van Maren, de wat deprimerende doch prachtige tekst over onbeantwoorde liefde, en als kers op de taart een fris en dansbaar refrein. Perfecte futurepop zeg maar, zo ook de titeltrack Cyber Rendezvous: heerlijk zweverige synths met stevige ritmes en bassen die langzaam naar een koel refrein toewerken, opgetopt met ijzige vocalen.
Nog meer aangename syntharrangementen in songs als Dance With your own Skeletons, gesampelde intro direct gecounterd met brutale percussie en harde ritmische klankkleuren, en Don't Let the Vultures In, vlekkeloze synthpop met poëtisch vertelde verhalen, en af en toe zelfs een jankende synthesizer uit de tachtigerjaren. Meer romantische verhalen op het zeer poppy Perfect Menagerie, zelf op het randje van zeemzoet en melancholisch.
Reaction bevat dan weer flarden EBM, een track die me wat doet denken aan een band als VNV Nation. Flinke bassen en opzwepende ritmes domineren en geven een heel goed gevoel wat betreft de variatie van verschillende elektronische futurepopstijlen en wisselende synthesizerklanken op dit album.
Het album besluit met het heerlijke We Kill All: iets experimenteler, met hardere percussie, overgoten met een geut koele ritmes en donkere synths en riffs. Beguiled Of Fertility zoekt eerder onverlichte sferen op, met dromerig maar tegelijk behoorlijk angstige koorsamples op de achtergrond, samen met de kille tekst en spookachtige stem een waardige afsluiter van dit album
De samenwerking tussen deze artiesten kan als zeer complementair en geslaagd worden beschouwd. Eén van de betere projecten van dit jaar: wisselende songs zonder toegevingen, maar toch keurig binnen het genre, wat we van een goede synthpop-cd mogen verwachten.
Tracklist :
1 'Til Tomorrow (Original Mix)
2 Don't Let the Vultures In (Original Mix)
3 While You're Here (Original Mix)
4 Reaction (Original Mix)
5 The Feast on Famine (Original Mix)
6 Cyber Rendezvous (Original Mix)
7 Dance with Your Own Skeletons (Original Mix)
8 We Kill All (Original Mix) Perfect Menagerie (Original Mix)
9 Beguiled of Fertility (Original Mix)
Peter HESELMANS
10/12/2016
---