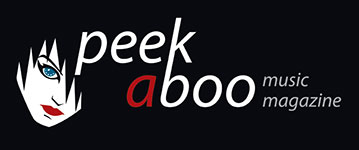 like this movie review
---
NEILL BLOMKAMP
Chappie
Movie
Science Fiction
[80/100]

SONY SPHE
12/07/2015, Didier BECU
---
Apparently, the science fiction world has found a new prodigy. His name: Neill Blomkamp, a South African who began his career as a 3D animator for Stargate SG-1, got in the spotlight as director of the short films Tetra Vaal and Crossing the Line, and could charm the whole world with District 9 (2009), a film with a relatively small budget, but with balls. Everything that happened afterwards seems almost like a page of a storybook. The scenario of District 9 was nominated for an Academy Award, and afterwards he directed the prestigious Elysium with Matt Damon. In the same week that Chappie starred in the US cinemas, it was announced that he would be the director of the new Alien movie Only to say that Blomkamp is on his way to become one of Hollywood's greatest directors. And quite certainly, Chappie is his funniest movie until now, and funnier than this blockbuster a science fiction movie can never be!
Just like in District 9, Chappie is set in the South African slums. In 2016 the streets of Johannesburg are ruled by criminal gangs. Thanks to the multinational Tetra Vaal, is led by the tough CEO Michelle Bradley (Sigourney Weaver, now you immediately understand the Alien link!) citizens can rely on the Scouts: robots that function as police men and thus maintain the order. The arms manufacturer has a genius on board who can't be stopped: Deon Wilsel (Dev Patel, indeed that guy of Slumdog Millionaire). He has invented a system whereby a robot can think like a man, and even can create art. Bradley rejects the idea because the company needs weapons, not robots that can write poetry. Deon wants to develop his plans, and he transforms a discarded Scout. Unfortunately, a street gang kidnaps the robot (later called Chappie) and uses him for less noble purposes.
Some viewers will find Chappie downright silly, because the robot reacts in the beginning as a child. When he is beaten by a gang he starts crying in front of his kidnapper, who he considers as his new mum. It is a strange, and just like in Spielberg's A.I. touching. It looks like a Disney story, but Blomkamp doesn't make it corny, although the forced end is far too sweet!
This science fiction comedy contains excellent performances, dazzling special effects and a very original approach. The basis of the story looks like a blueprint of Robocop, but instead of camouflaging this (like José Padilha does in his remake), Blomkamp solves the problem by copying one of the robots (The Moose) straight out of Verhoeven's classic. The performances are sublime. Hugh Jackman surprises everyone (including us), while the controversial rap group Die Antwoord probably has a very good time.
Chappie is now out on DVD and Blu-ray on Sony SPHE.
Didier BECU
12/07/2015
---
Blijkbaar heeft de sciencefictionwereld met Neill Blomkamp een nieuw troetelkind gevonden. Deze Zuid-Afrikaan begon als 3D-animator voor Stargate SG-1, maar viel vrij vlug op als regisseur met de kortfilms Tetra Vaal en Crossing the Line, maar nog meer met District 9 uit 2009. Een film met een vrij klein budget, maar ongelooflijk veel ballen. Alles wat nadien gebeurde leek bijna op een pagina die uit een sprookjesboek was gescheurd. District 9 kreeg voor het scenario een Academy Award-nominatie, en nadien mocht hij het prestigieuze Elysium met Matt Damon maken. In de week dat Chappie zijn intrede in de Amerikaanse bioscopen deed, werd ook nog eens bekendgemaakt dat hij de nieuwe Alien-film zal regisseren. Dit maar om te zeggen dat Blomkamp aardig op weg is om één van Hollywoods grootste regisseurs te worden. En wat nu al vrij zeker is, Chappie zal wellicht zijn grappigste film ooit zijn, want meer komisch dan deze blockbuster kan een sciencefictionfilm onmogelijk zijn!
Net zoals District 9 speelt ook Blomkamps nieuwste telg zich in de Zuid-Afrikaanse sloppenwijken af. We schrijven het jaar 2016 en de straten van Johannesburg worden overspoeld door criminelen. Dankzij de multinational Tetravaal, die wordt geleid door de keiharde CEO Michelle Bradley (Sigourney Weaver, nu snap je meteen ook de Alien-link) kunnen de burgers op de Scouts rekenen. Dat zijn robots die de rol van de politieagenten hebben overgenomen om de orde te handhaven. De wapenfabrikant heeft een genie aan boord die niet is te stoppen: Deon Wilsel (Dev Patel, jawel die kerel uit Slumdog Millionaire). Hij heeft een systeem uitgevonden waardoor een robot net zoals een mens kan denken, en zelfs kan uitgroeien tot een kunstenaar. Bradley verwerpt het idee, want haar beursgenoteerde bedrijf heeft nood aan wapens, niet aan robots die een gedicht kunnen neerpennen. Deon wil zijn plan koste wat het kost uitvoeren en vindt op de schroothoop een afgedankte Scout die hij transformeert tot zijn uitvinding. Helaas ligt een straatbende op de loer die de robot (die later de naam Chappie krijgt) kidnapt en hem inzet voor minder nobele doeleinden.
Er zullen wellicht kijkers zijn die Chappie ronduit onnozel vinden, want de robot reageert in het begin als een kind. Als hij door een bende in elkaar wordt geslagen, zie je hoe het metalen ventje bij zijn kidnapster, die hij als zijn moeder beschouwd, komt uithuilen. Het is een vreemd, en net als in Spielbergs A.I. ontroerend. Het lijkt een uit de hand gelopen Disney-verhaal, maar de meligheid wordt mooi geminimaliseerd door de rake, bij momenten rauwe humor (ofschoon het geforceerde einde wat minder zeemzoet had mogen zijn!)
Deze sciencefictionkomedie profiteert niet alleen van uitmuntende vertolkingen en oogverblindende special effects, maar ook van de zelfrelativering. De basis van het verhaal lijkt op dat van Robocop, maar in plaats van deze ode te camoufleren (zoals José Padilha dat in zijn remake doet), lost Blomkamp dat op door gewoon één van de robots (The Moose) als twee druppels water op die van de Verhoeven-klassieker te laten lijken. De vertolkingen zijn ronduit subliem. Hugh Jackman verbaast vriend en vijand (dus ook ons), terwijl de controversiële rapgroep Die Antwoord het plezier van z'n leven beleeft.
Chappie is vanaf nu op dvd en Blu-ray uit via Sony SPHE. In huis halen!
Didier BECU
12/07/2015
---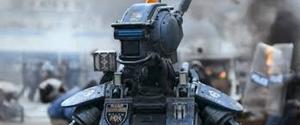 ---