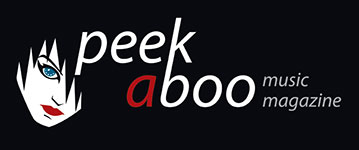 like this movie review
---
NEILL BLOMKAMP
Elysium
Movie
Science Fiction
[65/100]

SONY SPHE
19/12/2013, Didier BECU
---
The South-African director Neill Blomkamp proofed in 2009 that it's possible to make an explosive movie with a tiny budget. District 9 that featured the story about the giant shrimps who conquered the world became an unexpected giant success. Hollywood saw this too, and of course they soon invited Blomkamp to make his forthcoming picture over there. Not only could Blomkamp work with A-listed actors, he also got a budget that was three times as big as the one he made District 9 with. Blomkamp realised that Hollywood had great expectations, but he preferred to take his time as it took him more than a year to prepare this movie through a graphic novel. A fine decision as the visual aspect from Elysium is simply overwhelming.
Hollywood sees the future of our planet rather dark these days. That's also the case in Elysium. In 2154 there's a complete gap between the rich and the poor. Those who have money have left Earth to settle themselves in a gigantic space station named Elysium. This artificial planet that looks a bit like the spinning wheel from Kubrick's 2001: A Space Oddyseyis a real garden of Eden. The inhabitants have everything they desire, and even for diseases they found a final solution. When someone has an illness, it just takes some minutes under the medpod to get cured. For the poor ones it's not such a paradise as the Los Angeles from 2154 looks more like the slums from Mexico City (in fact the movie is filmed there). Those who are "lucky" still have a job at the factory. One of those victims is Max (Matt Damon). He's not only underpaid, he is also daily humiliated by the robocops. One day it all goes wrong when Max is exposed to a high dose of uranium. The verdict is hard: Max has only five days left. The only solution is going to Elysium.

In the first place is Elysium a visual spectacle. If you don't count Gravity then it'll be hard to find another sciencefictionmovie that looks so great as Elysium. The story is entertaining, even if the plot is a bit too much based on the final from the second Terminator. But then again, you never can say this is not a good reference! The acting is fine as well. As always Matt Damon delivers a good job, and we were also charmed by the pretty face of Alice Braga. The South-African actor Sharlto Copley who plays the villain (including with a hilarious accent!) does a fine job. Ironically though it's Jodie foster who's the weak link in this chain. It's bizarre to see how such an actress goes totally flat on her face. But good, apart from Foster, Elysium is definitely one of the best Hollywoodblockbusters from 2013. Lots of critics already compared Blomkamp's epic with the Paul Verhoeven-masterpieces Starship Troopers and Total Recall.
On this Blu-ray you'll find lots of extra material. Especially the 45 minutes Journey To Elysium is an interesting view. The makers show you how they could create this Beverly Hills in space. There are also some footages about the ingenious suit Damon had to wear. It's also exciting that you have access to all the futuristic stuff that's been featured in the movie. From the robots to the space station, with a click on your remote control you have all the details. For the rest you'll find some bonus material about the composer and some short documentaries in where everybody thinks that Matt Damon and Neill Blomkamp are the best guys ever.
Elysium is an absolute must, for both the sciencefictionfreak as for filmfans who like quality blockbusters. The movie is out on both on DVD and Blu-ray through Sony.
Didier BECU
19/12/2013
---
In 2009 bewees de Zuid-Afrikaan Neill Blomkamp met District 9 dat je ook met een klein budget een dijk van een film kan neerzetten. Het relaas van de reuzengarnalen (jawel!) die zich over de mensheid meester maakten werd geheel onverwachts een gigantisch succes. Dat hebben ze in Hollywood natuurlijk ook gezien waardoor de cineast er meteen aan de slag kon. Blomkamp mocht niet plots gaan samenwerken met de grootste acteurs (zeg nu zelf, Matt Damon!), ook werd het budget voor zijn nieuwste film in vergelijking met zijn debuut zo maar eventjes verdriedubbeld! Blomkamp werd wel het nieuwe gouden haantje van de filmstad, toch nam hij alle tijd voor Elysium. De voorbereidingen duurden meer dan een jaar, Blomkamp had immers alles tot in de puntjes grafisch voorbereid. Gelukkig maar, want het eindresultaat is ronduit verbluffend. Want wat je ook van deze sciencefictionprent mag denken, één ding staat: op visueel vlak is Elysium misschien wel de knapste film van het jaar.

De Hollywoodscenaristen hebben tegenwoordig maar weinig medelijden met de toekomst van moeder aarde. Ook in Elysium is dat het geval. We schrijven 2154 en ondertussen is de diepe kloof tussen arm en rijk compleet geworden. Mensen met poen hebben de planeet al lang verlaten en hebben zich in een gigantisch groot ruimteschip gevestigd, Elysium genaamd (een constructie die overduidelijk uit Kubricks 2001: A Space Oddysey komt). De bewoners leven daar letterlijk in de tuin van Eden. Ze hebben alles waar hun hartje naar verlangt en zelfs voor vijandige ziektes is er een oplossing gevonden. Wie lijdt aan één of andere kwaadaardige kwaal gaat gewoon een paar minuten lekker onder de medpod liggen en is op slag genezen! Met de arme medemens gaat het jammer genoeg heel wat slechter. Het Los Angeles van de 22e eeuw lijkt op een armtierige sloppenwijk van Mexico City (de film is daar ook daadwerkelijk opgenomen) en van enige luxe is er helemaal geen sprake. Integendeel, de "geluksvogels" zijn degene die nog een luizenbaantje in de fabriek hebben kunnen versieren. Max (Matt Damon) is ook zo'n pineut. Hij moet dagelijks naar de fabriek om zijn slavenloontje te vergaren. Alsof dat alles nog niet erg genoeg is, moet hij zich ook dagelijks laten vernederen door de politierobots. Op een dag loopt het grondig fout als Max wordt blootgesteld aan een hoge dosis uranium. Het verdict is bikkelhard: de jongeman heeft nog slechts vijf dagen te leven. De enige weg die hem rest is die naar Elysium, maar natuurlijk verloopt dat niet zonder slag of stoot.

Elysium is in de eerste plaats een visueel spektakel. Op Gravity na zal het moeilijk worden om ook maar één sciencefictionprent te vinden die zo mooi in beeld is gebracht als deze prent. Het verhaal is onderhoudend, alhoewel de plot misschien wat intenser had mogen zijn. Hoe spannend het slotgevecht ook is, deed het ons net iets te veel aan de tweede Terminator denken. Maar goed, een slechte referentie is dat nu ook weer niet! De acteerprestaties zijn meer dan goed. Zoals steeds trekt Matt Damon zonder enige moeite deze film naar zich toe, ofschoon het mooie snoetje van nieuwkomer Alice Braga ons ook wel wist te bekoren, net als de Zuid-Afrikaan Sharlto Copley die we al eerder in District 9 aan het werk zagen. Vreemd genoeg is Jodie Foster de zwakke schakel. Zelden hebben we een actrice zo door de mand zien vallen als deze veterane. Maar goed, op de potsierlijke Foster na, is Elysium zonder twijfel één van de beste Hollywoodfilms van 2013. De prent werd dan ook reeds terecht door talloze critici met de sf-meesterwerken (Starship Troopers en Total Recall) van Paul Verhoeven vergeleken. Elysium is tegelijkertijd spannend, leuk maar vooral een visueel orgasme.

Op de Blu-ray vindt je een uitgebreid aanbod van extra's. Het kroonjuweel is de 45 minuten durende documentaire Journey To Elysium waarin de makers de kijker op gedetailleerde wijze tonen hoe ze dit futuristische Beverly Hills hebben ontworpen. Ook wordt heel wat aandacht besteed aan het ingenieuze pak dat Damon gedurende de hele film draagt. Leuk is eveneens dat je op de Blu-ray vanuit je luie zetel met je afstandsbediening toegang krijgt tot alle leuke technologische snufjes van deze film (van de robots tot het ruimtestation Elysium!). Verder zijn er ook nog wat extra's over de muziek op het schijfje te vinden en natuurlijk ook bonusmateriaal waarin iedereen vindt dat Matt Damon en Neill Blomkamp twee gekke knullen zijn.

Elysium is een must, zowel voor de sciencefictionfreak als voor de liefhebbers van de betere blockbuster. De film is vanaf nu zowel op dvd als Blu-ray in de winkel te vinden en is uitgebracht door Sony.
Didier BECU
19/12/2013
---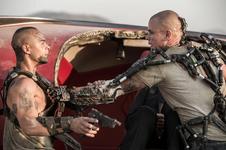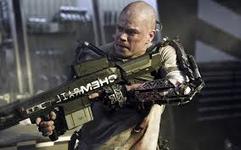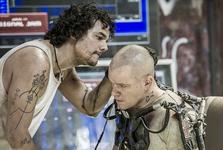 ---