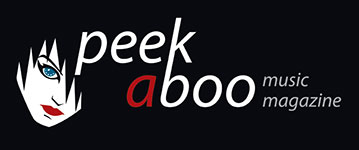 like this cd (ep) review
---
NEON TZIGANE
Del Wesh
Music
•
CD (EP)
Post Punk
[79/100]

Self-released
08/12/2018, Jurgen BRAECKEVELT
---
I'm probably not the only one for whom the start of the darkest season of the year has a negative impact on his or her well-being. Deep inside I start feeling some wintersleep that results in a lethargic feeling, lack of energy and I already languish for blooming spring. And sometimes basic necessities like feeding yourself or slurping liquid substances are not the only way of escaping that feeling. You can also simply be woken up by the EP Del Wesh from Neon Tzigane (to be pronounced zee-gan), the musical baby of Howling Mina and Samson Deluxe, postpunkers from South London. 'Del Wesh' is British Latin, language spoken in Great Britain in the Roman period and means "dark wood". Just a did you know for free. The two have already worked for a long time together, but not under the same bandname. But their love for Jan Hammer, 80's synths, synthpop and Miama Vice (for God's sake!) influenced their music which you could describe as gothic metallic synthpop. What can you except from this? Well go have a listen to it and make your own judgement.
It has a lot that falls under the large scope of postpunk. Neon Witch has some heavy guitars and you can hear Howling Mina happily chattering all way through. But this is called real singing, something which is not given to everyone.
In the same vein, Return To Tomorrow has some undefined and heavy rock elements. I realise I am unconsciously spinning on my chair while listening to this Del Wesh. Unplanned End has a real postpunk sound. The synths and the grandiose guitar effects are absorbing. It drags you far away. Pesonnally my favorite one out of the four. When hell freezes over has the same spirit. Sowed in the eigthies from the last millenium.
What else can be said? I am awakened with a reflux of well-being and out of a wintersleep onset. Thanks Neon Tzigane, Del Wesh was amazingly relaxing. Send me some more peace and wake me up one more time with the next one.
Jurgen BRAECKEVELT
08/12/2018
---
Ik ben wellicht niet de enige voor wie de intrede van het donkerste jaargetijde een ietwat negatievere invloed op het welbevinden heeft. Diep vanbinnen treedt een winterslaapgevoel in dat zich veruitwendigt in een loom gevoel, energieke dieptepunten en verlangen naar alweer ontluikende lentetaferelen. En soms zijn niet enkel levensnoodzakelijke momenten als zichzelve voederen en slurpen aan liquide substanties de enige manieren om uit die staat te ontsnappen. Je kan ook gewoon bruusk gewekt worden door de EP Del Wesh van Neon Tzigane (spreek uit zee-gan), het muzikale kind van Howling Mina en Samson Deluxe, postpunk met ballen uit Zuid-Londen. 'Del Wesh' is Anglo-Romaans, de taal van de Britse Roma en betekent 'donker hout'. Een wist-je-datje zomaar gratuit. De twee werkten al langer samen, maar niet onder deze bandnaam. Maar hun voorliefde voor Jan Hammer, jaren '80 synths, synthpop en Miama Vice (begot!), zorgde voor hun muziek, die ze zelf omschrijven als gothic metallic synthpop. Wat je je daarbij moet voorstellen? Wel oordeel zelf door het kleinood te beluisteren.
Hoewel het onder het brede gesternte post punk kan worden gecategoriseerd, heeft het vanalles. Neon Witch bedient zich van zwaar overstuurde gitaren waar Howling Mina vrolijk doorheen kwettert. Enfin, dit kan echt zingen worden genoemd, iets wat niet elkeen gegeven is.
Van hetzelfde laken een broek in Return To Tomorrow, stevig rockend en niet al te afgelijnd. Ik stel vast dat ik onbewust ronddraai op mijn stoel tijdens het beluisteren van deze Del Wesh.
Het pure stevig rockende krijgt een echte postpunk sound aangemeten bij Unplanned End. De synths en een grandioze koffer gitaareffecten nemen over. Het sleept, kreunt en zucht een heel eind weg. Persoonlijk mijn lievelingetje van de vier. When hell freezes over is gegroeid op dezelfde bodem. Gezaaid in de eighties van het vorige millennium.
Wat moet nog meer gezegd? Ik ben ontwaakt in een oprisping van feelgood uit een intredende winterslaap. Dankjewel Neon Tzigane, het was geweldig verpozen met Del Wesh. Gun me nog even rust en maak me ongenaakbaar weer wakker met het vervolg hierop, want het smaakt naar veel meer.
Jurgen BRAECKEVELT
08/12/2018
---