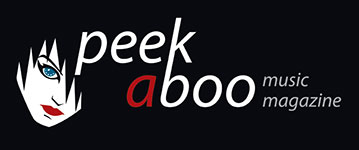 like this concert review

---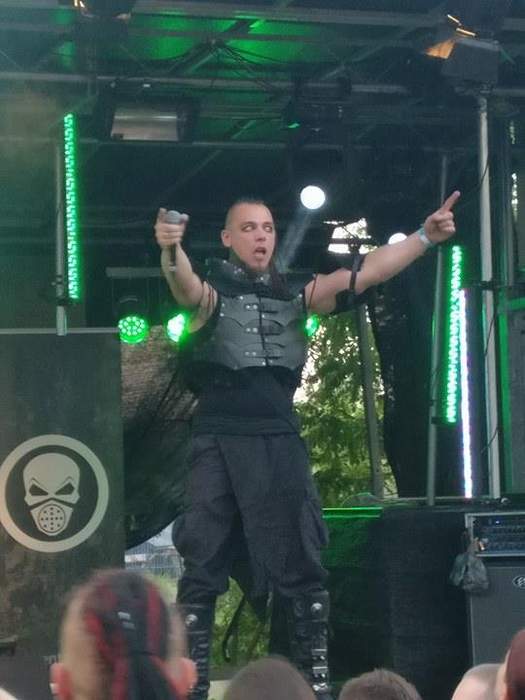 NEUSTROHM, UNTERSCHICHT, HAUJOBB, FABRIK C, STOPPENBERG, CENTHRON
Non Tox - vrijdag 2 juni
Concert
26/06/2017, Jurgen BRAECKEVELT
---
Jurgen BRAECKEVELT
26/06/2017
---
Op vrijdag 2 juni gingen we richting Non -Tox , een club aan de einder van Leipzig. Zo leek het toch na een tramrit van dik 30 minuten om de locatie te bereiken. Wat daar doorgaans ten dans speelt – en dat kan je letterlijk nemen- zijn de hardere electronische acts. En niet de minste: ook bands met jarenlange aanhang, zoals Haujobb en Centhron. Dus zakten ook wij op vrijdag af naar die locatie om voorzien van een goed glas Schwarzbier te worden omvergeslagen door tonnen elkaar opvolgende darkbeats en reeksen bliepjes die je zonder andere troep in een geweldig roes kunnen meesleuren.
En we hoefden niet lang te wachten. Neustrohm zette onder het toeziende oog van een 100-tal bezoekers meteen de toon. De loeiharde industrial bracht in de middagzon omstreeks halfdrie de meute EBM- en cyberliefhebbers instant in beweging. Harde aggrotech met een industrial randje.
Een dik uur later nam Unterschicht de honneurs op het podium waar. Frontman Sven en zijn heel luchtig geklede compane Nataly pakten uit met dark electro met een harsh-sausje. En het publiek wist dit zeer te appreciëren. De band heeft een ferme aanhang en bracht al een paar albums uit. De eerste zweetdruppels stoomden van menig gezicht en rust werd niét gegund.
Vreemde eend in de bijt op deze zonnige vrijdag leek wel Haujobb, toch wat meer ingetogen tussen het met momenten echt snoeiharde harsh-electro-geweld. Bovendien een band die je niet halfweg de middag verwacht en eerder in een zaal ziet staan dan op dit kleine(re) podium. Wat wel opviel is dat het met ruwe keien aangelegde geïmproviseerde concertplein aan de club nokvol stroomde. Zeker 500 aanhangers verzamelden voor deze gevestigde waarde. Een welkome adempauze voor de hevig dansende cybergoths enerzijds, een intense beleving voor de talrijke die hard fans die de tocht naar de Non Tox toch hadden gewaagd. De electronische dance van Haujobb, die vlagen synthpop en steviger EBM combineert met flarden techno en EBM blijft méér dan overeind. Daniëls zang is in deze ook zeker mee bepalend, en de beleving van het plezier dat de lieden op het podium hebben kan voor vele bands nog steeds een meer dan stichtend voorbeeld zijn.
De longen gevuld met frisse zuurstof, de benen kortstondig rust gegund, de glazen weer vol en tijd voor vers industrieel geweld met Fabrik C. In 2005 pleegde de band een eerste aanval op de trommelvliezen, met stompende industrial met een EP die de Duitse dark charts haalde. Intussen zijn we 4 albums verder. En het optreden scheurde, waarbij ook een fijne interactie met het publiek en de nodige dosis humor een plaats kreeg. Want ook dat mag en kan. En het voetvolk danste dat het een lust was.
Intussen wees de klok 19.30 uur aan en beklom Jan Loamfield het podium. Wie? Wel ja, Jan… van X-Fusion/Noisuf-X. Stoppenberg is een nevenproject en brengt EBM/TBM (techno body music)/EDM (electronic dance music). Stoppenberg startte in 2014 en intussen twee CD's ver is duidelijk hoorbaar dat de grootmeester zelve alle touwtjes in handen heeft. Het is geweldig te zien hoe duidelijk herkenbare (oldschool) EBM-klankreeksen dan toch een degelijke beat en melodie meekrijgen die het het midden houdt tussen de drie genoemde genres. In ieder geval kon ik onmogelijk het aantal beats die me rond de oren vlogen bijhouden. En toch klinkt het allemaal precies afgewerkt, zuiver. The hand of the master in command. En de intensiteit, daar is geen twijfel over. Na bijna 20 jaar blijft de man vernieuwen en zijn muzikale kunde op vele manieren verbreden. En voeg daarbij nog de manier waarop hij het brengt: doorleefd, met een immens plezier. Het hoeft dus geen betoog dat het publiek dit vlotjes en dankbaar in ontvangst nam door massaal te dansen. Heel tof in de set was een cover van het Night Rider Theme die op de recente CD Assault staat. Dit was een eerste echte ontdekking op dit nog prille WGT….
En wat moet een mens dan nog verwachten als Centhron mag afsluiten. Het publiek was massaal paraat en de band joeg banbliksems als stroomstoten door de toch al stevig afgepeigerde lichamen. Sloten adrenaline stroomden van het podium het publiek in, snoeiharde melodieën met nog steviger baslijnen en agressieve darkbeats. Elmar schreeuwde moord en brand, terwijl hij als een wervelwind elke vierkante centimeter van het podium benutte. Qua energie, agressie en visuele waarde kon dit meer dan tellen. Verschroeiende, overdonderende harsh electro die niet veel harder kon zijn dan wat we voorgeschoteld kregen. Een hogesnelheidstrein die aan een razende snelheid door een dal denderde, waarbij de bassen echoënd genadeloos inbeukten op de trommelvliezen.
Jurgen BRAECKEVELT
26/06/2017
---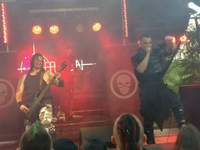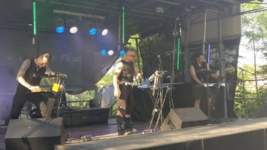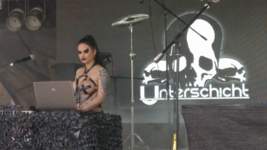 ---