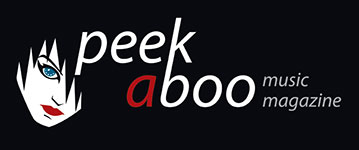 like this concert review
---
NEW DARK AGE + CURTIS
Gent, De Charlatan (27/05/2016)
Concert
10/12/2016, Didier BECU
---
The Sound and Joy Division have a lot in common: inventors of post-punk, but also the tragic fact that the singers of both bands committed suicide. Their act of desperation made them icons of the dark scene, say a myth. Many (especially young) music fans never saw these bands on stage, because they were too young, or because the bandswas too much hidden in the underground. Let us be honest, today they are legends, but during the "glory days" they often had to fight to be heard.
Fortunately, tribute bands exist. You can laugh with them, but although they always will be "a copy of", it remains a challenge (and especially a hard job). The public expects these bands to be (almost) as good as the original.
Friday, we saw New Dark Age and Curtis in Ghent (you never guess which one was the Joy Division band). Those who saw Red Zebra once, know that Peter Slabbynck is a big fan of The Sound. Not only did he play Winning in his Red Zebra set, he often shared the stage with Adrian Borland's band. Along with Steven Janssens, Frits Standaert, Niels Verheest and Kurt De Waele, Peter formed New Dark Age. It is a very distinct concept, because the five musicians only want to play tracks from the first two albums (Jeopardy and From The Lion's Mouth). A good choice, because it is better not to interpret the melancholy classics of Heads And Hearts. The raw post-punk of the early years is perfect for Slabbynck.
The band started with I Can not Escape Myself. A title that needs no explanation, and immediately we noticed how Slabbynck identifies himself with his idol: the same passion, the same energy, but also the same fears and demons. Although everyone understood that the musicians on stage were top, the sound was the spoilsport. Irony always has been a part of The Sound, which is apparently the case with New Dark Age too. Perhaps Peter Slabbynck should have done what Peter Curtis Mercury did: pointing out the errors of the soundman from the start. Anyway, The Sound had enough similar problems as well, and we enjoyed a (very) raw punky set, with Slabbynck who regularly flipped (Missiles). Rock 'n roll makes the best of what goes wrong, and so did New Dark Age.
And then Curtis was on stage. From the first notes of Excercise, everything went terribly wrong. Front man Peter stopped the gig and asked the sound engineer to concentrate and avoid mistakes. Fortunately he did, because the rest of the set was simply heavenly. Curtis is not the only Joy Division tribute band in the world, but a lot of people think it's the best. Big words indeed, but we could only confirm them.
It graces Curtis not to take the easiest path. This quartet creates the perfect Joy Division image (and not the romantic image that never was): loud, brutal, unpredictable, full of energy and above all without compromise. Even the set list was a tad risky. No Love Will Tear Us Apart, but The Kill from Still. Singer Peter is not a copy of Ian Curtis: not the typical spastic movements of Curtis, but Peter's own dance steps, making Curtis more than a tribute band. It was a performance without lows, and it brought tears to our eyes (Rock 'n Roll Suicide by Bowie with Steven Janssens as guest guitarist). A great evening. And that sound? Well, you forget it, but not the good impression both bands made.

Peek-A-Boo wants to thank Luminous Dash for the pictures.
Didier BECU
10/12/2016
---
The Sound en Joy Division hebben heel wat gemeen: uitvinders van de postpunk, maar ook het tragische feit dat de beide zangers van deze bands uit het leven zijn gestapt. Hun wanhoopsdaad maakte ze tot iconen van de donkere scène, zeg maar tot een mythe. Heel wat (en vooral jonge) muziekfans hebben deze bands nooit aan het werk gezien. Ofwel waren ze te jong, ofwel zat de band nog te veel verscholen in de underground. Want laten we eerlijk blijven, vandaag zijn het legendes, maar tijdens hun "gloriedagen" vochten ze vaak tegen de bierkaai om te worden gehoord.
Gelukkig zijn er tributebands. Je kan op ze neerkijken, maar ofschoon ze wel altijd 'een kopie van' zullen zijn, blijft het toch een uitdaging (en vooral een hele klus) om op het podium niet door de mand ter vallen. Het publiek verwacht van deze bands immers dat ze (bijna) even goed zijn als het origineel.
Vrijdag was het in Gent de beurt aan New Dark Age en Curtis (twee keer raden welke de Joy Division-band is). Wie ooit Red Zebra aan het werk zag, weet dat Peter Slabbynck een grote fan van The Sound is. Niet alleen coverde hij destijds Winning, maar hij deelde ook vaak het podium met de band van Adrian Borland. Samen met Steven Janssens, Frits Standaert , Niels Verheest en Kurt De Waele vormde Peter New Dark Age. Het is een heel uitgesproken concept, want de vijf muzikanten hebben er resoluut voor gekozen om alleen maar tracks uit de eerste twee platen (Jeopardy en From The Lion's Mouth) te spelen. Een goede keuze, want aan de melancholische klassiekers van Heads And Hearts raak je maar beter niet, de rauwe postpunk van de beginjaren is echter Slabbynck op het lijf geschreven.
De band begon met I Can't Escape Myself, een titel die geen uitleg hoeft, en meteen zag je hoe Slabbynck zich vereenzelvigde met zijn grote idool: dezelfde passie, zelfde energie, maar ook dezelfde angsten en demonen. Ofschoon iedereen zeer goed begreep dat hier topmuzikanten op het podium stonden, was het geluid de spelbreker. Ironie heeft altijd wel een beetje in The Sound gezeten, en dat is blijkbaar ook het geval bij New Dark Age. Gitarist Steven Janssens van Daan zorgt steeds voor een puik geluid in De Charlatan, en het is net dat wat New Dark Age een beetje nekte. Misschien had Peter Slabbynck - net als Peter Mercury van Curtis - vanaf het begin de geluidsman op zijn fouten moeten wijzen. Maar goed, The Sound had daar ook genoeg last van, en dus konden we genieten van een (zeer) rauwe set met een Slabbynck die geregeld door het lint ging (Missiles). Rock 'n roll is ook een beetje van alles het beste probeert te maken, en dat deed New Dark Age.
En dan was Curtis aan zet. Vanaf de eerste noten van Excercise ging het grondig mis. Frontman Peter stopte de zet en wees de geluidsman op een paar fouten. Gelukkig maar, want wat nadien volgde was gewoon hemels. Curtis is natuurlijk niet de enige Joy Division-tributeband, maar heel wat mensen die deze formatie eerder aan het werk zagen, vinden Curtis de beste. Grote woorden, maar na een set van bijna anderhalf uur konden we deze visie alleen maar beamen.
Het siert Curtis dat het niet voor de gemakkelijkste weg kiest. Dit viertal brengt Joy Division zoals die band destijds was (en niet het romantische beeld dat helemaal niet klopt): luid, brutaal, onvoorspelbaar, vol energie en vooral zonder compromissen. Zelfs de setlist was een tikkeltje gewaagd. Geen Love Will Tear Us Apart, wel bijv. The Kill uit Still. Het siert ook zanger Peter dat hij geen kopie van Ian Curtis is. Niet de typische spastische bewegingen van Curtis, wel Peters eigen pasjes waardoor Curtis eigenlijk meer wordt dan een tributeband. Het was een optreden zonder enig laagtepunt, en zelfs eentje waarvan we tranen in de ogen kregen (Rock 'n Roll Suicide van Bowie met Steven Janssens als gastgitarist). Een topavond. En dat geluid dan? Nou, dat ben je zo vergeten, maar niet de goede indruk die beide bands maakten.
Peek-A-Boo dankt Luminous Dash voor de foto's.
Didier BECU
10/12/2016
---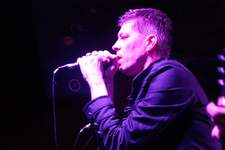 ---