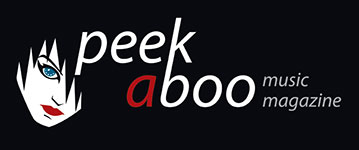 like this cd review
---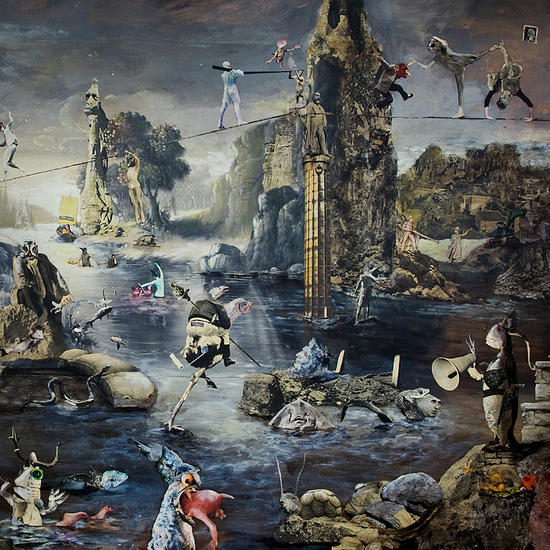 NI
Les Insurgés de Romilly
Music
•
CD
Math rock
•
Noise
[65/100]

Dur et Doux
08/05/2015, William LIÉNARD
---
After two EPs and a successful European tour, the French band NI returns with its first full album Les Insurgés de Romilly, that contains a mixture of progressive metal and noise.
La Musique est de retour, it sounds in the first seconds of the track Bouif, an excerpt from a French chanson by Marcel Amont (1976), but not for long, because even before you realize what's going on, NI resounds from the loudspeakers with fierce and loud drums, synth sounds and fast guitars. The singing voice is barely recognizable, but it is clear that it is no more than just another instrument in a swirling mix of thumping and howling sounds. The pace is fast and rhythmic and the band sounds whoopy and noisy as an American metal band on speed, but make no mistake: this is music "made in France". Cuistre begins with sharp voices, exploding drums and bouncing guitars, evolving - after a tempo change - in another direction, equally emphatic, sometimes melodious as a rock band, sometimes whining and grinding as a pure metal band. Loud and louder, with occasionally a screeching voice. Rodomont has sharp sounding bells, snoring and then melodic sounding guitars followed by noise and screaming voices, gently bobbing atmospheric string work, bells and again rough guitars, tempo changes and a thousand sounds for the coda.
Butor sounds harsh and brutal, repetitive with surprising sounds in the mix and at a pretty high pace, while in Marpaud melodious guitars come to the fore after a fairly intense intro, followed by screeching guitars and heavy drums. Metal at its best and loudest. Faquadin continues at the same pace and unfortunately Gringuenaude offers little new impulses. Torfesor has beautiful drums, slowly howling guitars and it is definitely the most atmospheric song on the album. The voices sound like an African mantra. Loud and noisy guitars take the lead, but fortunately the African-sounding drums and mesmerizing mantra return. Probably the best composition.
For lovers of loud and dangerous metal sounds.
Tracklist:
1. Bouif
2. Cuistre
3. Rodomont
4. Butor
5. Marpaud
6. Faquadin
7. Gringuenaude
8. Torfesor
William LIÉNARD
08/05/2015
---
Na twee ep's en een succesvolle Europese tournee, meldt de Franse band NI zich met z'n eerste full album. Het heet Les Insurgés de Romilly en het bevat een mengeling van progressive metal en noise.
La Musique est de retour, klinkt het in de eerste seconden van Bouif, een fragment uit een Frans chanson van Marcel Amont uit 1976, maar niet voor lang, want nog voor je beseft wat er aan de hand is, breekt NI met luid slagwerk, synthgeluid en snelle gitaren uit de speakers. De zangstem is nauwelijks herkenbaar, maar het is duidelijk dat ze niet meer is dan het zoveelste instrument in een wervelende mix van bonkende drums en huilende gitaren, snel en ritmisch, gierend en noisy als een Amerikaanse metalband op speed, maar vergis je niet, want dit is muziek die bij onze Franse zuiderburen is gemaakt. Cuistre begint met scherpe stemmetjes en opnieuw bonkende drums en stuiterende gitaren, die na een tempowisseling in weer een andere maar even nadrukkelijke richting evolueren, soms welluidend als een rockband, dan weer jankend en schurend als een pure metalband. Luid, hard en nadrukkelijk met af en toe een gierende stem. Rodomont holt voort met het scherpe geluid van bellen over ronkende en dan weer melodisch klinkende gitaren, gevolgd door noise en schreeuwerige vocalen, zachtjes voort dobberend atmosferisch snaarwerk, belletjes en opnieuw ruig gitaarwerk, tempowisselingen en duizend geluidjes voor de coda.
Butor klinkt loeiend hard en brutaal, repetitief met verrassende klanken in de mix tegen een vrij hoog tempo, terwijl in Marpaud, na een vrij heftig intro, welluidende gitaren op de voorgrond treden, gevolgd – hoe kan het anders – door krijsende gitaren en heftig slagwerk. Metal op z'n best. Faquadin gaat op hetzelfde tempo en in dezelfde stijl door en ook Gringuenaude biedt weinig nieuwe impulsen. Torfesor ten slotte heeft prachtige drums, langzaam jankende gitaren en is beslist het meest atmosferische nummer op het album. De stemmen klinken als een Afrikaanse mantra. Naar goede gewoonte nemen luide en noisy gitaren vervolgens het voortouw, maar gelukkig keren het Afrikaans klinkende slagwerk en de bezwerende mantra terug. Misschien wel de beste compositie op dit album.
Voor liefhebbers van luide en gevaarlijke metal.
William LIÉNARD
08/05/2015
---
---