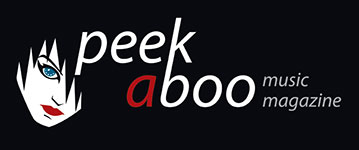 like this cd review
---
NICHOLAS STOLLER
Bad Neighbours
Music
•
CD
Comedy
Universal Pictures
03/11/2014, Didier BECU
---
Bad Neighbours by Nicholas Stoller is once again a film that some moralists will categorize as bad humor. If we tell you that somewhere in the middle of the movie Seth Rogen's glasses are covered with mother's milk because the breast of his wife is exploding , then you know immediately what kind of antics you can expect. It's definitely funny, but do not whine afterwards that we did not warn you!
The wild years of Mac (Seth Rogen ) and Kelly (Rose Byrne ) are over. They have nested in a quiet street and a nightlife is nothing for them. And then as the first moving van arrives, Mac understands that his new neighbours are a gang of crazy students who will give them not one quiet night. The students are always willing to talk, but if Mac and Kelly inform the police then they are not responsible for the consequences.
Bad Neighbours is hilarious, if not hilariously funny , but that is the only quality of this film. Seth Rogen plays once again the softy that we have seen him perform so many times (think Knocked Up or This Is The End) and Dave Franco (yes, the brother !) repeats his role of brat in 21 Jump Street. But we're bored of Christopher Mintz-Plasse (yeah, McLovin ' from Superbad ).
Director Stoller, who previously made The Five-Year Engagement and Get Him To The Greek, understands very well what the popcorn public wants. If a film just has to make you laugh, then Bad Neighbours might be your thing, if you expect more then we fear it is too banal.
Bad Neighbours is now out on Universal, both on DVD and Blu -ray.
Extras:
Alternate opening
Deleted scenes
Alternate scenes
Line -o- rama
Gag reel
An Unlikely Pair
Partying With The Neighbors
On the Set with...
The Frat
Technical Specifications:
Running time : 97 '
Picture: 2.40: 1 - 1080p
Sound: English DTS -HD Master Audio 5.1 , French Dolby Digital 5.1
Subtitles: English for the hearing impaired , French, Dutch , German
Didier BECU
03/11/2014
---
Bad Neighbours van Nicholas Stoller is weeral zo'n film die sommige moraalridders zonder omzien zullen categoriseren als foute humor. Nu ja, als we je verklappen dat ergens in het midden van de film Seth Rogens bril ondergespoten wordt met moedermelk omdat de borst van zijn echtgenote op springen staat, dan weet je meteen aan wat voor soort grollen je je mag verwachten. Het is beslist grappig, maar kom achteraf niet janken dat we je niet hebben gewaarschuwd!
De wilde jaren van Mac (Seth Rogen) en Kelly (Rose Byrne) zijn achter de rug. Ze hebben zich in een rustige straat genesteld en van een uitgaansleven is er al jaren geen sprake meer. En dan gebeurt het, als de eerste verhuiswagen arriveert snapt Mac dat zijn nieuwe buren een bende gekke studenten zijn die het echtpaar geen seconde nachtrust zullen gunnen. De studenten zijn bereid om de geluidsknop wat naar links te draaien, maar het is uitgesloten dat ze de politie verwittigen. Doen ze dat wel dan staan ze niet in voor de gevolgen.
Bad Neighbours is dolkomisch, om niet te zeggen hilarisch grappig, maar dat is wel de enige kwaliteit van deze film. Het scenario hangt met haken en ogen aaneen en is niet meer dan een versleten kapstok om de grappen aan op te hangen. Seth Rogen speelt nog maar eens de goedzak zoals we hem al zo veel keer hebben zien spelen (denk maar aan Knocked Up of This Is The End) en ook Dave Franco (jawel broer van!) mag de rol van het ettertje dat hij in 21 Jump Street was nog eens herhalen, maar met Christopher Mintz-Plasse (McLovin' uit Superbad) hebben we het echt wel gehad. Regisseur Stoller die eerder The Five-Year Engagement en Get Him To The Greek regisseerde is nooit een groot licht geweest, maar begrijpt wel heel goed wat het popcornpubliek wil. Wie van een film niet meer verwacht dan dat hij hem aan het lachen brengt, zal Bad Neighbours best wel kunnen verteren, bij de rest zal hij wellicht op de maag blijven liggen wegens net iets te banaal.
Bad Neighbours is nu uit op Universal, zowel op dvd als Blu-ray.
Extra's:
Alternate opening
Deleted scenes
Alternate scenes
Line-o-rama
Gag reel
An Unlikely Pair
Partying with the Bad Neighbours
On the Set with…
The Frat
Technische Specificaties:Speelduur: 97′
Beeld: 2.40:1 – 1080p
Geluid: Engels DTS-HD Master Audio 5.1, Frans Dolby Digital 5.1
Ondertiteling: Engels voor doven en slechthorenden, Frans, Nederlands, Duits
Didier BECU
03/11/2014
---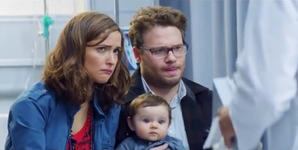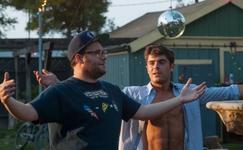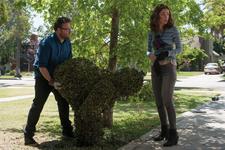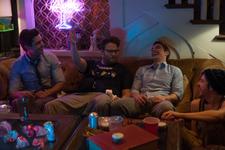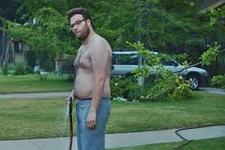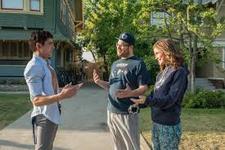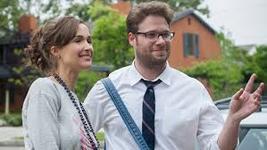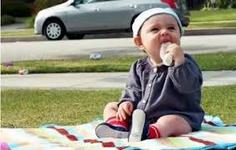 ---