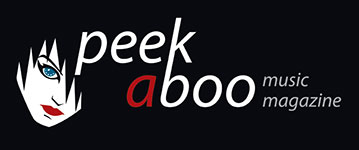 like this cd review
---
NICK GREY & THE RANDOM ORCHESTRA
Breaker of Ships
Music
•
CD
Electro Pop
•
Electronics
•
Rock
[80/100]

Milk & Moon Recordings
12/06/2015, William LIÉNARD
---
If we count correctly, then this is Nick Grey & The Random Orchestra's fourth album, but in the past 10 years, Grey has made a lot more music. He collaborated with Charlemagne Palestine, Tony Wakeford (Sol Invictus) and Martyn Bates of Eyeless in Gaza and he was once worshiped by dark and folk fans. Nowadays he makes more accessible music and he describes his style as "Oblique Pop ', while he calls Gainsbourg and Robert Wyatt important sources of inspiration.
"A Collection of Songs about Unhealthy Thinking", Grey calls his new songs in the liner notes, and if you look at the lyrics, then you notice that they are indeed dealing with dark thoughts and topics: a nightmarish dream to start, the unfortunate fate of a girl with spread legs and a man who invents the perfect murder to write about it afterwards. Fortunately, the tone of the album is a lot less dark and sinister, and the compositions are very simple in their original form. Only during the decoration with electronic and acoustic instruments, they get their sophisticated sound pattern. Breaker of Ships is a good example. The song begins with atmospheric guitars, whizzing electronics, sharp drum sounds and a warm, lingering cello, over which the echoing vocals are spread carefully. A melodic and calm composition, with ah-ah-ah's, polyphonic singing and barely perceptible noise. And just when you think the track is over, you hear the sound of frogs in a rainstorm and the unfolding of a new combination of fine organ-like sounds and high singing voices. It sounds superhuman, as the sound of conversing dolphins in a high cathedral, and it is followed by rushing drones, electronics, percussion and whining guitars ad infinitum.
Of Ghosts & Women begins with a broad carpet of buzzing electronic. The voice sounds emphatically and she tells the story about the girl with the wide open legs. Metallic percussion and a high-pitched guitar are added and the track develops into a solid electro pop song, punctuated by clicks, abrasive noise and an emphatic collection of diverse voices. It is never noisy, thanks to the buzzing drones and the quiet vocals. A beautiful track, despite the somewhat odd text. The Archivist begins with the sound of an acoustic guitar and warm vocals. It is again a very melodic track with violins and the deep sound of a clarinet, electronics and piano. Perhaps the best composition on this album. In Vanisher the death theme is central. The guitars sound quiet, but dark; the pace is slow and the voice is completely mixed in the foreground. Playful Electronics, echoing percussion and buzzing drones create the atmosphere, with the lingering guitars as emphatic third party in the coda. Retained but beautiful.
Juliet of the Spirits sounds light and cheerful. Acoustic guitars and twinkling electronica support the poetic, Donovan-like vocals, and is accompanied by electric guitars, electronics like falling water droplets, heavenly female vocals in the background and then an acoustic intervention with bells and horn-like sounds. The sequel Juliet of the Bones, is a composition of bassist and keyboardist Louis Pontvianne and he primarily uses howling guitars à la Brian May. It is a full-blooded rock song which after 2 minutes returns to the tranquil sound palette of Juliet of the Spirits with ditto vocals and finally a boisterous passage of drones and frantic vocals. The selection is completed with a sample of a speech by Peter Wollen about suffering and the desire for a different world, supported by organ-like sounds and later by drones and watery noise. A maverick, but not unkind.
The bonus track Here He Comes Now is a remix version of Scanner. Because we do not know the original, we cannot compare the two versions, but this atmospheric track, with piano, gentle electro drones and rumbling percussion, sounds good, sometimes a bit jazzy and especially dreamy as a result of the barely audible singing voice, wrapped in echoes. A nice addition and a nice ending for this album.
Playlist:
1. Breaker of Ships
2. Of Ghosts & Women
3. The Archivist
4. Vanisher
5. Juliet of the Spirits
6. Juliet of the Bones
7. Ghost Rain
Bonus Track:
8. Here He Comes Now
(Nick Grey & 48 Cameras, Remix by Scanner)
William LIÉNARD
12/06/2015
---
Uit Berlijn bereikt ons het nieuwe album van Nick Grey & The Random Orchestra. Als we goed geteld hebben is het hun vierde album, maar Grey heeft in de voorbije 10 jaar veel meer muziek gemaakt. Hij werkte o.a. samen met Charlemagne Palestine, Tony Wakeford (Sol Invictus) en met Martyn Bates van Eyeless in Gaza. Hij werd ooit op handen gedragen door dark- en folkfans, maar tegenwoordig maakt hij toegankelijker werk. Hij omschrijft z'n stijl als 'Oblique Pop' en hij noemt Gainsbourg en Robert Wyatt belangrijke inspiratiebronnen.
"A Collection of Songs about Unhealthy Thinking", noemt Grey z'n nieuwe songs in de hoestekst en als je de songteksten bekijkt, dan merk je dat er inderdaad sprake is van duistere gedachten en onderwerpen: van een nachtmerrieachtig droom in de titelsong tot het onfortuinlijke lot van een meisje met gespreide benen en een man die de perfecte moord bedenkt om er nadien over te kunnen schrijven. Gelukkig is de toon van het album een stuk minder donker en luguber, en de composities zijn zelfs heel eenvoudig van snit in hun oorspronkelijk vorm. Ze krijgen pas tijdens de aankleding met elektronische en akoestische instrumenten hun gesofisticeerde klankpatroon, zoals in Breaker of Ships, dat begint met het atmosferische gitaren, suizende electronics, scherpe drumklanken en een warme, slepende cello, waarover de echoënde vocalen voorzichtig worden uitgespreid. Een melodische en rustig voortkabbelende compositie met ah-ah-ah's, een meerstemmige samenzang en nauwelijks waarneembare noise. En net als je denkt dat de track afgelopen is, weerklinkt het geluid van kikkers in een regenbui en ontspint zich een nieuwe combinatie van fijne orgelachtige klanken en hoge zangstemmen. Het heeft iets bovenmenselijks, als het geluid van converserende dolfijnen in een hoge kathedraal en het wordt gevolgd door ruisende drones, electronics, percussie en jankende gitaren ad infinitum.
Of Ghosts & Women begint met een breed tapijt van zoemende elektronics. De stem zit helemaal vooraan en vertelt het verhaal over het meisje met de wijd open benen. Metaa lachtige percussie en een hooggestemde gitaar worden toegevoegd, waardoor de track zich ontwikkelt tot een stevige elektropopsong, onderbroken door clicks, schurende ruis en een nadrukkelijk parlando van diverse stemmen. Luidruchtig wordt het nooit, dankzij de zoemende drones en de rustig voortkabbelende vocalen. Een mooie track, zondermeer, ondanks de wat vreemde tekst. The Archivist begint met het geluid van een akoestisch gitaar en warme vocalen. Het is opnieuw een zeer melodieuze track, waaraan violen en de diepe klank van een klarinet zijn toegevoegd, electronics en piano. Misschien wel de mooiste compositie op dit album. In Vanisher staat de dood centraal. De gitaren klinken rustig maar donker, het tempo ligt laag en de stem is helemaal op de voorgrond gemixt. Speelse electronics, echoënde percussie en zoemende drones zorgen voor de sfeer, met de slepende gitaren als nadrukkelijke derde partij in de coda. Ingehouden, maar mooi.
Juliet of the Spirits is lichtvoetig en opgewekt. Akoestische gitaren en tintelende electronics ondersteunen de poëtische, Donovan-achtige vocalen, en krijgen dan het gezelschap van elektrische gitaren, electronics als vallende waterdruppels, een hemels vrouwenkoortje op de achtergrond en een akoestisch interventie met bellen en hoornachtige geluiden. De sequel Juliet of the Bones is een compositie van bassist en keyboardspeler Louis Pontvianne en die zet voornamelijk in op huilend gitaren à la Brian May, een volbloed rocksong die na 2 minuten terugkeert naar het rustige klankpalet van Juliet of the Spirits met dito vocalen en als slot een wat heftigere passage van drones en hectische zangstemmen. De selectie wordt afgesloten met een sample van een toespraak van Peter Wollen over lijden en het verlangen naar een andere wereld, gedragen door orgelachtig geluid en later door drones en waterige noise. Een buitenbeetje, maar niet onaardig.
De bonustrack Here He Comes Now horen we in een remixversie van Scanner. Omdat we het origineel niet kennen, kunnen we de compositie met niets vergelijken, maar de deze atmosferische track met piano, zacht woelende elektrodrones en voorzichtig roffelende percussie klinkt goed, soms een beetje jazzy en vooral dromerig door de nauwelijks hoorbare en in echo's gewikkelde zangstem. Een mooi toevoeging en een mooie afsluiter voor dit album.
William LIÉNARD
12/06/2015
---