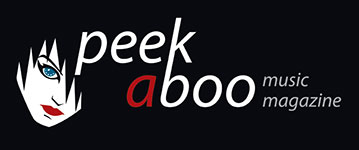 like this cd review
---
NOVEMBER NOVELET
The World In Devotion
Music
•
CD
Electronics
•
Minimal
[88/100]

Galakthorroe
13/12/2015, Didier BECU
---
Perhaps the name November Növelet sounds obscure to you, but this duo consists of Mrs. And Mr. Arafna, or in other words: Haus Arafna. The difference is that the duo from Braunschweig sounds a bit more accessible on November Növelet,due to the minimal synths...

The cover is dark, and a CD that begins with the words Death Has Released You, Be Grateful To Your Murderer can hardly be called cheerful. No, dear children of the night, sounding more dark is almost impossible, and that's the atmosphere of the whole CD. The voice of Ms. Arafna sounds icy cold, while the electronic compositions of Mr. Arafna gives you goose bumps.

Because of the minimal wave-like approach and the glockenspiel-like synths, The World In Devotion sounds a bit lighter, even a tad danceable, but you always stand with one leg in the grave. Dark discopop with indus-like synths: it exists and it is made by November Növelet. Even more obscure sounds you hear in Living Perfection, with synths that give you the feeling that you are watching a cheap, terrifying horror movie.

Perhaps In Circles is the most poppy song, and coincidence or not, it sounds a bit like Nine Circles, although those frightening keyboards still emerge. More beautiful songs about death you'll hear in He's Dying Beside. It doesn't make you happy, but who wants beauty without content? Pain is the nourishment of the soul, and this German duo understands this like no other. Made Of Gold is sinister too. Music at its darkest. Intriguing, but also terrifying. No, music can't be any deeper than that.

The only song that conveys some hope is Crying Walls, reminiscent to Absolute Body Control through its synths. But do not laugh too soon, as the final track Fire is (again) pitch black.
The World In Devotion is a very dark record. And no, there is no light at the end of the tunnel, so be it!
Didier BECU
13/12/2015
---
Misschien zegt de naam November Növelet je niet meteen iets, maar dit duo bestaat uit Mrs. En Mr. Arafna, of gewoon Haus Arafna dus. Het verschil met Haus Arafna is wellicht dat het duo uit Braunschweig op November Növelet door de minimale synths iets toegankelijker klinkt, alhoewel…
De hoes is donker, en een cd die met de woorden Death Has Released You, Be Grateful To Your Murderer begint, kun je moeilijk een vrolijk plaatje noemen. Neen, lieve kinderen van de nacht, meer droevig kan bijna niet en dat is de sfeer die November Növelet de hele cd lang volhoudt. De stem van mevrouw Arafna klinkt ijzig koel, terwijl je van de elektronische composities van mijnheer Arafna gewoon kippenvel krijgt.
Door de minimal wave-achtige aanpak en de glockenspielachtige synths klinkt The World In Devotion wel iets lichter, zelfs een tikkeltje dansbaar, toch blijf je steeds met één been in het graf staan. Zwartgallige discopop met indusachtige synths: het bestaat en wordt gemaakt door November Növelet.
Nog meer duistere klanken hoor je in Living Perfection, met synths die je het gevoel geven dat je naar een goedkope, angstaanjagende horrorfilm kijkt.
Wellicht is In Circles het meest poppy nummer, en toeval of niet, het klinkt wat als Nine Circles, ook al blijven die angstaanjagende keyboards alsmaar opduiken. Nog meer mooie liedjes over de dood hoor je in He's Dying Beside. Gelukkig word je er niet van, maar wie wil schoonheid zonder inhoud? Pijn is de voedingsbron van de ziel, en dat begrijpt dit Duitse duo als geen ander. Made Of Gold is zelfs bij momenten luguber. Muziek op zijn donkerst. Intrigerend, maar tegelijkertijd angstaanjagend. Neen, muziek kan moeilijker dieper dan dat.
Het enige nummer dat wat hoop uitstraalt is Crying Walls, dat door de synths wat aan Absolute Body Control doet denken. Maar lach niet te vlug, het eindnummer Fire is alweer gitzwart.
The World In Devotion is een zeer donker plaatje. En neen, er is geen licht aan het eind van de tunnel, het zij zo!
Didier BECU
13/12/2015
---