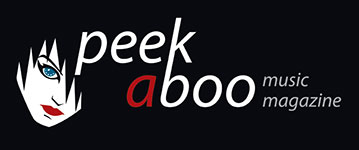 like this movie review
---
NURI BILGE CEYLAN
Winter Sleep
Movie
Arthouse
•
Drama
[79/100]

Cinéart
28/08/2015, Didier BECU
---
I really don't know why, but it seems like I'm always watching the Golden Palm winner at a later moment. A sin, as not so long ago I discovered that La Vie D'Adele is actually one of the best movies ever made. With nerves I started Winter Sleep (the winner of 2014) by the Turkish director Nuri Bilge Ceylan, even though it was one year after its release date. The picture does not end up in my list of favorites, but Winter Sleep caused a cinematic orgasm (or something like that) that lasts 196 minutes!
Ceylan, who previously directed Uzak and Once Upon a Time in Anatolia, applies a style that is often compared to Ingmar Bergman. That's right, because like the Swedish master, this Turkish filmmaker likes long dialogues. You see long shots of people talking, complemented with some beautiful images of desolate landscapes, because Tarkovsky's influence is never far away either. And what are they talking about during those 3 hours? About nothing! Ceylan does not do that because he's arrogant, but simply because the essence of life means nothing. Aydin (Aluk Bilginer) runs a hotel in Cappadocia with his sister (Demet Akbağ). There is hardly a person who visits the hotel. Aydin thinks life is too short. Boredom does not exist for him. Every day he sits at his computer to write a book about the history of Turkish theater. His sister thinks that is a stupid pastime, her life consists of thinking. Aydin is so immersed in his writings that he has forgotten that he also has a wife (Melisa Sözen). But it's all too late, the relationship is broken. That is the subject of Winter Sleep: trying to save a relationship that has a future.
This sad story (which is loosely based on Chekhov) is made of long dialogues. Occasionally you see an exterior shot of a Turkish snowy landscape, but almost everything happens in the gritty, unpleasant hotel rooms. The conversations are about everyday things: boredom, the differences between rich and poor, the meaning of life, the value of love. Although the conversations last long, they all end up with the big nothing.
Winter Sleep is certainly not an easy film , and we can imagine that for some viewers it might be three long tedious hours. But sometimes nihilism becomes art , if only to show us the futility of our existence. Winter Sleep will not make you happy, but that was probably not Nuri Bilge Ceylan's intention.
Didier BECU
28/08/2015
---
Hoe het komt, weet ik eigenlijk niet, maar door bizarre omstandigheden lijkt het erop alsof ik de Gouden Palmwinnaar steeds later bekijk. Pure zonde. Zo ontdekte ik niet zo lang geleden dat La Vie D'Adèle eigenlijk één van de allerbeste films ooit is. Het was dan ook met zenuwen dat ik besloot om Winter Sleep (de winnaar van 2014) van de Turkse regisseur Nuri Bilge Ceylan in de lader te schuiven, ook al was het een jaar na datum. Neen, uiteindelijk belandt de prent niet in mijn lijstje van lievelingen, maar veroorzaakt hij toch een cinematografisch orgasme (of zoiets) van (jawel) welgeteld 196 minuten!
Ceylan, die eerder al opviel met Uzak en Once Upon a Time in Anatolia, hanteert een stijl die wordt vaak vergeleken met die van Ingmar Bergman. Dat klopt, want net als de Zweedse grootmeester laat deze Turkse cineast graag zijn protagonisten het woord voeren. Ook al schrikt het de modale kijker zonder twijfel af, zou je Winter Sleep gewoon als een praatfilm kunnen categoriseren, aangevuld met prachtige beelden van verlaten landschappen, want ook Tarkovskys invloed is nooit veraf. En waarover gaan die drie uur conversatie dan wel? Over niets! Ceylan doet dat niet uit arrogantie, maar gewoon omdat het leven over niets gaat. Aydin (aluk Bilginer) runt samen met zijn zus (Demet Akbağ) in Cappadocië een hotelletje. Er komt amper een mens over de vloer. Voor Aydin is het leven veel te kort. Verveling bestaat voor hem niet. Dagelijks zit hij achter zijn computerscherm om een boek over de Turkse theatergeschiedenis te schrijven. Zijn zus vindt dat maar een domme bezigheid, voor haar bestaat het leven uit nadenken. Aydin verdiept zich zo sterk in zijn schrijfsels dat hij ondertussen is vergeten dat hij ook nog een echtgenote (Melisa Sözen) heeft. Maar het is allemaal te laat, het kalf is al lang verdronken. De relatie is stuk en over die problematiek gaat Winter Sleep: het proberen te redden van een relatie die al lang geen toekomst meer heeft.
Dit trieste verhaal (dat trouwens losjes gebaseerd is op Anton Tsjechov) wordt geschetst via lange dialogen. Af en toe krijg je wel eens een buitenopname van een besneeuwd Turks landschap te zien, maar voor de rest speelt alles zich in de grauwe, onaangename hotelkamers af. De gespreken gaan over alledaagse dingen: verveling, de verschillen tussen arm en rijk, de zin van het bestaan, de waarde van liefde. Ofschoon ze soms verschrikkelijk lang duren, monden de gespreken steeds uit op het grote niets.
Neen, Winter Sleep is zeker geen gemakkelijke film en we kunnen ons inbeelden dat het voor sommige kijkers wel eens drie lange vervelende uren zouden kunnen zijn. Maar soms is nihilisme ook kunst, al was het maar om ons op de zinloosheid van dit bestaan te wijzen. Van Winter Sleep word je niet vrolijk, maar dat is waarschijnlijk geen seconde de bedoeling van Nuri Bilge Ceylan geweest.
Didier BECU
28/08/2015
---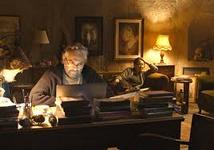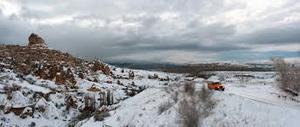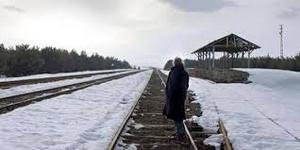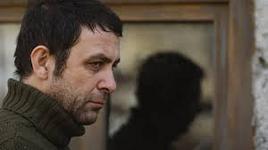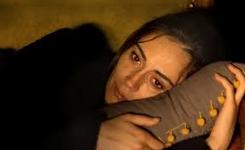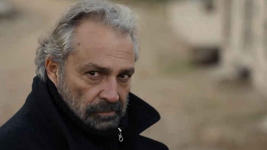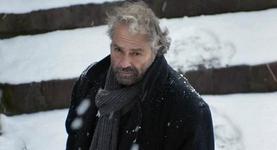 ---