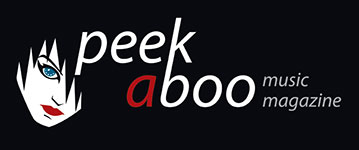 like this movie review
---
OLIVIER DAHAN
Grace Of Monaco
Movie
Biography
•
Drama
[65/100]

E1
06/11/2014, Didier BECU
---
Last year two biopics were totally ignored. One of them was Diana (am I really the only one who considers this film to be a little masterpiece?) And of course Grace Of Monaco. The story of Grace Kelly was from the start a catastrophe. There were not only the quarrels between director Olivier Dahan and Harvey Weinstein, the film was also slashed down by critics when it opened the Cannes Film Festival. Nicole Kidman probably expected an different reaction when she got the chance to play the most glorious film diva in cinema.
Grace Kelly deserves better, yet the film has some value. These positive words are merely due to Nicole Kidman. If you take a look at the movie poster, you immediately see that they couldn't have found anyone better to play the roll of the Princess of Monaco than Kidman. Unfortunately Dahan didn't want to make a traditional biography. We learn nothing about her childhood or how she met Rainier III (Tim Roth) (even though everyone knows that this was in Cannes), because the story starts in 1962. Meanwhile, Grace was thoroughly fed up with the parties (and possibly her boring husband ). Hitchcock went to Monaco to convince the princess to start in Marnie, but her husband objected. The sovereignty of Monaco was in great danger and therefore Grace better concentrated on her career as a princess.
It remains a mystery why Dahan chose such a quirky approach. Who wants to see a film about Grace Kelly with Nicole Kidman in the lead role that deals mainly with politics? Fortunately Kidman is great and proves once again that she is the most beautiful and best actress. Remember that Kidman is a 46 year-old woman who plays someone who's just 30!
Grace Of Monaco is now out on DVD and Blu -ray via E One.
Didier BECU
06/11/2014
---
Vorig jaar gingen er twee biopics volledig de mist in. Eentje daarvan was Diana (ben ik nu werkelijk de enige die deze film als een klein meesterwerk beschouwt?) en natuurlijk Grace Of Monaco. Met het verhaal over Grace Kelly liep het al vanaf het begin goed fout. Er waren niet alleen de ruzies tussen regisseur Olivier Dahan en Harvey Weinstein, ook werd de film door critici neergesabeld toen hij het Filmfestival van Cannes mocht openen. Nicole Kidman had het zich wellicht anders voorgesteld toen zij de kans kreeg om de meest glansrijke filmdiva uit de cinema te vertolken.
Olivier Dahan die in La Vie En Rose over het leven van Edith Piaf vertelde, is zeker niet in zijn opzet geslaagd. Grace Kelly verdient beter, toch heeft de film enige waarde. Deze positieve woorden zijn wel louter voor Nicole Kidman bestemd. Als je gewoon een blik op de filmaffiche werpt, weet je meteen dat men niemand beter had kunnen vinden dan la Kidman om de prinses van Monaco te vertolken. Jammer genoeg vond Dahan dat het niet nodig was om een traditionele biografie te vertellen. We komen niets te weten over haar jeugd of hoe ze ­Reinier III (Tim Roth) ontmoette (ook al weet iedereen dat dat in Cannes was), want alles begint in 1962. Ondertussen was Grace de feestjes (en wellicht ook haar saaie echtgenoot) grondig beu. Hitchcock reist af naar het prinsdom om de prinses ervan te overtuigen de hoofdrol in Marnie te accepteren, maar de vorst is er tegen. De soevereiniteit van Monaco loopt groot gevaar en daarom houdt Grace zich maar beter bezig met haar loopbaan als prinses. Achter de oogverblindende juwelen zit een energievolle vrouw verborgen die zich te pletter verveelt.
Het blijft een raadsel waarom Dahan voor zo'n eigenzinnige (weinig geslaagde) aanpak koos. Wie een film over Grace Kelly met Nicole Kidman in de hoofdrol wil zien, verwacht glamour. De enige praal die je in Grace Of Monaco te zien krijgt zijn de majestueuze baljurken; voor de rest concentreert Dahan zich op een saai politiek verhaal. Gelukkig weet Kidman de meubelen wat te redden door nog maar eens te tonen dat zij de mooiste en beste actrice is. Vergeet niet dat Kidman als 46-jarige een vrouw van 30 vertolkt, wie doet haar dat na? Niemand dus, alleen verdiende Grace een betere regisseur om haar levensverhaal op het witte doek te toveren. Wie weet, gebeurt dat ook, denk maar aan Steve Jobs!
Grace Of Monaco is nu uit op dvd en Blu-ray via E One.
Didier BECU
06/11/2014
---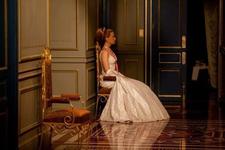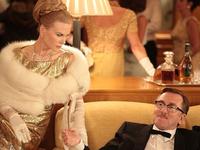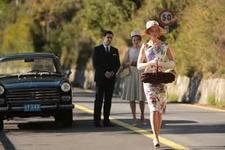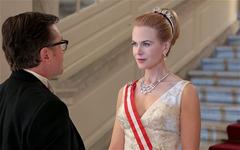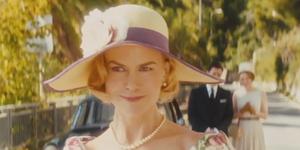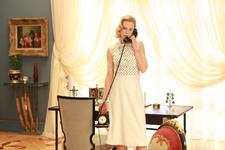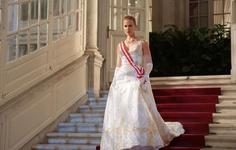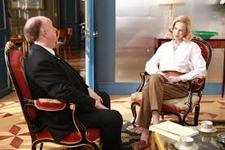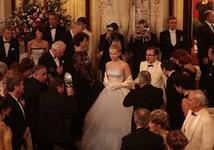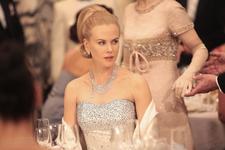 ---