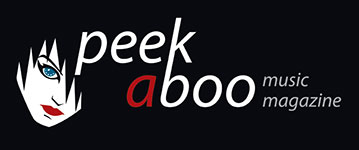 like this concert review
---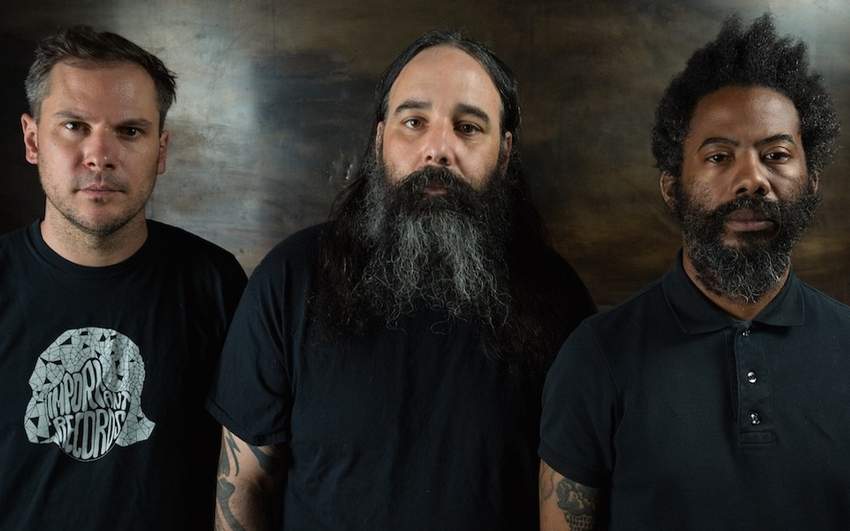 OM
Antwerpen, Trix (25/11/2015)
Concert
27/11/2015, William LIÉNARD
---
On Wednesday, November 25th, the American band OM was in Trix Club (Antwerp) for a sold out concert. Until 2008, Al Cisneros (bass/vocals) and Chris Hakius (drums) worked together as Sleep, but in that same year Hakius left the band and was replaced by Emil Amos. Since the accession of Robert Low, the band is a trio and is called OM. The music of OM can be described as post-rock with lots of stoner, doom and dub elements. In Trix Club the evening started with the short concert of Circuit des Yeux, the solo project of Haley Fohr from Chicago.
When we finally were standing near the podium, Circuit des Yeux was already playing and singing, because as a result of the bad weather, the long search for a parking space, the queue at the ticket counter and the frisking, many concertgoers arrived too late. On the pavement of the concert hall a military vehicle was parked and next to the entrance we saw two armed soldiers, the result of the measures that were taken after the events in Paris and Brussels. I remembered the words of a colleague on this site earlier this week: the music will never die! Agreed, but it also applies to us...
An incoming public is not in the right mood, and as a result the buzz continued during the concert of Circuit des Yeux and disturbed the quiet moments of the set. Too bad, but Haley Fohr immediately launched a composition that sounded rougher, with fragile and later heavier vocals, and a guitar sound that grew into guitar noise using the pedals. The subsequent track began with a peaceful instrumental passage, later supplemented by guitar noise and loud vocals. We got the impression that a complete rock band was on stage! Then we heard a quiet ballad, brittle and fragile, followed by a ballad that was embellished with guitar noise, loops, falsetto-like and even opera-like vocals, Bargeld-like screaming and a lot of drones for the final. A hectic and nervous composition that suddenly evaporated to a fragile a cappella tune. Beautiful and impressive. Watch out for this lady!
OM played a total of eight tracks. Well, that is how it sounded, because it is difficult to tell where one song ends and another begins. The first composition was introduced with whistling vocals, loud drums and drone-like guitars, followed by wisps of electro on top, while the sequel track started with drones and cauldron-like percussion, scratchy vocals and a wall of dark guitars and synths, slow and dragging, a little bluesy at times, a striking dark bass, whining guitars and synths, fanning out into a long instrumental post rock-like ballad. The mantra-like intro of the third composition sounded like hallucinating oriental monks and was followed by buzzing drones, loud and violent percussion, pounding guitars and synths that maintained the mantra-like atmosphere, thanks to the lingering pace and the short repetitive melody. A hypnotic piece of music with a post rock final and the effect of a passing comet.
The intro of track four sounded exotic: primitive bells on a bedrock of quiet and dark drones, a quiet passage and then the sound of bass and percussion, vocals, tempo changes and emphatic drumming, followed by an intoxicating and whistling synth solo. In track five we heard sitar-like synths. The vocals were unintelligible and whispered. A nice change, as the voice of Al Cisneros often sounds a little flat and monotonous. Track 6 started nicely with a sitar-like sound and exotic cymbals, complemented with dark drones and metallic percussion, a faster rock composition that reminded us of the Doors, with a voice that sounded very different and higher. In the second half, the long vowel strings created an attractive mantra-like effect, and after a drone interlude, a tempo change and a rough passage with bass and rumbling percussion, they sounded even more impressive. A strong, hypnotic track, interrupted just a little too much with dub-like effects and jet-black basdrones. The sacral-like vocals of the final song sounded wonderful and introduced the best melody that we heard. Not the best, but certainly OM's most exciting track in this concert, halfway followed by the familiar wall of guitars and percussion, rock hard and destructive, a statement that no one could escape.
William LIÉNARD
27/11/2015
---
Op woensdag 25 november stond de Amerikaanse band OM in Antwerpen voor een uitverkochte Trix Club. Al Cisneros (bas/vocalen) en Chris Hakius (drums) traden eerder op als Sleep, maar Hakius verliet de band in 2008 en werd vervangen door Emil Amos. Ondertussen noemt het gezelschap zich OM en is het sinds de toetreding van Robert Low uitgegroeid tot een trio. De muziek van OM kan je omschrijven als postrock met flink wat stoner-, dub- en doomelementen. In Trix Club trad het gezelschap aan tegen 21.30 uur, want eerder mocht Circuit des Yeux, het eenmansproject van Haley Fohr uit Chicago, de zaal alvast opwarmen.
Toen we uiteindelijk in de buurt van het podium stonden, was Circuit des Yeux al even bezig, want het slechte weer, de lange zoektocht naar een parkeerplaats, de file aan de ticketbalie en het fouilleren speelden heel wat concertgangers parten. Op de stoep van de concertzaal stond trouwens een groot militair voertuig geparkeerd en naast de toegangsdeur hadden twee gewapende soldaten postgevat. Natuurlijk allemaal het gevolg van de gebeurtenissen van de afgelopen weken in Parijs en Brussel. Ik herinnerde mij de woorden van een collega op deze site van een paar dagen geleden: the music will never die! Akkoord, maar wij dus ook liever niet…
Een arriverend publiek is niet meteen in de goede stemming. Jassen moeten weggehangen worden, vrienden dag gezegd, er wordt wat bijgepraat, een drankje besteld en er is aanvankelijk nauwelijks interesse voor wat er zich op het podium afspeelt, te meer omdat het toch de hoofdact niet is waarvoor iedereen de verplaatsing heeft gemaakt. Dat speelde Circuit des Yeux vooral parten tijdens de rustigere momenten van de set. Dat was in elk geval de indruk die we hadden bij het betreden van de Club, en de song die net op dat moment afgewerkt werd, kreeg niet meer dan een flauw applausje. Jammer van de moeite, maar daar paste Haley Fohr wel een mouw aan met een compositie die meteen iets ruiger uit de startblokken kwam met fragiele en later heftigere vocalen, en gitaarbegeleiding die met behulp van pedalen tot gitaarnoise evolueerde. De vervolgtrack begon met een rustige instrumentale passage, later aangevuld met gitaarnoise en luide vocalen, en die klonk uiteindelijk alsof er een complete rockband op het podium stond. Dat wist het publiek duidelijk te appreciëren. Vervolgens hoorden we een rustige ballade, breekbaar en fragiel, gevolgd door een ballade die halfweg opnieuw werd opgesmukt met gitaarnoise, loops en falsetto-achtige en bij momenten zelfs opera-achtige vocalen, Bargeld-achtige uithalen en flink wat drones voor de finale. Een jachtige en nerveuse compositie die plots verdampte tot er niet meer dan wat a capella-geluid overbleef. Mooi en indrukwekkend, waardoor Circuit des Yeux dit concert toch in schoonheid kon afsluiten. In het oog houden die dame!
De intro's van OM beginnen altijd een beetje exotisch, wat grote verwachtingen wekt, maar schone liedjes duren nooit lang, want op het moment dat de luide percussie en de droneachtige basgitaar geïntroduceerd worden, blijft daarvan nog maar weinig over en klinkt het allemaal als postrock, met trage tempi, complexe ritmes en een muur van gitaar- en elektronoise. De band speelde in totaal acht tracks, enfin, zo klonk het, want vaak is het moeilijk om uit te maken waar een song eindigt en een volgende begint. De eerste compositie kreeg fluitende vocalen als inleiding, luide drums en droneachtige gitaren met flink wat elektroslierten bovenop volgden, terwijl de vervolgtrack meteen van start ging met drones en ketelachtige percussie, krakerige vocalen en dan een muur van donkere gitaren en synths, traag en slepend, een beetje bluesy bij momenten, een opvallende donkere basgitaar, jengelende gitaren en synths, uitwaaierend tot een lange postrockachtige instrumentale ballade.
Het mantra-achtige intro van de derde compositie klonk als het geluid van hallucinerende oosterse monniken en werd gevolgd door zoemende drones, luid en heftig slagwerk, pompende gitaren en belachtige synths die de mantra-achtige sfeer behielden dankzij het slepende tempo en de korte repetitieve melodie. Een hypnotiserend muziekfragment met een postrockfinale en het effect van een passerende komeet.
Exotisme was ook troef in het intro van track vier: primitieve belletjes op een bedje van rustige en donkere drones met na een vrij stille passage het geluid van basgitaar en percussie, vocalen, tempowisselingen en een geaccentueerde drumpartij, gevolgd door een fluitende synthsolo, opnieuw rustig voort dobberend en vooral bedwelmend. In track vijf vielen ons vooral de sitarachtige synths op. De vocalen waren onverstaanbaar en werden gefluisterd, want een leuke afwisseling was, want de stem van Al Cisneros klinkt vaak toch een beetje vlak en weinig boeiend. Track 6 ging mooi van start met sitarachtig geluid en exotische cymbalen, aangevuld met donkere drones en metaalachtige percussie, een wat snellere rockcompositie waarbij we aan de Doors dachten en waarvoor de stem weer heel anders en vooral hoger klonk. In de tweede helft zorgden de lange vocaalslierten voor een aantrekkelijk mantra-achtig effect en na een drone-intermezzo, een tempoverhoging en een passage met ruig basgeluid en roffelende percussie, klonken ze zo mogelijk nog nadrukkelijker. Een sterke, hypnotiserende track die misschien net iets te veel werd onderbroken met dub-achtige effecten en gitzwarte basdrones.
De sacraal aandoende vocalen van het slotnummer klonken prachtig op het geluid van een rustige basgitaar. Ze vormden de inleiding tot de beste melodie die we tijdens dit concert te horen kregen. Niet de beste, maar beslist de opwindendste track die OM ten gehore bracht, halfweg gevolgd door de ondertussen bekende muur van gitaren en percussie, snoeihard en vernietigend, een statement dat niemand kon ontgaan.
William LIÉNARD
27/11/2015
---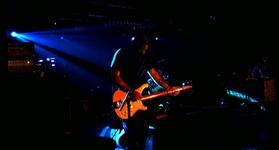 ---