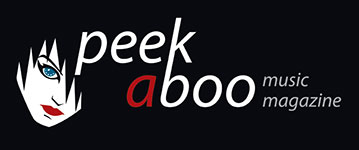 like this cassette review
---
ORNAMENTI D'ORO
Mater Tenebrarum
Music
•
Cassette
Electronics
[68/100]

Tensión Ritual
14/05/2018, Jurgen BRAECKEVELT
---
Gustavo A. Roselinsky is Argentinian by birth but resides in Madrid. His project Ornamenti D'Oro now presents it's first-fruit: Mater Tenebrarum.
Gustavo was a fixture for years in the gothic and dark-wave scene in his hometown Córdoba and after moving to Madrid a few years ago, he was able to make contact with Tensión Ritual, a collective consisting of Jamie from the band Strucktura and Greta from the Madrid-based La Mano project. The latter are dedicated organizers of dark scene concerts and parties in Madrid.
Labeling this EP with a genre was rather difficult and since we don't waste time with box-thinking mentality, we chose that this disc remain label-free.
It is very spherical electronic music, grounded in the mythical and dreamy. In terms of vocals we get something quite unique on this Mater Tenebrarum. A very high pitched voice, dark, sometimes classic, then poppy again. Again a wide range. The entire gem, which is limited to 100 cassettes released on the Tensión Ritual label, is bursting with electronic experimental stuff.
The title song 'Mater Tenebrarum' emerges from the enervating sound of an alarm clock, that ominously shouts that it is time to leave bed, into an immensely dark piece of electronics. 'Prima Guerra Mondiale' is a song that stands out somewhat due to the nice arrangement and the slightly faster pace.
The only unfortunate thing to say about this work is that, after having heard one song, you have in fact heard them all. Despite the variation in the music and the unique atmosphere in which the album is bathed, it tends to get boring quickly.
Jurgen BRAECKEVELT
14/05/2018
---
Gustavo A. Roselinsky is een Argentijn van geboorte maar resideert in Madrid. Met zijn project Ornamenti D'Oro brengt hij zijn eersteling uit: Mater Tenebrarum.
Gustavo is al jarenlang een vaste waarde in de gothic en darkwave scene in zijn geboortestad Córdoba. Nadat hij enkele jaren geleden naar Madrid was verhuisd, kon hij contact leggen met Tensión Ritual, een collectief bestaande uit Jamie van de band Strucktura, en Greta van het in Madrid gevestigde project La Mano. Deze laatsten zijn toegewijde organisatoren van concerten en fuiven uit de donkere scene in Madrid.
Deze EP labelen is vrij moeilijk, en omdat we niet aan hokjesdenken doen, laten we deze schijf etiketvrij.
Het is heel sferische electronische muziek, gegrond in het mythische en dromerige. Qua stemgeluid krijgen we op dit Mater Tenebrarum ook iets vrij unieks voorgeschoteld: heel hoog, donker, soms klassiek, dan weer poppy. Een brede waaier dys. Het gehele kleinood, dat gelimiteerd op 100 cassettes wordt uitgebracht op het Tensión Ritual-label, bulkt van electronisch experimenteel gedoe.
De titelsong Mater Tenebrarum ontpopt zich vanuit het enerverende geluid van een wekker die onheilspellend roept dat het alweer tijd is de bedstee te verlaten, tot een immens donker stukje electronica. Prima Guerra Mondiale is een nummer dat er enigszins uitspringt door het leuke arrangement en het iets snellere tempo.
Het enige jammere aan dit werk is dat je na één song in feite alles hebt gehoord. Ondanks de variatie in het muzikale en de aparte sfeer waarin het album baadt, gaat het snel vervelen.
Jurgen BRAECKEVELT
14/05/2018
---