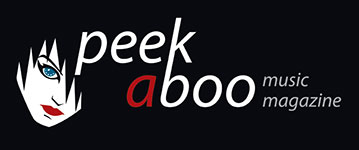 like this concert review
---
PALAIS IDEAL & DAGEIST
B52 - Eernegem - 16/12/2018
Concert
15/01/2019, Jurgen BRAECKEVELT
---
An evening of cold-wave post-punk with the French band Dageist and postpunkers Palais Ideal from the Netherlands. All this in the pleasant Eernegem club B52. A Sunday evening it is not the easiest night to get people off their couch, as Monday in already lurking around the corner but this is not problem for us, on the contrary...
The foundations of Dageist were laid in 2008. A meeting with friends who share the same passion: making music. From 2010 onwards the project was shaped more and more and then from 2015 onwards, in the current 2 member formation, it really lifted off. Davide Schiavoni and Frédéric Strzelczyk have played Belgium several times and last Spring they made their ultimate dream (for now at least...) come true, a performance at the renowned WGT in Leipzig.
Their mix of pop-rock and electro is contagious, melodic and due to the arrangements and the sturdy bass-parties it becomes cold-wave with a good dash of post-punk and a hint of Shoegaze.
The fact that the duo has become a very well-oiled machine immediately became clear at B52. The pleasure of playing live, the love for what they do, can be felt in every second of their performance. While Davide is also gifted with a very clear and strong voice.
Their first album '40' with 8 songs on it was an instant hit. The fact these songs sound even more strong and fierce, performed live, than ever before was made very clear by made these gentlemen. Their performance was bursting with energy, inspiration, fun and the immense love for what they do. The stage was therefore exchanged several times for a walk through the audience, which typifies them: grateful for their audience. Although the audience was sadly not that numerous, it it made no difference to Dageist. A set of 9 songs, intense joy and at very high level!
After a quick stage change, the gentlemen of Palais Ideal, John Edwards and his partner Richard Van Kruysdijk entered the stage. The ingredients of their rather quirky music is a mix of post-punk, new-wave and goth-rock. At times you get some The Sisters-Of-Mercy-like compelling passages, interspersed with pruning and heavily distorted guitars that drag you along in an endless quirky trip. The vintage synths and dramatic drum machines drag you in, carried by a seething sharp bass line, on a crazy trip. Inspiring? Certainly. Entertaining? Certainly. Musically varied? Certainly. Energetic? Jawohl!!!… and yet the concert soon slipped into a performance with just a tad too little body to be called grand. In my opinion, the (too) loud PA system had much to do with this. For sure it can be quite firm with a tangible volume, but unfortunately, here it was simply too much which turned the music in one big wall of sound without definition. If you listen to the records Palais Ideal released, you will hear musical gems. Sadly tonight, these came out too little, because of - in my opinion - the high volume!
Jurgen BRAECKEVELT
15/01/2019
---
Een avondje coldwave-postpunk met het Franse Dageist en de in Nederland verankerde postpunkers van Palais Ideal. En dit in de sympathieke Eernegemse club B52. Op een zondagavond is het niet evident om volk in de tent te krijgen, gezien de werkweek op maandag alweer wenkt, maar dat deed ons niet aan de zetel kluisteren, wel integendeel…
De fundamenten van Dageist werden eigenlijk al in 2008 gelegd. Een treffen onder vrienden met één passie: muziek maken. Vanaf 2010 kreeg het project meer en meer vorm, om vanaf 2015 in de huidige formatie van 2 leden echt te beginnen bloeien. Davide Schiavoni en Frédéric Strzelczyk speelden al ettelijke malen in Belgenland, en maakten in het voorjaar hun ultieme droom (voorlopig dan toch…) waar: een optreden op hét WGT in Leipzig.
Hun mix van pop-rock en electro is aanstekelijk, melodieus maar door de arrangementen en de stevige bass-partijen toch coldwave met een goeie scheut postpunk en een zweem van shoegaze.
Dat de twee heren intussen een zeer goed geoliede machine zijn, werd ook in de B52 METEEN duidelijk. Het speelplezier, de liefde voor wat ze doen, is voelbaar in elke seconde van het optreden. Davide is dan ook nog behept met een heel helder en goed stemgeluid.
Hun eersteling '40' met daarop 8 nummers was een schot in de roos. Bovendien klinken de nummers live nog een stuk doorleefder en heviger dan op plaat. En dat maakten de heren ook meteen heel erg duidelijk. Het optreden barstte van energie, bezieling, plezier en de immense liefde voor wat ze doen. Het podium werd dan ook meermaals ingeruild voor een wandeling doorheen het publiek, wat hen typeert: dankbaar en bij hun publiek. En hoewel dat publiek niet zo talrijk was opgedaagd, deerde dat de heren allerminst. 9 nummers lang intens genieten, op heel hoog niveau…
Na een snelle podiumwissel betraden de heren van Palais Ideal, John Edwards en zij compagnon Richard Van Kruysdijk het podium. De basis van hun vrij eigenzinnige muziek is een mix van post-punk, new wave en gothrock. Bij wijlen krijg je Sisters-Of-Mercy-achtige meeslepende passages, afgewisseld met snoeiharde en zwaar overstuurde gitaren die je meesleuren in een oeverloos eigenzinnige trip. De vintage synths en drammerige drummachines slepen je, gedragen door een ziedend scherpe baslijn, mee op een waanzinnige trip. Bezield? Zeker. Onderhoudend? Zeker. Muzikaal afwisselend? Zeker. Energiek? Jawohl... en toch vergleed het optreden algauw in iets met nét te weinig body om groots genoemd te worden. Naar mijn mening zat de té luide PA daar voor een groot stuk tussen. Het mag gerust stevig zijn met een voelbaar volume, maar het werd jammer genoeg teveel één wall of sound waar de melodie een stuk in verloren ging. Als je beluistert wat Palais Ideal al maakte, dan hoor je muzikale parels. Vanavond kwamen deze er te weinig uit, wegens – naar mijn mening - te luid.
Jurgen BRAECKEVELT
15/01/2019
---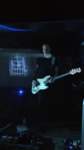 ---