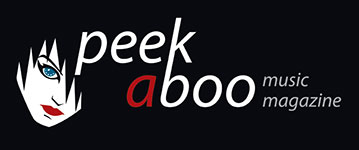 like this cinema review
---
PAUL KING
Paddington
Movie
•
Cinema
Adventure
Belga Films
04/12/2014, Didier BECU
---
You can't step into any souvenir shop in London without seeing an item that features the image of Paddington. This cuddly bear with his red hat and blue duffel coat is British cultural heritage, and the stories about him, written by Michael Bond, are present in every British bookcase. It's strange that we had to wait decades for a film version, but finally, here it is: Paddington!
Our excitement vanished a bit when we found out that Paddington would be a live-action movie (a movie containing characters that are created by a computer), if you remember stinkers like The Smurfs or even Garfield then you know what we mean. No worries though, because you never saw such a cuddly bear as Paddington !
Paddington is a pure British story, something that director Paul King, known for The Mighty Boosh, understood very well. Decades ago, an explorer met with two remarkable bears in Peru. He gave them a snow globe and a hat and the advice to visit London one day. Unfortunately this never happened, but during an earthquake the little bear gets the advice from his aunt Lucy to seek his solace in London. But the British capital appears not to be the paradise he expected, no one notices him until the moment the family Brown arrives. They name him Paddington (after the station where he was found). The bear thinks he has a golden future, but he is soon chased by the rabid taxidermist Millicent (Nicole Kidman).
Quite moving, right? It definitely is. If you're an adult then you occasionally might shiver when you start watching a children's film, but that's not the case with Paddington. Obviously the makers keep in mind that the film is meant for children, so the story never becomes complicated, but it's all done so well that the 94 minutes film pass like a rollercoaster. The performances are more than fine, especially with the excellent Nicole Kidman as cruel bitch. But still, how good Hugh Bonneville and Sally Hawkins might be acting, it's Paddington who steals the show. By far the best children movie in years ! We're in love!
Didier BECU
04/12/2014
---
Je kan in Londen geen souvenirwinkel binnenlopen zonder dat je er één of andere prul met een afbeelding van Paddington vindt. Het snoezige beertje met zijn rode hoed en blauwe duffelcoat is Brits cultuurerfgoed en de verhalen die zijn geschreven door Michael Bond staan in iedere Britse boekenkast te glunderen. Het blijft een beetje vreemd dat een verfilming zo lang op zich heeft laten wachten, maar eindelijk is hij er: Paddington, de film.
Eventjes verdween ons enthousiasme toen we vernamen dat Paddington een live-actionfilm (een speelfilm met daarin personages die door een computer zijn gecreëerd) zou worden. Als je je het misbaksel The Smurfs of zelfs Garfield herinnert, weet je wat we bedoelen. Geen nood echter, want wellicht zag je nog nooit zo'n snoezig beertje als Paddington!
Paddington is een op en top Brits verhaal en dat heeft regisseur Paul King, die bekend is van The Mighty Boosh, zeer goed begrepen. Tientallen jaren geleden botste een ontdekkingsreiziger in Peru op twee beren. Hij gaf hun een sneeuwbol en een hoed, maar vooral het advies om op een mooie dag Londen te bezoeken. Het is er helaas nooit van gekomen, maar tijdens een aardbeving krijgt de kleine beer de raad van zijn tante Lucy om zijn soelaas in Londen te zoeken. Al gauw blijkt de Britse hoofdstad niet het paradijs te zijn dat hij verwachtte, geen mens merkt hem op tot op het moment dat de familie Brown hem tegenkomt. Het gezin doopt hem om tot Paddington (naar het station waar hij is gevonden). Het beertje denkt dat hij voortaan op gouden rozen zit, maar hij wordt achternagezeten door de dolle taxidermiste Millicent (Nicole Kidman).
Ontroerend, niet? Dat is het ook. Als volwassene bibber je wel af en toe als je aan een kinderfilm begint, maar dat is bij Paddington helemaal niet nodig. Uiteraard houden de makers er rekening mee het verhaal niet nodeloos ingewikkeld te maken, maar het zit allemaal zo goed in elkaar dat de 94 minuten die deze film duren als een sneltrein voorbijgaan. De vertolkingen zijn meer dan prima, met een uitstekende Nicole Kidman als feeks. Maar toch, hoe goed Hugh Bonneville of Sally Hawkins ook acteren, het is toch Paddington die de show steelt. Met stip de beste kinderfilm sinds jaren!
Didier BECU
04/12/2014
---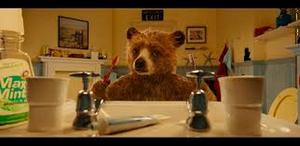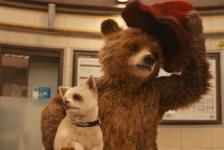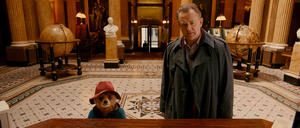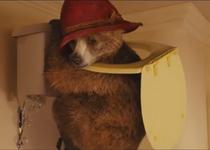 ---