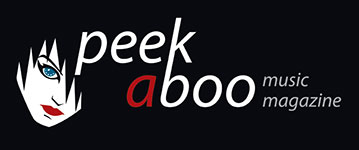 like this cd (ep) review
---
PEINE PERDUE
La Peur Belle
Music
•
CD (EP)
Minimal
•
Synth Wave
•
Synthpop
[90/100]

08/12/2016, Pascal VERLOOVE
---
Peine Perdue (that could be translated by Wasted Effort) is a French duo, sharing their time between Berlin and Paris, which was created by Stéphane Argillet, composer, keyboardist and programming the magical machines, and Coco Gallo, who writes most of the texts and recite them more than she sings. Together, they offer a music often cold and yet very endearing, sometimes pop, sometimes more minimalist and experimental, which mingles inextricably with the smooth voice of Coco, whose poetic and enigmatic texts fascinate as far as they intrigue.
From Berlin, city that shelters so many artists with dark souls, Stéphane brings these icy synth waves and these haunting rhythms, sometimes close to Lebanon Hanover, for example. But the two minds behind this two-headed Peine Perdue bring this undeniable "Frenchie" side that could remind us of the electro-suicidal of the first Taxi Girl or sometimes even the minimalist pop side of Elli and Jacno. As a kind of watermark, the texts sometimes refer to Serge Gainsbourg, both in the choice of words or rhymes, but also in the way Coco recites them, separating the words, to build a rhythm just with her voice (such as Il ne reste de lui - Qu'un havresac - De lettres écrites in Aleister). A piece of art!
Often with groups that propose minimal compositions, charm lies in the subtle blend of the melodies and the voice. With Peine Perdue, the synthetic and mechanical music perfectly fits with this sensual and although distant voice, that loves to lead us into the vortex of her poetic riddles. One without the other would be missing a part, the two together are wonderful, and have managed to create their own universe, in this quite crowded world of minimal-synth duets.
Aleister, opening the album, is the perfect example of the incredibly catchy tracks the group can create. After a sizzling intro coming from another century, an excerpt from a gnostic mass composed and recited by Aleister Crowley (a British occultist writer and astrologer born in late 19th century), a synth wave slowly grows, quickly joined by the crystalline voice of Coco that intrigues us, both in tone and words. While the sound of the mass is dying, replaced by a slow beat that gives a heart to the track, you get a complete awareness of the purity of this simple and catchy melody. You'd like to dance, but Coco prevents us of doing so because "Sur l'écran percé […] les âmes névralgiques projettent des signes de croix" (on the pierced screen [...] neuralgic souls project signs of crosses" ) as a distant echo to "Sur un écran géant, une goutte de sang" (Cherchez le Garçon from Taxi girl in 1980) and as the "radioactive rain" follows, we are immersed, after only a few rhymes, and without any regret, in the post-apocalyptic universe of the band.
After a slow intro, nearly ambient, we quickly feel the urge to join the dance floor again with the second track, Lieux Funestes. The purity and clarity of the sound slams but, again, we realize that, no, really, despite our desire, it would be indecent to dance at this baleful location: is it imaginary or is it simply the world we live in? Nevertheless, this track is pleasurable by its structure and it makes you want to push the volume up and, despite its six minutes, seems short. It may remind of some of Anne Clark's early tracks, when David Harrow was composing, but Coco offers us a much less aggressive atmosphere than the London poetess, more enigmatic and much more sensual as well, which contrasts sharply with the meaning of the texts themselves.
The pace picks up with Presqu'île, mixing bouncy synth pop from the early 80's with a techno-electro-minimalist rhythm. It is fun and cold at the same time, and it will be the last moment of joy of this album.
Indeed, the whole second part of La Peur Belle is caught in a deadly cold, as with this Veine de Talc whose frost bite you to the bone, suggesting a sanitized world, of blinding white (a hospital?) or suffocating darkness, creating an oppression that goes crescendo throughout the end of the track, until the deliverance. But which deliverance when death is around? And with the track that follows, Le Poète Nubile, which was partially composed more than 15 years ago, we're embarking again in a whirlpool of emotions that grows with the song. Surprisingly enough, these two tracks, slightly experimental, may evoke, musically this time, a great era of Serge Gainsbourg (L'homme à tête de chou).
But perhaps these two tracks, a bit more difficult than the others, are a test, so that only the most hardened of us all have access to the discovery of the sixth and (alas) last song of this EP, La Vie Ralentie. Starting with the voice of Ludmila Mikaël excerpt from the movie "Un Homme qui Dort" (directed by Georges Perec and Bernard Queysanne, based on the novel of the first), the song, a kind of outro of the previous track, is gradually dressed with languishing synths, then with the voice of Coco being superimposed to the one of Ludmila, like a spectrum, repeating parts of Le Poète Nubile in an echo. The voices mingle and take over one other, in ghostly way until we no longer know who is the shadow speaking to us. We shudder and yet, a little masochistic, much like a wild animal looking at the headlights of the vehicle that's going to hit him, we can't escape from those voices, and this synth that is gradually slowing down while we're diving in this icy ocean...
La Peur Belle is a teaser, prelude to the next album, which shows the evolution of the band, slowly but surely leaving the world of French synth pop, to venture into a much darker and much colder universe, but it is with a certain pleasure that we will accompany them in their arctic voyages and that we will, very impatiently, wait for their upcoming third album Nuit Blanche due out in the spring!
In the meanwhile, rush for the beautiful limited CD edition that you can acquire on the group's page Bandcamp but do not wait too much, not everyone will be able to get one (only 50 copies)!
Pascal VERLOOVE
08/12/2016
---
Peine Perdue est un duo français, partagé entre Berlin et Paris, formé par Stéphane Argillet, compositeur, claviériste et aux commandes des machines magiques, et Coco Gallo qui écrit la majorité des textes et les récite, plus qu'elle ne les chante. A eux deux, ils nous proposent des musiques souvent froides et néanmoins très attachantes, tantôt pop, tantôt plus minimalistes et expérimentales, qui se mêlent d'une façon inextricable à la voix suave de Coco, dont les textes poétiques et énigmatiques fascinent autant qu'ils n'intriguent.
De Berlin, ville refuge des artistes aux âmes sombres, Stéphane apporte ces nappes de synthés glacées et ces rythmes lancinants, qui se rapprochent parfois de ce que peut proposer Lebanon Hanover, par exemple. Mais les deux têtes pensantes de cette Peine Perdue bicéphale viennent y apporter un côté « frenchie » indéniable, pouvant évoquer l'électro-suicidaire des premiers Taxi Girl ou même parfois le côté plus pop minimaliste d'Elli et Jacno. En filigrane, les textes prennent quelquefois un côté Gainsbourgien, tant dans le choix de certains mots ou de rimes, que dans la façon de les déclamer en séparant les mots, afin de construire un rythme rien que par la voix (tel ce « Il ne reste de lui - Qu'un havresac - De lettres écrites » dans Aleister). Du grand art !
Comme souvent avec les groupes qui offrent des compositions épurées, le charme tient dans un subtil mélange des mélodies et de la voix. Chez Peine Perdue, les musiques, résolument synthétiques et mécaniques, se marient à la perfection à cette voix sensuelle et cependant distante qui s'amuse à nous entraîner dans le tourbillon de ses énigmes poétiques. L'un sans l'autre manquerait de corps, les deux, ensemble, font merveille et ont réussi à créer leur propre univers, dans ce monde pourtant déjà bien peuplé des duos électro-minimalistes.
Aleister, ouvrant l'album, est l'exemple parfait de que le groupe peut créer de terriblement accrocheur. Après une intro crépitante venue d'un autre siècle, un extrait d'une messe gnostique composée et récitée par Aleister Crowley (un écrivain occultiste et astrologue britannique né fin du 19ème siècle), une nappe de synthé monte en douceur, rejointe par la voix cristalline de Coco qui nous intrigue, tant par le ton que par les mots. La messe se meurt, remplacée par un beat qui donne un cœur au morceau et on prend alors la pleine conscience de la pureté de la ligne mélodique, simple et entraînante. On a envie de danser, mais Coco nous le déconseille, car « sur un écran percé […] les âmes névralgiques projettent des signes de croix », tel un écho lointain à « sur un écran géant, une goutte de sang » (Taxi Girl – Cherchez le Garçon, 1980) et tandis qu'arrive « une pluie radioactive » on plonge, après quelques rimes seulement, et sans aucun regret, dans l'univers post-apocalyptique du groupe.
Après une intro toute en douceur, presque ambient, l'envie de rejoindre le dancefloor nous reprend toutefois rapidement avec le second titre, Lieux Funestes. La pureté et la clarté du son claquent mais, à nouveau, on se dit que, non, vraiment, malgré notre envie, il serait indécent de danser dans ce lieu funeste : mais est-il imaginaire ou est-ce tout simplement le monde dans lequel nous vivons ? Néanmoins, le morceau est jouissif par sa structure, il donne envie de pousser le volume à fond et, malgré ses six minutes, parait court. Il peut rappeler certains morceaux d'Anne Clark, du temps ou David Harrow était aux commandes des machines. Mais Coco nous propose une atmosphère bien moins agressive que la poétesse londonienne, plus énigmatique et beaucoup plus sensuelle, qui contraste de façon abrupte avec la signification de textes eux-mêmes.
Le rythme s'accélère avec Presqu'île, qui mêle la pop sautillante évoquant le début des années '80 à de l'électro-technoïde version minimaliste. C'est gai et froid à la fois, et ce sera aussi le dernier moment de joie de ce mini-album.
En effet, toute la deuxième partie de La Peur Belle est d'une froideur mortelle, telle cette Veine de Talc qui vous glace et vous pique jusqu'à la moelle, le monde est aveuglant de blanc (un hôpital ?) ou angoissant de noir, en créant une oppression qui monte crescendo tout au long du morceau, jusqu'à la délivrance. Mais quelle délivrance alors que la Mort rôde ? Le Poète Nubile qui suit, morceau dont la composition date en grande partie d'il y a plus de 15 ans, nous embarque à nouveau dans un tourbillon infernal d'émotions qui croissent à mesure que le morceau se développe. Assez étonnamment ces deux morceaux, un tantinet expérimentaux, peuvent évoquer une grande époque de Gainsbourg (L'homme à tête de chou), au niveau de la musique cette fois.
Mais peut-être ces deux morceaux, plus difficiles d'accès, étaient-ils un test, afin que seuls les plus aguerris d'entre nous puissent accéder à la découverte du sixième et (hélas !) dernier morceau, La Vie Ralentie. Débutant avec la voix de Ludmila Mikaël extraite du film "Un Homme qui Dort" (réalisé par George Perec et Bernard Queysanne, d'après le roman éponyme du premier), le morceau, sorte d'outro du morceau précédent, est progressivement habillé d'une nappe de synthé languissante, tandis que la voix de Coco vient se superposer à celle de Ludmila, telle celle d'un spectre, répétant une partie du Poète Nubile dans un écho. Les voix se mêlent et prennent le dessus l'une sur l'autre, d'une façon fantomatique jusqu'à ce qu'on ne sache plus qui est l'ombre qui nous parle. On frissonne et pourtant, un peu masochistes, un peu comme un animal qui fixe la lumière des phares du véhicule qui va le percuter, on ne veut s'empêcher d'adorer ces voix, ce synthé et ce ralentissement progressif alors qu'on sombre dans un océan glacial…
La Peur Belle est un teaser, le prélude au prochain album, qui montre l'évolution du groupe qui s'éloigne doucement mais surement d'une synthpop chantée en français, pour s'aventurer dans des univers bien plus sombres et plus glacés, mais c'est avec un plaisir évident qu'on les accompagnera dans leurs voyages arctiques et qu'on attendra très impatiemment leur troisième opus « Nuit Blanche » qui devrait sortir au printemps !
En attendant, précipitez-vous sur la superbe édition limitée CD de La Peur Belle (seulement 50 copies !) que vous pouvez acquérir sur la page Bancamp du groupe (https://peineperdue.bandcamp.com/album/la-peur-belle) mais ne trainez-pas, il n'y en aura pas pour tout le monde !
Pascal VERLOOVE
08/12/2016
---
Peine Perdue (dat je kan vertalen als verspilde moeite ) is een Frans duo dat tussen Berlijn en Parijs opereert en is opgericht door Stéphane Argillet (componist, toetsenist en programmeur van de magische machines) en Coco Gallo, die het grootste deel van de teksten schrijft, alhoewel ze ze meer citeert dan zingt. De muziek is vaak koud en toch heel vertederend, soms pop, dan weer meer minimalistisch en experimenteel, met de soepele stem van Coco, die mooi past bij de poëtische en raadselachtige teksten.
Vanuit Berlijn, de schuilplaats van zo veel kunstenaars met donkere zielen, brengt Stéphane deze ijskoude synthgolven en beklijvende ritmes die soms dicht bij Lebanon Hanover aanleunen. Maar de twee geesten hebben een Frans kantje dat ons herinnert aan de elektronische zelfmoordpop van de eerste Taxi Girl of gewoon de minimalistische pop van Elli en Janco. De teksten zijn bijna een watermerk en refereren vaak naar Serge Gainsbourg, zowel in de woordkeuze als de rijmen, maar ook de manier waarop Coco haar ritme bouwt, (zoals Il ne reste de Lui - qu'un havresac - de lettres écrites in Aleister). Een kunstwerk!
Zoals dat vaak het geval is met groepen die minimale composities maken, ligt de charme in de subtiele mix van de melodieën en de stem. Bij Peine Perdue past de synthetische en mechanische muziek perfect bij de sensuele stem die ons leidt naar een maalstroom van poëtische raadsels. Zonder het een zou het ander ontbreken. Samen is het prachtig, en ze zijn erin geslaagd om hun eigen universum te creëren. Aleister, de opener van het album, is het perfecte voorbeeld van hoe catchy deze groep kan klinken. Na een zinderend intro dat uit een andere eeuw komt, volgt een fragment uit een gnostische mis die is gecomponeerd en voorgedragen door Aleister Crowley (een Britse occultist en astroloog die in de late 19de eeuw is geboren), een synthgolf groeit langzaam en wordt vergezeld door de kristallijne stem van Coco die ons intrigeert, zowel in toon als woorden. Terwijl het geluid van de massa sterft, wordt het vervangen door een langzame beat die het lied een hart geeft, en word je je volledig bewust van de zuiverheid van deze eenvoudige melodie. Je zou willen dansen, maar Coco verhindert ons dat te doen, omdat "Sur l'écran percé [...] Les âmes névralgiques projettent des signes de croix" (op het doorboorde scherm [...] projecteren neuralgische zielen tekenen van kruisen") als een verre echo "Sur un écran géant, une goutte de sang" (Cherchez le Garçon van Taxi Girl uit 1980) en als de "radioactieve regen" volgt, worden we ondergedompeld, na slechts een paar rijmpjes, en zonder enige spijt, in de post-apocalyptische wereld van Peine Perdue.
Na een langzaam intro, dat bijna ambient is, voelen we al snel de drang om tijdens het tweede lied, Lieux Funestes, op de dansvloer te staan. De zuiverheid en helderheid van het geluid komt nog maar eens naar boven. Neen, we beseffen heel goed dat het onfatsoenlijk zou zijn om te dansen op deze onheilspellende muziek: is het onze inbeelding of is het gewoon de wereld waarin we leven? Toch is dit nummer aangenaam door zijn structuur en wil je het volume verhogen. Het lijkt ondanks zijn zes minuten wat kort. Het herinnert ons aan wat Anne Clark vroeger deed toen ze nog met David Harrow samenwerkte, maar Coco biedt ons een veel minder agressieve sfeer dan de London dichteres, het is meer raadselachtig en sensueel, en het staat in schril contrast met de betekenis van de teksten.
Het tempo gaat tijdens Presqu'île omhoog, de opzwepende synthpop uit de vroege jaren 80 krijgt een techno/electro– en minimalistische ritme. Het is leuk en koud tegelijk, het zal het laatste moment van vreugde op dit album zijn. Sterker nog, het hele tweede deel van La Peur Belle zit in een dodelijke koude gevangen, net als Veine de Talk, waarin de vorst tot op het bot bijt, wat duidt op een opgeschoonde wereld. Je ziet verblindend wit (is het een ziekenhuis?) of verstikkende duisternis: een onderdrukking die op het einde van de song crescendo gaat, tot de bevrijding komt. Maar welke bevrijding als de dood nabij is? En met de track die volgt, Le Poète Nubile, die gedeeltelijk 15 jaar geleden is geschreven, komen we weer in een draaikolk van emoties terecht die meegroeit met het lied. Verrassend genoeg kunnen deze twee tracks iets experimenteels oproepen, muzikaal deze keer, het grote tijdperk van Serge Gainsbourg (L' homme à tête de chou).
Maar misschien zijn deze twee tracks een beetje moeilijker dan de andere, ze zijn een test, zodat alleen de meest harde onder ons toegang krijgen tot de ontdekking van het zesde en (helaas) laatste nummer van deze ep, La Vie Ralentie. We beginnen met de stem van Ludmila Mikaël, een fragment uit de film Un Homme qui Dort, geregisseerd door Georges Perec en Bernard Queysanne en gebaseerd op de roman van de eerste. Het lied is een soort outro van het vorige nummer met wegkwijnende synths, en daarna met de stem van Coco die wordt gelinkt aan die van Ludmila, zoals een spectrum, het herhalen van Le Poète Nubile als een echo. De stemmen mengen zich op een spookachtige manier met elkaar totdat we niet meer weten wie vanuit de schaduw ons toespreekt. We huiveren en toch, een beetje masochistisch als we zijn, net als een wild dier dat naar de koplampen van het voertuig kijkt dat het zal raken, kunnen we niet ontsnappen aan die stemmen, en de synths verdwijnen geleidelijk in deze ijzige oceaan.
La Peur Belle is een teaser, een prelude op het volgende album, die de evolutie van de band laat horen, langzaam maar zeker verlaten we de wereld van de Franse synthpop, we wagen ons in een veel donkerdere en veel koudere wereld, maar het is met een zeker genoegen dat we hen begeleiden op hun arctische reizen. We wachten ongeduldig op hun derde album Nuit Blanche, dat gepland is voor de lente!
In de tussentijd kan je de cd via de Bandcamp-pagina in huis halen, maar niet te lang wachten, er zijn slechts 50 exemplaren!
Pascal VERLOOVE
08/12/2016
---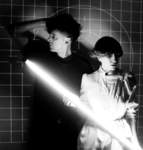 ---