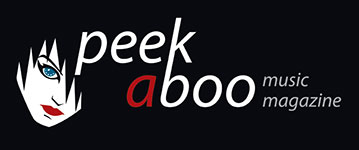 like this documentary review
---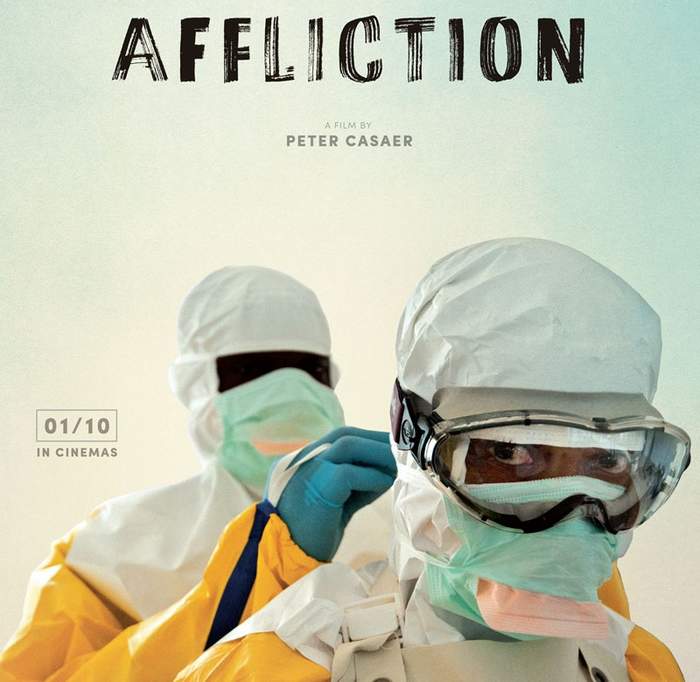 PETER CASAER
AFFLICTION
Movie
•
Documentary
Documentary
[80/100]

Dalton Distribution
10/12/2016, William LIÉNARD
---
In 2014, the West African country of Guinea was hit by an Ebola epidemic that spread at blitzkrieg pace to neighbouring Sierra Leone and Liberia. The toll was high: 25,000 infections and 10,000 deaths, including 500 members of the local medical staff and 14 members of the international staff of Doctors Without Borders (DWB). Director Peter Casaer has followed the DWB teams during their dangerous work in very difficult circumstances. His documentary is a record and an indictment, because when finally the international aid arrived, the humanitarian disaster had already reached a disastrous climax.
Guinea is a tropical and green land. The population is poor and living conditions are primitive. The families live in huts or brick shacks without windows, the roads are barely paved and remote villages have no sewage or running water. According to a customs officer, the first infected man came from Liberia to Guinea, but it is well known that small Ebola outbreaks are common in West Africa. Usually, they are easy to control, but this time it went wrong. In the local hospital a wrong diagnosis was made and an infected man landed among other patients. The virus spread like fire: 12 dead among the nursing staff. When Peter Casaer arrived in Guinea, half the population was already deceased in some villages. A large courtyard is deserted. The only survivor is an old man. His wife, children, grandchildren, and neighbours are all dead. An old greybeard shows the team the spot where he buried his grandson, just between the houses in the village...
With their yellow jackets, white headgear and matching glasses, the employees of DWB look like Martians. The locals are suspicious. They think that the Europeans have spread the disease! Across the country there are rumors about Ebola hospitals where people are beheaded and their blood is stolen... The existence of Ebola has been denied for a long time. People thought it was a form of witchcraft and due to the distrust of the whites and their employees, infected family members were kept at home and treated by local healers. Consequently, entire neighbourhoods collapsed. Initially more body bags left the DWB hospitals than survivors, which was also interpreted as suspicious. To turn the tide, DWB asked influential people to spread the correct information: mayors, leaders and healers.
At Freetown (Sierra Leone), Peter Casaer is allowed to film in one of the DWB Ebola hospitals. Because no cure is available, the side effects are addressed: fewer people die. But the risks remain high and again a local employee dies from the virus in less than 48 hours. He had a small daycare facility, says a colleague, but you never know what is going on there. In the hospital the safety is guaranteed, but at home, in the bosom of the family, everyone is at risk. For the international staff there is no risk: everybody lives in the safe zone. Special attention is given to pregnant women if they are infected. Often they are rejected by their environment. In the hospital, they can give birth in safe circumstances, but the mortality rate is still high and the medication does not reach the unborn babies...
Difficult working conditions, limited resources, a suspicious population, superstition and a lack of international interest led to a humanitarian catastrophe and a social tragedy, because families and communities were totally disrupted. To make matters worse, the Ebola survivors are often isolated in their own environment: their families have been eradicated and people believe that they still pose a threat. For the professionals, each survivor is an ally who can neutralize the prevailing prejudices, but it remains difficult to convince the people that new infections must be reported as soon as possible.
Despite the very difficult working conditions, director Peter Casaer has made an excellent documentary. The material has hardly suffered and the recordings are of normal quality. And because he was so close, the footage is obviously unique, with firsthand testimonies from aid workers, Ebola patients and family members.
For us in Western Europe, those were images from another world with which we have little contact. Peter Casaer turns the Ebola victims into humans of flesh and blood, and he shows how difficult it is to set up a constructive cooperation in a society that looks at whites with suspicion, that does not understand the purpose of the draconian security conditions and is unfamiliar with western medical science and approach. A story about victims, but also about guardian angels, about people who risk their own lives, far away from home, in order to save those of others.
AFFLICTION
Director: Peter Casaer
Belgium, Documentary 2015
Region: 0 – PAL – 70 min.
Language: English/French 2.0
Subtitles: Dutch, English, French
William LIÉNARD
10/12/2016
---
In 2014 brak in het West-Afrikaanse Guinee een ebola-epidemie uit die zich tegen blitzkriegtempo verspreidde naar de buurlanden Sierra Leone en Liberia. De tol was hoog: 25.000 besmettingen en 10.000 doden, waarvan 500 plaatselijke hulpverleners en 14 internationale medewerkers van Artsen Zonder Grenzen (AZG). Regisseur Peter Casaer volgde de teams van AZG tijdens hun gevaarlijke werk in zeer moeilijke omstandigheden. Zijn documentaire is een verslag maar ook een aanklacht, want toen de internationale hulp uiteindelijk op gang kwam, had de humanitaire ramp zich al grotendeels voltrokken.
Guinee is een tropisch en groen land. Jammer genoeg is de bevolking er arm en zijn de levensomstandigheden primitief. Men woont er in hutten of in bakstenen optrekjes zonder ramen, de wegen zijn nauwelijks verhard en van rioleringen en stromend water heeft men in de afgelegen dorpen nog nooit gehoord. Volgens een douanemedewerker kwam de eerste besmette man via Liberia naar Guinee, maar het is algemeen bekend dat kleine ebola-uitbraken vaak voorkomen in West-Afrika. Meestal zijn ze gemakkelijk onder controle te krijgen, maar dit keer ging het mis. In het plaatselijke ziekenhuisje werd een besmette man na een foute diagnose gewoon tussen de andere patiënten gelegd en kon het virus zich als een vuurtje verspreiden: 12 doden onder het verplegend personeel. Op het moment dat Peter Casaer in Guinee arriveert, is in sommige dorpen de helft van de bevolking overleden. Op een groot erf waar eens verschillende gezinnen samenwoonden, treft hij nu een eenzame man aan. Z'n vrouw, kinderen, kleinkinderen en buren zijn allemaal dood. Een oude grijsaard wijst het team de plek waar hij z'n kleinzoon heeft begraven, gewoon tussen de huisjes in het dorp…
Met hun gele kielen, witte hoofdbeschermers en bijpassende duikersbrillen zien de medewerkers van AZG er een beetje als marsmannetjes uit. De plaatselijke bevolking is er niet gerust in. Ze verdenkt er de blanken van de ziekte te verspreiden. In het hele land gaan geruchten over de ebola-ziekenopvangcentra: mensen worden er massaal bloed afgetapt en onthoofd. Dat er sprake was van ebola, is lange tijd ontkend. Men dacht dat het om hekserij ging en omdat men de blanken en de ziekenhuisjes niet vertrouwde, hield men de besmette familieleden thuis en paste men de methodes van de gebedsgenezers toe waardoor hele wijken bezweken. Dat aanvankelijk meer bodybags dan overlevenden de opvangfaciliteiten verlieten, werd evenzeer als verdacht ervaren. Om het tij te keren nam AZG z'n toevlucht tot voorlichtingscampagnes door invloedrijke medeburgers: burgemeesters, stamhoofden en plaatselijke genezers.
In Freetown (Sierra Leone) mag Peter Casaer in een ebola-ziekenhuis van AZG filmen. Omdat er geen geneesmiddel tegen ebola beschikbaar is, worden de neveneffecten bestreden en dat levert op: steeds minder mensen sterven. Maar de risico's blijven hoog en dat blijkt nog maar eens als opnieuw een lokale medewerker op minder dan 48 uur aan het virus bezwijkt. Hij had zelf een kleine opvangfaciliteit, zegt een collega, je weet nooit wat daar allemaal aan de hand is. In het ziekenhuis is de veiligheid gegarandeerd, maar thuis, in de schoot van de familie, loopt iedereen het risico van besmetting. De internationale medewerkers lopen minder risico: zij wonen in de veilige zone. Speciale aandacht wordt besteed aan zwangere vrouwen: als ze besmet zijn is de bevalling een risico voor eenieder die erbij betrokken is. Vaak zijn ze aan hun lot overgelaten door hun omgeving. In het ziekenhuis worden de jonge vrouwen geholpen, maar het sterftecijfer is hoog en bovendien bereikt de medicatie de ongeboren baby's niet…
Moeilijke werkomstandigheden, beperkte hulpmiddelen, een argwanende bevolking, bijgeloof en een gebrekkige internationale belangstelling leidden tot een humanitaire catastrofe en een sociaal drama, want families en leefgemeenschappen werden totaal ontwricht en tot overmaat van ramp staan de ebola-overlevenden er vaak alleen voor: hun hele familie is uitgeroeid of men denkt dat ze toch nog een gevaar vormen waardoor ze in een totaal isolement terechtkomen. Voor de hulpverleners is elke overlevende een medestander die de heersende vooroordelen kan neutraliseren, maar het blijft moeilijk om iedereen ervan te overtuigen dat nieuwe besmettingen zo gauw mogelijk moeten worden gemeld.
Ondanks de zeer moeilijke werkomstandigheden, heeft regisseur Peter Casaer van Affliction een uitstekende documentaire gemaakt. Je kan je voorstellen dat hij net als de direct betrokken hulpverleners in een pak werd gehesen waarin je in dat warme klimaat op geen tijd drijfnat wordt, maar bovendien heeft hij ook nog een camera op de schouder! Het materiaal heeft er nauwelijks onder geleden want de opnamen zijn van een normale kwaliteit. En omdat hij er zo dicht opzat, is het beeldmateriaal uiteraard uniek, met getuigenissen uit de eerste hand, van hulpverleners, ebolapatiënten, familieleden en mensen uit de directe omgeving. Uniek en indringend en beslist een unicum in z'n soort.
Voor ons in West-Europa waren het beelden uit een andere wereld waarmee we weinig voeling hebben. Peter Casaer maakt van de betrokkenen mensen van vlees en bloed, en hij toont hoe moeilijk het is om tot een constructieve samenwerking te komen in een samenleving die argwanend is ten opzicht van blanken, die niet begrijpt waartoe de draconische veiligheidsvoorwaarden dienen en die totaal niet vertrouwd is met de westerse medische wetenschap en aanpak. Een verhaal over slachtoffers, maar ook over engelbewaarders, mensen die ver van huis hun eigen leven riskeren om dat van anderen te redden.
AFFLICTION
Regisseur: Peter Casaer
België, Documentaire 2015 (Dalton Distribution)
Regio: 0 – PAL – 70 min.
Taal: Engels/Frans 2.0
Ondertitels: Nederlands, Frans, Engels
William LIÉNARD
10/12/2016
---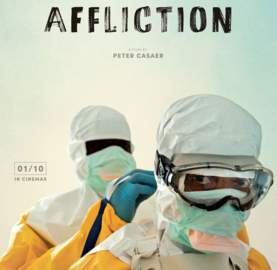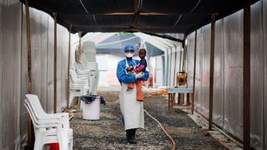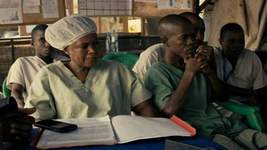 ---