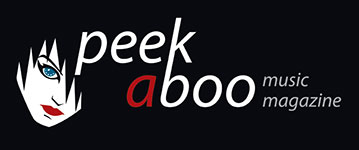 like this cinema review
---
PEYTON REED
Ant-Man
Movie
•
Cinema
[64/100]

Walt Disney
17/07/2015, Didier BECU
---
There was once a time when we could not wait to see a new superhero movie, but during recent years our retinas are so weary that it feels more like an aversion. Since Walt Disney bought Marvel, they are made in large numbers and (most important for them) they are a synonym for masses of money. Earlier this year we were overwhelmed with Avengers: Age of Ultron which is, if you don't forget the budget, just about the dumbest movie that was released this year. But no one worries in Tinseltown, because the dollars are still coming in and so, they were looking for another summer hit. Last year we got the nice (but also overrated) Guardians Of The Galaxy, and this summer Ant-Man must be the superhero that leads Marvel to more money.
In the world of comics Ant-Man is a superhero who can stand alongside Iron Man or Captain America, but movie wise there is a problem. Superheroes fans generally like bombast, and how do you do that with a man who can transform himself to the size of an ant? It took ten years to make the film. Previous projects with the British director Edgar Wright (Shaun Of The Dead and Hot Fuzz) ended nowhere. It was actor Paul Rudd who turned the tide by rewriting the script. Ant-Man is supposed to be funny, but no one should forget that he is in the first place a Marvel hero.
For younger viewers it might be a new experience to see how a macro lens can make normal objects large, but older movie fans have seen these tricks before. In 1957 there was The Incredible Shrinking Man, and it was Disney who came up with Honey, I Shrunk The Kids in the 80s. The gadgets in Ant-Man are basically the same: a vacuum cleaner, the feet of men that seem to crush everything or a splash of water which is a devastating flood for an insect. The only difference is that the shrunken guy is not a victim, but a hero who helps the world get rid of a villain.
The choice of Paul Rudd as a super hero is not bad at all, just like Michael Douglas, who manipulates Ant-Man as Dr. Pym or Corey Stoll (of House Of Cards), who plays the role of villain Darren Cross (Corey Stoll). The story is okay, but the big problem is again the Disney factor that always takes the upper hand. Just like almost any other Marvel-movie, it is all too superficial, the villain is too caricatured and you always feel like being trapped between the CG-violence. And at the end of the day, it is all about characters you do not care about. We've written it before, but Ant-Man is once again a product that wants to spoil the popcorn eater, and that's it!
Didier BECU
17/07/2015
---
Er was ooit een tijd dat je nauwelijks kon wachten tot er een nieuwe superheldenfilm in de zaal kwam, maar de laatste jaren zijn onze netvliezen er zo door vermoeid geraakt dat er nu eerder sprake is van een afkeer. Sinds Walt Disney Marvel opkocht, maakt men ze aan de lopende band en verdient men er bovendien massa's geld mee. Eerder dit jaar werden we nog overstelpt met Avengers: Age of Ultron die, als je rekening houdt met het budget, zowat de domste film is die dit jaar is uitgebracht. Maar in Tinseltown is er niks aan de hand, want de dollars rollen nog steeds vlotjes binnen en dus was men op zoek naar een geschikte zomerhit. Vorig jaar hadden we het leuke (maar al evenzeer overschatte) Guardians Of The Galaxy, en deze zomer moet Ant-Man ervoor zorgen.
In de stripwereld is Ant-Man een superheld die zijn mannetje naast Iron Man of Captain America kan staan, maar in een filmversie is dat eventjes anders. Superheldenfans houden immers van bombast, en hoe los je dat nu op met een mannetje dat zich kan transformeren tot de grootte van een mier? Het duurde uiteindelijk tien jaar vooraleer de film er kwam. Eerdere projecten met de Britse regisseur Edgar Wright (Shaun Of The Dead en Hot Fuzz) liepen met een sisser af. Het was acteur Paul Rudd die het tij keerde door aan het script te sleutelen. Ant-Man moest grappig zijn, maar men mocht nooit uit het oog verliezen dat het in de eerste plaats een Marvel-held was.
Voor de jongere kijkers is het misschien een nieuwe ervaring om er met een macrolens voor te zorgen dat normale objecten bijzonder groot worden, maar doorgewinterde filmfans hebben deze trukendoos al eens eerder gezien. In 1957 was er al The Incredible Shrinking Man en het was Disney zelf die in de jaren 80 met Honey, I Shrunk The Kids op de proppen kwam. Het zijn bijna dezelfde gadgets die in Ant-Man aan bod komen: een stofzuiger, de voeten van mensen die alles lijken te verpletteren of een spat water die een insect ervaart als een allesvernietigende zondvloed. Het enige verschil is dat de gekrompen kerel geen slachtoffer is, maar een held die de wereld van een schurk moet afhelpen.
De keuze van Paul Rudd als superheld is zeker geen slechte, net als Michael Douglas die als dokter Pym Ant-Man manipuleert of Corey Stoll (uit House Of Cards) die de rol van slechterik Darren Cross (Corey Stoll) vertolkt. Het verhaal loopt lekker (alhoewel de uit te voeren opdracht allesbehalve simpel voorgesteld wordt), maar het grote probleem blijft alweer de Disney-factor die te veel de bovenhand neemt. Net zoals in andere Marvel-verfilmingen is het allemaal veel te oppervlakkig, is de slechterik veel te karikaturaal gemaakt en krijg je te veel het gevoel dat je tussen het CG-geweld gevangen zit. Men last wel enkele grapjes in (geloof echter niet als je ergens leest dat ze gedurfd zijn), maar uiteindelijk zijn het personages waar je geen moer om heeft. We hebben het al eerder geschreven, maar Ant-Man is weeral zo'n productie die de popcornvreter met clichés probeert te verwennen. Meer is het niet…
Didier BECU
17/07/2015
---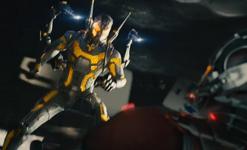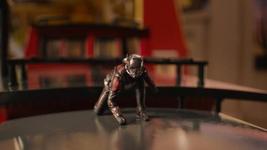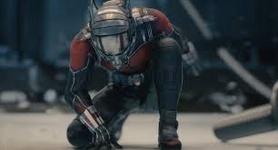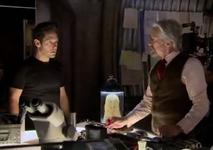 ---