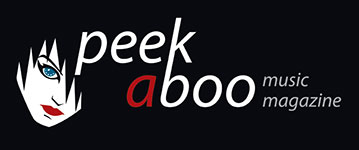 like this movie review
---
PHIL LORD & CHRIS MILLER
21 Jump Street
Movie
Comedy
[82/100]

SONY SPHE
24/09/2014, Didier BECU
---
In a couple of weeks 22 Jump Street will be released on both DVD and Blu-ray. A very good idea we thought to get back to the original!
Old series that are turned into a movie are usually not exactly what everybody wants. Excellent examples are The A-Team and The Dukes Of Hazzard. The reason why 21 Jump Street works is perhaps that almost no one actually remembers how the original series looked like. The only thing that stayed in our mind was the fact that the series meant Johnny Depp's breakthrough who starred four seasons. The fact that Depp is doing a cameo in the film version probably means that he still has good memories from it.
Even if 21 Jump Street is not a retro movie, you can definitely smell a lot of 80/90's's-ingredients in here. Seven years ago, Schmidt (Jonah Hill) and Jenko (Channing Tatum) weren't exactly what you call buddies. Jenko was a bully who could wrap all the girls around his fingers and always the first one around to take the piss out of his classmates. One of his favourite victims was (you guessed it): Schmidt. The coincidence from life wants that the two ends up in the police academy, but everything seems (mark, the word seems!) that they grow up. The former enemies even agree that they'll help each other to pass their exams. Just like you expected it, they form a duo and become eternal friends. There's one minor point though: when entering the academy to become cops, they expected to be involved in car chases and explosions, but nothing seems to be like that. Their job is to guard the local park with a bicycle (including with a police siren!), controlling if kids don't feed the ducks. One day Schmidt and Jenko are witnessing a gang that deals drugs. After a wild, hilarious chase they can catch the dealers, but in less than an hour they're free again. The two dummies were so stupid to forget to read their rights. Chief Dickson (Ice Cube) is furious. As a punishment they're send to 21 Jump Street: a secret undercover programme that re-educates stupid cops. The newest rage among teens is the hfs-drug. The hallucinations are great, but it's also one of the most deadly drugs ever. The two are send back to school as undercover students. They have to find out who's the supplier from the fatal drugs. Jenko is convinced that it's an easy job to do, in his school years he was mister popular. But the times are changing. In 2013 it's cool to be nerd and these days youngsters care about something like our environment either!
The script is written by Michael Bacall: the man who was also responsible for Project X and the hilarious (and in a way masterpiece) Scott Pilgrim Vs The World. These two titles already suggest what type of humour you can expect. So if you're looking for a cinematographic highlight then you're at the wrong address. Directors Phil Lord and Chris Miller who also made the animation picture Cloudy With A Chance Of Meatballs want to entertainment their audience. The stars from this cop buddy comedy are of course the hilarious Jonah Hill and Channing Tatum. Every scene causes fireworks and after having teamed up in only one movie they already look as inseparable as William Abbott and Lou Costello. Some readers will have their doubts about the level of the jokes (that are of course all about sex!), but they work! Even Ice Cube who is far from being a good actor is doing a great job. So no, 21 Jump Street is not the best movie ever (of course not!), but definitely one of the funniest!
Didier BECU
24/09/2014
---
Binnenkort verschijnt 22 Jump Street op dvd en Blu-ray en dus vonden wij het een goed idee om de voorganger nog eens onder de loep te nemen!
Televisieseries uit de oude doos die via een langspeelfilm opnieuw tot leven worden gewekt zijn meestal gedrochten van het ergste soort. De filmversies van The A-Team of The Dukes Of Hazzard zijn mooie voorbeelden van hoe het niet moet. De reden waarom deze truc met 21 Jump Street wel lukt, komt wellicht door het feit dat er geen mens nog weet hoe de oorspronkelijke serie eruitzag. Het enige wat we van deze flikkenreeks nog wel weten is dat ze de doorbraak van Johnny Depp betekende. Het maatje van Tim Burton hield het vier seizoenen vol. Dat de ster in de filmversie een rolletje wilde spelen betekent wellicht dat de reeks hem nog nauw aan het hart ligt. Het idee om 21 Jump Street te verfilmen komt van hoofdrolspeler en medeproducent Jonah Hill.
21 Jump Street heeft wel een vrij hoog eighties-ninetiesgehalte en toch speelt het verhaal zich nu af. Zeven jaar geleden waren Schmidt (Jonah Hill) en Jenko (Channing Tatum) niet de beste maatjes. Jenko was de bullebak die alle meisjes kon versieren. De spierbundel was een ware held die het bovendien leuk vond om zijn klasgenootjes te pesten. De sullige Schmidt was altijd de kop-van-jut. Het toeval wil dat zeven jaar later de twee samen op de politieschool zitten, maar gelukkig zijn Schmidt en Jenko ondertussen al wat meer volwassen (nou ja) geworden. De gewezen vijanden gooien het zelfs op een akkoordje om elkaar te helpen zodat ze voor hun examen slagen. Zoals verwacht worden ze onafscheidelijke vrienden die zelfs binnen het politieteam een duo vormen. Algauw blijkt dat er in hun politieleven van wilde achtervolgingen en knallende explosies maar weinig sprake is. De wetsdienaars moeten immers met de fiets (inclusief zwaailichten!) de orde in het stadspark handhaven. Op een dag bemerken Schmidt en Jenko een bende die drugs dealt. Na een hilarische achtervolging worden de boeven uiteindelijk in de boeien geslagen, doch worden ze na een uurtje weer vrijgelaten. De domoren zijn immers vergeten om de bandieten hun rechten voor te lezen. Hun baas Dickson (Ice Cube) is woedend. Als straf worden ze naar 21 Jump Street gestuurd, een geheim undercoverprogramma waar domme politieagenten opnieuw worden opgeleid. De nieuwste rage bij de tieners is de gevaarlijke hfs-drug. Dat goedje bezorgt de gebruiker wel onvergetelijke hallucinaties, doch gaat het om een zeer dodelijke drug. De twee agenten worden naar de schoolbanken gestuurd waar ze als undercoverstudenten de leveranciers van de drug trachten te vinden. Jenko denkt dat de opdracht niet zo moeilijk is, want in zijn tienerjaren was hij de populaire jongen van de klas en zoiets verleer je niet gauw. Maar toch, de tijd verandert. Nerds zijn in 2013 cool en de jongeren van vandaag bekommeren zich zelfs om zoiets als de milieuproblematiek.
Het scenario is door Michael Bacall geschreven, de man die verantwoordelijk is voor zowel Project X als het hilarische meesterwerkje Scott Pilgrim Vs The World. Deze twee films verklappen meteen heel wat over het soort humor dat in deze film wordt gebruikt. Jawel, 21 Jump Street is filmvoer voor de liefhebbers van Superbad en aanverwanten. Of om het anders te zeggen: foute humor (wat dat ook mag betekenen) vol hilarische grollen. Je moet van deze komedie dan ook geen cinefiel hoogtepunt verwachten, maar dat is ook nooit de bedoeling geweest van regisseurs Phil Lord en Chris Miller die voorheen de tekenfilm Cloudy With A Chance Of Meatballs maakten. De sterren van deze flikkenkomedie zijn natuurlijk de dolkomische Jonah Hill en vooral Channing Tatum die stilletjes aan het nieuwe gouden haantje in filmland is. In iedere scène zorgen de twee voor vuurwerk. Na in slechts één langspeelfilm te hebben gespeeld, lijken ze nu al even onafscheidelijk te zijn als pakweg William Abbott en Lou Costello. Sommige lezers zullen wel hun twijfels hebben over het niveau van de grappen (die natuurlijk allemaal over seks gaan), maar toch zijn ze bijna allemaal geslaagd en zoiets is tegenwoordig zeer zeldzaam. Zelfs Ice Cube die eigenlijk voor geen meter kan acteren is genietbaar. Het verhaaltje is misschien slapjes en net iets te voorspelbaar, maar geef toe: een komedie bekijk je toch louter om eens lekker te schuddebuiken, niet? En dat doe je met 21 Jump Street gegarandeerd! 21 Jump Street is niet de beste film van het moment, maar zonder twijfel de leukste.
Didier BECU
24/09/2014
---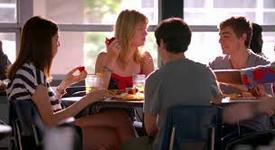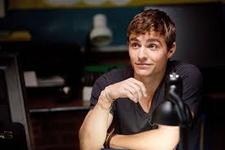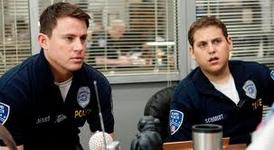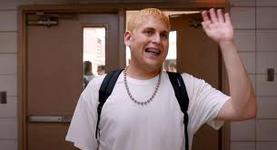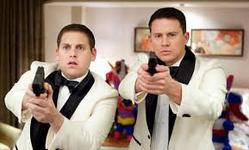 ---