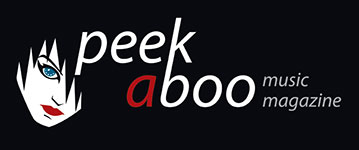 like this movie review
---
PHIL LORD & CHRIS MILLER
22 Jump Street
Movie
Comedy
•
Crime
SONY SPHE
20/10/2014, Didier BECU
---
In Hollywood nobody cares if you're happy with it or not, but these days it seems like all big productions have to fit for a trilogy. The list of useless sequels is far too long to mention, but we're very happy to welcome back our two favorite dumb cops Schmidt (Jonah Hill) and Jenko (Channing Tatum). The magic that was around in 21 Jump Street is still there and even the jokes are better!
You can blame the makers for the fact that they made it themselves a bit too easy script wise, but that's the only minor point you can say about this hilarious comedy. Just like in the first part the two buddies are send back to school to infiltrate undercover in a drug gang. Because the two are a bit older, the high school has been changed to university. A joke that is unnecessarily repeated, you think? It looks like that, but it isn't.
Directors Phil Lord and Christopher Miller know very well that no one watches this movie for its cinematographic value. They have to aim at the jokes, and believe us: they're all good! We won't spoil the fun by giving anyway of them (even if the Cate Blanchett-one is a classic!), but they surely do all work. You can say anything you want from Channing Tatum, but you have to admit that he's just born to play a macho dumb cop. The same can be said about Jonah Hill. We surely love him, but he's definitely someone who sometimes tends to exaggerate with wrong humor (whatever that might be!), he's however the ideal choice to perform Schmidt. Even Ice Cube who isn't exactly the greatest actor around is simply hilarious as their chief.
The funny thing is that the makers don't take themselves too seriously. Just stay on your seat when the end credits come up as they take the piss with sequels that can be made. Don't laugh, just remember how far the producers from Police Academy went! With 22 Jump Street we never felt this for one minute as this is popcorn entertainment from the highest level. A film that will make you laugh for almost two hours. And admit it: you'll never thought that you'll see Jonah Hill walking around as a Robert Smith-lookalike, not?
This release is out on Sony SPHE on both DVD and Blu-ray. The disc is full of extra's: five deleted and extended scenes, lots of (short) featurettes, a line-o-rama, a gag reel and commentary from Phil Lord, Chris Miller, Jonah Hill and Channing Tatum.
Technical specifications :
Image: 2.40:1 HD
Sound: DTS HD - MA English 5.1, French 5.1
Subtitles: Dutch, French, English
Length: 112 minutes
Didier BECU
20/10/2014
---
Het kan de Hollywoodbonzen geen barst schelen of er je nu blij mee bent of niet, maar zo wat elke dure productie moet tegenwoordig vertaald worden in een trilogie. Het lijstje van stinkerds is ondertussen net iets te lang om op te sommen, maar we zijn wel in de wolken dat de agenten Schmidt (Jonah Hill) en Jenko (Channing Tatum) terug zijn. De magie die in 21 Jump Street aanwezig is wordt opnieuw herhaald en de grappen zijn zelfs (nog!) beter.
De makers hebben het zichzelf op scenariovlak in ieder geval gemakkelijk gemaakt. In het eerste deel werden de twee oetlullen undercover naar school teruggestuurd om de dealers van een gevaarlijke drug te klissen. In het tweede deel krijgen ze exact dezelfde opdracht, maar omdat de twee heren ondertussen een jaartje ouder zijn is deze keer de universiteit de plaats van de afspraak. Een grapje die onnodig wordt herhaald? Zo lijkt het misschien, maar dat is het niet. Regisseurs Phil Lord en Christopher Miller weten maar al te goed dat geen mens deze film bekijkt voor de cinematografische meerwaarde, maar dat ze vooral moeten mikken op een hoog aantal geslaagde grappen. We verklappen geen enkele, maar het aantal lachsalvo's is met moeite bij te houden. Je kan van Channing Tatum zeggen wat je wil, maar hij heeft wel het ideale smoelwerk om een oerdomme flik te vertolken en dat doet hij als Jenko met bravoure! Hetzelfde geldt voor Jonah Hill. Soms gaat zijn zin voor foute humor net iets buiten de scheef, maar voor deze rol is hij de ideale keuze. Zelfs Ice Cube die op acteervlak geen al te groot licht is, oogt in deze sequel ontzettend grappig.
Het leuke is dat iedereen zichzelf niet te serieus neemt. Zo moet je maar even blijven kijken na de aftiteling, want daarin verhullen de regisseurs wat er zo allemaal zou kunnen gebeuren op het gebied van sequels (herinner je maar gewoon hoe bijv. Police Academy is uitgemolken!). In het tweede deel is dat nog helemaal niet het geval. 22 Jump Street is popcornentertainment van het allerhoogste niveau. Een film die je doet schaterlachen, want zeg nu zelf: had je ooit verwacht dat je Jonah Hill als Robert Smith van The Cure in de schoolgangen zou zien rondlopen? Mooi niet dus!
Deze release is uitgebracht op Sony, uiteraard zowel op dvd als Blu-ray. Het schijfje staat boordevol extra's : vijf verwijderde en uitgebreide scènes, (korte) featurettes, line-o-rama en een commentaarband met regisseurs Phil Lord en Chris Miller, alsook de acteurs Jonah Hill en Channing Tatum.
Technische gegevens :
Beeld: 2.40:1 HD
Geluid: DTS HD - MA Engels 5.1, Frans 5.1
Ondertiteling: Engels, Frans, Nederlands, Hindi
Speelduur: 112 minuten
Didier BECU
20/10/2014
---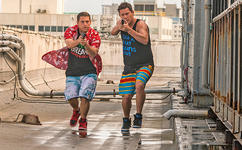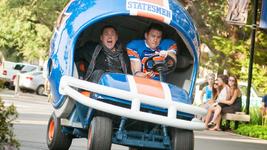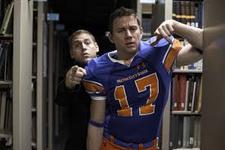 ---