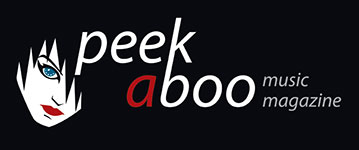 like this cd review
---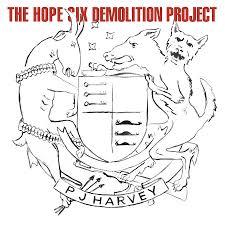 PJ HARVEY
The Hope Six Demolition Project
Music
•
CD
[90/100]

Island Records
09/12/2016, Benny CALUWE
---
A few months ago, I reviewed PJ Harvey's single The Wheel: a splendid rock track, supported by a hand clappy rhythm. It's a song about Kosovo's missing children. The title is a reference to a revolving swing-chair ride on a fair, but it also refers to returning cycles: the conflict in the Balkans and the current refugee crisis. I concluded that The Wheel is a great track and a fine foretaste for the upcoming album.
The Hope Six Demolition Project is PJ Harvey's 9th album. The title is a reference to the HOPE VI projects in the United States, where run-down public housing areas with high crime rates are demolished to make room for better housing, but with the effect that many previous residents can not longer afford to live there, leading to claims of social cleansing.
Opening track The Community Of Hope, that was released as a single, refers to the HOPE VI progamm as well. PJ Harvey travelled to Washington, together with filmmaker Seamus Murphy, where she was given a tour by Paul Schwartzman of The Washington Post. In the lyrics, Benning Road is called a pathway of death, Ward 7 is called a drug town inhabited by zombies and the local school is pointed out to be a shithole. Offended local politicians criticised Harvey when the single was released. That extra publicity paid off. With The Hope Six Demolition Project the British artist reached the highest place in the album charts for the first time in her career.
I took a plane to a foreign land, and said I'll write down what I find, Polly-Jean sings in The Orange Monkey. PJ Harvey and Seamus Murphy also travelled to Afghanistan and Kosovo in the past years. During her travels she wrote her poetry book The Hollow Of The Hand. On The Hope Six Demolition Project, the reporter Polly paints bleak images. The hard lyrics are often concealed by catchy melodies. Although there are plenty of contagious songs on the album, The Hope Six Demolition Project is a rather uncommon record that asks quite some effort of the listener. Male choirs (gospel) are often used and the saxophone is prominently present.
After the catchy opening track follows The Ministry Of Defence with chunky guitar chords and dissonant sax sections. The lyrics talk about the remains of a vandalised building with sprayed graffiti and fizzy drink cans, magazines and broken glass on the floor. The presence of human hair and a white jawbone tell us that this isn't a building you find everywhere, we are in Afghanistan. A Line In The Sand sounds dreamy, but shows the grim reality, seen through the eyes of a humanitarian aid worker.
Chain Of Keys starts with an eyewink to Morphine. In the ethereal River Anacostia, we hear tribal percussion. Near The Memorials To Vietnam And Lincoln invites to sing along. The track has some great woodwind parts. Medicinals starts up tempo and has a nice call and answer chorus. Afterwards, the rhythm drops dramatically. PJ walks in a mall and thinks about healing herbs growing in a field. She describes how a woman sits in a wheelchair, with her Redskinscap on backwards. She sips from a bottle, hidden in a paper bag: a new painkiller for the native people.
The Ministry Of Social Affairs is a bluesy track with a chaotic saxophone outro. After the brilliant The Wheel follows the sensitive Dollar Dollar. A bleak song with field recordings. Polly feels guilty after being confronted with a begging child.
On The Hope Six Demolition Project, Polly shows her versatility. The astonishing, eclectic album goes deep. Assisted by beautiful names such as long term partner in crime John Parish, Bad Seed Mick Harvey and top producer Flood, the multi-instrumental artist delivers another strong record. Like Billy Bragg phrased it: Polly-Jean sticks her nose in the smoldering fire and takes that smell home with her and into her songs.
Benny CALUWE
09/12/2016
---
Enkele maanden geleden nam ik de PJ Harvey-single The Wheel onder de loep. Een fraaie rocktrack, ondersteund door handgeklap. De song is een ode aan de vermiste kinderen van Kosovo en heeft zijn naam aan een ronddraaiend kermisrad. Het wiel verwijst ook naar zich herhalende cycli: de Balkanoorlog en de huidige vluchtelingencrisis. Ik besloot dat The Wheel een voortreffelijke song en een heerlijk voorproefje van de nieuwe plaat The Hope Six Demolition Project is.
The Hope Six Demolition Project, het 9e PJ Harvey-album, heeft zijn naam van de HOPE VI-projecten in de Verenigde Staten: verloederde sociale woningen in wijken met hoge criminaliteitcijfers moeten plaats ruimen voor betere huisvesting. Voormalige bewoners kunnen het zich daardoor niet langer veroorloven om in de buurt te wonen, wat wordt aangezien als sociale zuivering.
Openingstrack The Community Of Hope, die ook als single is uitgebracht, refereert eveneens aan het HOPE VI-programma. PJ Harvey reisde samen met filmmaker Seamus Murphy naar Washington en werd er rondgeleid door Paul Schwartzman van The Washington Post. In de lyrics wordt Benning Road als een pathway of death bestempeld. Ward 7 wordt omschreven als "a drugtown" vol zombies en de plaatselijke school wordt "a shithole" genoemd. Verongelijkte politici uit Ward 7 uitten kritiek aan het adres van Harvey. Die extra publiciteit legde PJ Harvey kennelijk geen windeieren. Met The Hope Six Demolition Project bereikte de Britse zangeres voor het eerst in haar carrière de eerste plaats in de albumcharts.
I took a plane to a foreign land, and said I'll write down what I find, zingt Polly-Jean in The Orange Monkey. Behalve naar Washington, reisden PJ Harvey en Seamus Murphy in de afgelopen jaren ook naar Afghanistan en Kosovo. Dat leverde eerder al haar dichtbundel The Holow Of The Hand op. Op The Hope Six Demolition Project schetst Polly als een soort reporter sombere taferelen. De harde teksten worden vaak verhuld door de aanstekelijke melodieën. Hoewel er redelijk wat toegankelijke songs op het album staan, is The Hope Six Demolition Project een eerder ongewone plaat die enige gewenning en inspanning van de luisteraar vergt. Er wordt vaak gebruik gemaakt van mannelijke koren (gospel zowaar) en de saxofoon is prominent aanwezig.
Na de catchy openingstrack volgt The Ministry Of Defence met een stevige gitaarriff en dissonante blazers. De lyrics beschrijven een gevandaliseerd gebouw zoals je die overal vindt met graffiti op de muren en blikjes, magazines en glasscherven op de grond. De aanwezigheid van mensenhaar en een wit kaakbeen maakt duidelijk dat dit geen gebouw is om het even waar, maar in Afghanistan. A Line In The Sand klinkt dromerig, maar schetst de rauwe realiteit die humanitaire medewerkers ervaren.
Chain Of Keys start met een knipoog naar Morphine. In het etherische River Anacostia horen we tribal percussie. Near The Memorials To Vietnam And Lincoln is een aanstekelijke meezinger met een opvallende rol voor de houtblazers. Medicinals start up tempo en heeft een leuk refrein met een vraag en (meerstemmig) antwoord. Tegen het einde zakt het tempo gevoelig. Polly loopt in een winkelcentrum en denkt aan geneeskrachtige kruiden die vroeger in de velden groeiden. Ze beschrijft hoe een vrouw in een rolstoel met een Redskinspet op haar hoofd uit een in een papieren zak verstopte fles drinkt: a new painkiller for the native people.
The Ministry Of Social Affairs is een bleustrack met een chaotische saxofoon-outro. Na het briljante The Wheel volgt met Dollar Dollar het gevoelige slotakkoord. Het is een sombere song met veldopnames. Polly verwoordt haar schuldgevoel nadat ze geconfronteerd is met een bedelend kind.
Op The Hope Six Demolition Project etaleert PJ Harvey haar veelzijdigheid. Het aanvankelijk bevreemdende, eclectische album blijft onvermijdelijk aan de ribben kleven. Bijgestaan door mooi volk als John Parish, Bad Seed Mick Harvey en topproducer Flood, levert de multi-instrumentaliste opnieuw een sterke plaat af. Zoals Billy Bragg zei: Polly-Jean duwt haar neus in de smeulende brandhaard en neemt die geur mee naar huis en in haar songs.
Benny CALUWE
09/12/2016
---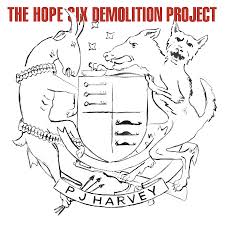 ---