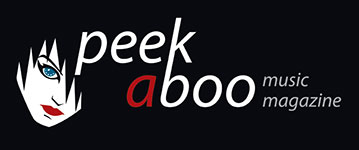 like this cd / vinyl review
---
PLASTIKSTROM
Beton Gegen Angst
Music
•
CD / Vinyl
Darkwave
•
EBM
•
Electro
[91/100]

Young & Cold Records
27/11/2019, Jurgen BRAECKEVELT
---
We have to go a long way back in time to get to the foundations of Plastikstrom. In 1991 Matthias Günzler was still the singer of the New Wave / Gothic band The Last Curtain, while Wimp, an old sandbox buddy of Matthias', was involved with the punk scene and Jürgen Schips was still skipping around in a school uniform. Bit by bit they were starting to find their kicks in the so called 'black scene'.
After the dissolution of The Last Curtain, Güzler becomes the singer of the band Darc Entries which later enlists Schips as the keyboard player. But the love for pure electronic music creeps in, so Schips and Günzler decide to start a side project in 1995, called Plastikstrom. They had not released new material since 2015.
However, today in 2019 they are back on the Young & Cold Records label with the stunning album 'Beton Gegen Angst'.
The musical style on this album is quite broad, from dark wave to EBM, to fairly minimalistic electro.
The title song 'Beton Gegen Angst' is a straightforward stomper. A stark dry rhythm section and fairly minimal input from synthesizers and basses. Beauty is often in (relative) simplicity. My favourite track on this album on the other hand proves that it can be also much sharper and faster: 'Grosny'. Up-tempo, melodic, with a solid rhythm section, mesmerizing and yet modestly aggressive. I don't even dare to say how many times I pressed the repeat button on this song… If you listen to the next song, you will notice that 'Tote Stadt' has much in common. Again a very strong track.
And what about a real plea for more exercise? Advertising sports on an EBM-inspired album? 'Wandertag' serves us this plea. A song about a weekly walking day, including hiking boots and a full backpack. With a big wink in the lyrics and vocals that tend to be both aggressive and ridiculous. But as a song is still stands strong!
'Mir Egal' is another absolutely great song (in-fact there seem to be almost only great songs on this album). In terms of structure, vocal work and orchestration, this is again all you can ask for.
'Alles Für Uns' is another dance floor killer/filler of an unprecedented high level. Aggressively pumping and thumping on all levels. Sounding intensively threatening and liberating at the same time.
Although Plastikstrom has not released that much since its 1995, this is a disc that deserves a place in the record collection of every electro lover. Please let this release be a harbinger of more!. Thirteen songs that are very firmly anchored on a rock-solid album. Available on CD and vinyl!
Jurgen BRAECKEVELT
27/11/2019
---
We moeten al een eind terug in de tijd om bij de grondvesten te komen van Plastikstrom. In 1991 is Matthias Günzler nog zanger van de New Wave / Gothic-band The Last Curtain. Wimp, een oude sandbox-buddy van Matthias Günzler zit nog in de punkscene, en Jürgen Schips huppelt nog rond in een schoolkostuum. Ze beginnen meer en meer in de zwarte scène hun gading te zoeken en te vinden.
Na de ontbinding van The Last Curtain is Günzler zanger bij Darc Entries. Vanuit die band gaan ze op zoek naar een toetsenist en zo wandelt Schips de band binnen. De liefde voor electronische muziek sluipt toch binnen, en Schips en Günzler starten een nevenproject. In 1995 wordt het finaal Plastikstrom. Het is intussen van 2015 geleden dat ze nog werk uitbrachten.
in 2019 zijn ze echter, op het Young & Cold Records-label, terug met een knaller, genaamd Beton Gegen Angst.
De muzikale richting is breed. Van darkwave naar EBM, tot vrij minimalistsch.
De titelsong Beton Gegen Angst is een rechttoe rechtane meestamper. Kurkdroge ritmesectie en vrij minimale inbreng van synthesizers en bassen. Schoonheid zit vaak in (relatieve) eenvoud. En dat het snediger mag en kan bewijst mijn favoriet op dit album: Grosny. Tempo, melodie, stevige ritmesectie, bewerend en toch zo ingetogen agressief. Ik durf niet te zeggen hoe dikwijls ik bij deze song op de repeat-knop heb gedrukt… Als u het nummer beluistert, zal u merken dat Tote Stadt uit hetzelfde vaatje is getapt. Geweldig sterk.

En wat te denken van een heus pleidooi om meer te gaan bewegen? Reclame voor sport op een EBM-geïnspireerd album? Wandertag bedient ons op onze wenken. Een song over de wekelijkse wandeldag. De wandelschoenen en een volle rugzak. Met een vette knipoog in de zang die zowel agressief als lachwekkend is. Maar qua song een absolute voltreffer.
Mir Egal is een volgende absolute topsong (hoewel er weinig andere dan topsongs op dit album staan…). Qua opbouw, zang en orchestratie is dit alles wat je kan verlangen.
Alles Für Uns is een dancefloorkiller van een ongezien hoog niveau. Agressief stoempend en dreunend in alle regionen. Intens dreigend en bevrijdend tegelijkertijd.
Hoewel Plastikstrom sedert zijn 1995 nog niet zo veel uitbracht, is dit een schijf die in de platenkast van elke electroliefhebber een plaats verdient. Laat het alstublieft een voorbode zijn van meer van dat. 13 songs die heel stevig verankerd zijn op een dijk van een plaat. Te verkrijgen op CD en vinyl.
Jurgen BRAECKEVELT
27/11/2019
---