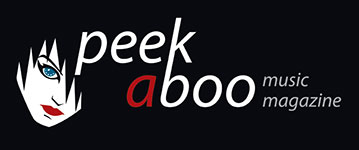 like this digital review
---
POLAR DUST
Into The Burning Water
Music
•
Digital
Darkwave
•
Indie
•
Post Punk
[95/100]

Self-released
11/01/2015, Wim GUILLEMYN
---
The band began eight years ago in Iceland. Around 2010 singer Sarah Eksteen went to South Africa where she reformed the band. It's not because they make music from the warm Johannesburg that it sounds hot. Not at all. When hearing this album, you think of Scandinavian groups, dark winter months, depressive mood or rolling fjords.
The artwork consists of acassette box with a USB stick. The cover looks like a Rorschach drawing.The album begins with Ejected, a dark instrumental with a high thin voice in the far background (or is it a sample?). It made me curious about the rest. The second song Drown in you is a winner. The song starts with drums and a gritty keyboard sound that accompanies the vocals. Sarah has at times even an angelic voice.
Dose of my Darkside is actually even better. Very catchy sung, synths that blend into the bass with a nice jazzy drum that evolves into a more traditional rock drum. Between the Lines is a wonderful darkwave song. One that lingers in my head. A humming bass, dark Cure-keys. A desperate song about someone who recognizes that her love is not the one she thought he once was. When she sings "I've been to heaven and I've been to hell. I will find my way. Between the lines...", I believe her. Paranormal Love not only has a pretty nice intro, but also fine guitar sounds with a layer of effects. Man Down at times is reminiscent of PJ Harvey, while Forgive but not Forgive is the instrumental outro of a very strong record.
Electro and guitar work are interwoven into a beautiful and homogenous whole. Sara has a nice voice to listen to. She can do a lot with her ​​voice. There is great attention for detail and there is much to discover. An album that you must have heard. A very nice discovery.
Wim GUILLEMYN
11/01/2015
---
De band begon acht jaar gelden in IJsland. Omstreeks 2010 vertrok de zangeres (Sarah Eksteen) naar Zuid- Afrika waar ze de band (her)vormde tot zijn huidige bezetting. Het is niet omdat ze nu vanuit het warme Johannesburg muziek maken dat die zuiders of warm zou klinken. Verre van. Bij het horen van dit album, ga je eerder aan Scandinavische groepen, donkere wintermaanden, depressieve stemmingen of glooiende fjorden denken. Het artwork bestaat uit cassettedoosje met daarin een usb-stick. De cover is precies een Rorschachtest-tekening.
Het album begint met Ejected, een donkere instrumental met een hoge ijle stem op de verre achtergrond (of is het een sample?). Daar hou ik wel van en het maakte mij nieuwsgierig naar de rest. Het tweede nummer Drown in you is meteen raak. Het nummer begint met drums en een gruizig keyboardgeluid dat de zang begeleidt. Sarah heeft bij momenten een engelachtig stemgeluid. Dose of my Dark Side is zowaar nog beter. Heel pakkend gezongen, synths die mooi samengaan met de bas en een fijne jazzy drum die halfweg naar een meer traditionele rockdrum evolueert. In het refrein gaat ze zelfs nog trapje hoger zingen.
Between the Lines is een heerlijke darkwave song. Een nummer dat in mijn hoofd blijft ronddwalen. Een brommende bas, donkere Cure-keys, een desperate zang over een iemand die inziet dat haar liefde maar van één kant blijkt te komen. Wanneer ze "I've been to heaven and I've been to hell. I will find my way. Between the lines… " zingt, dan geloof ik haar best.
Nerve begint redelijk donker met een zware gitaar om daarna het echte nummer tevoorschijn te toveren. Paranormal Love heeft naast een mooi intro, ook fijne gitaarklanken onder een laag effecten. In My Own Enemy beschrijft ze mooi hoe het aanvoelt als je zelf de pedalen aan het verliezen bent.
Bij Man Down denk je bij momenten aan PJ Harvey. Forgive but not Forgive is een instrumentale outro op een heel sterke plaat. Electro en gitaarwerk worden tot een mooi en homogeen geheel verweven. Waar de song het vraagt, wordt meer gitaar gebruikt en vice versa.
Sara heeft een aangename stem om naar te luisteren, die nu en dan overgaat in een ander stemregister. Ze kan veel aan met haar stem. In haar teksten lijkt niets vanzelf te gaan en lijkt niets goed af te lopen. Er is veel aandacht voor details en er valt veel te ontdekken. Een album dat je gehoord moet hebben. Mij laat het in elk geval niet meteen los en het zit al een tijdje in mijn playlist. Een heel fijne ontdekking waarvan ik hoop dat ze heel wat potten zal breken.
Wim GUILLEMYN
11/01/2015
---