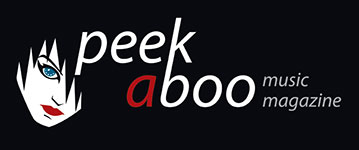 like this concert review
---
PSYCHIC TV
Antwerpen, Het Bos (28/03/2015)
Concert
Psych Rock
•
Psychedelic
•
Rock
•
Stonerock
[85/100]

29/03/2015, William LIÉNARD
---
On March 28, 2015, Psychic TV ended its European tour in artistic home The Boss, along the Ankerrui in Antwerp. Support act was Cassis Cornuta (Daniel Renders), who played a well appreciated more than 20-minute collage of noise and electronics.
The small stage was to be significantly transformed for Psychic TV, and to our surprise the American avant-garde composer Tony Conrad inspected the set before the artists came on stage. At 22:40 - the doors were open since 21:00 - the concert finally started with a dreamy and dark wave, as a kickoff for Silver Machine (Silver Sundown Machine, maxi single, 2012), which set the tone for the rest of the evening: pounding drums, screeching guitars, a lot of electronics and melodic songs. (from the recent album Snakes), with hard guitars (Alice Genese, Jeff Berner) and rumbling drums (Edward O'Dowd), lots of echo and the ambition of a stadium rocker, put the music hall on fire, and with the wah-wah-wah in the end, Genesis Breyer P-Orridge brewed a very highly rated singalong, with which he brought the audience to temperature. The extensive ballad-like Burning sounded very beautiful, again with heavy guitars and fierce drums, but also with piano sounds and a horny guitar as a bonus.
After a short break due to a technical malfunction (but very annoying beep), Psychic TV went into high gear with Hookah, in which we recognized parts of Love, War, Riot (maxi, 1989) and Suck or Know (Ultradrug, 1994). The audience went crazy, because this is pure arena rock as it is no longer made. At the end we heard psychedelic guitar sounds, little voices, distorted guitars and even monkey noises. And of course voodoo (the subject of the recent album) came up during the concert. After a long story about snake drinks and black & white powder, the beautiful Snakes began with staccato drums, sharp guitars and hissing sounds (snakes); a charming song, dark and threatening, with a hypnotic voice against a background of African drums. Full voodoo.
A musical joke to discharge the atmosphere (a short fifties rocker), was followed by two rockers (Greyhounds and Mountaineer), the first still slow and emphatically at the start, but then accelerating. Someone thought he recognized a fragment of a Captain Beefheart song, but we can't confirm the suggestion (not being a Beefheart fan), and the terrain was prepared for the last song of the set, the stunning rock ballad Have Mercy (Papal Breakdance, maxi, 1986), for which bassist Alice Genese gave vocal support. A beautiful end to a beautiful concert.
And then finally the encores. Jackie was Alice Genese's tribute to Lady Jaye, Gens deceased wife (2007), a ballad that he/she vocally supported, with minimal guitar sounds and barely audible shuffling drums. Beautiful and fragile. And those who were still not aware of the fact that this concert was beamed up from the seventies and/or eighties, finally saw the light in Suspicious, reminiscent of Lou Reed, but so beautiful and compelling.
William LIÉNARD
29/03/2015
---
Op 28 maart 2015 sloot Psychic TV z'n Europese tournee af in artistiek huis Het Bos, langs de Ankerrui in Antwerpen. Het voorprogramma nam Cassis Cornuta (Daniel Renders) voor zijn rekening, met een ruim 20 minuten durend geluidscollage van noise en elektronica.
Het kleine podium moest flink worden omgebouwd voor Psychic TV, en tot onze verbazing was het uitgerekend de Amerikaanse avant-garde componist Tony Conrad die de werkzaamheden kwam inspecteren. Omstreeks 22.40 uur – de deuren waren open sinds 21.00 uur – begon dan uiteindelijk het concert, en het was meteen duidelijk dat wie dit allemaal mee wilde maken, best niet meer rekende op het openbaar vervoer of op de service van de NMBS om veilig thuis te geraken. Met een dromerige en wat donkere wave werd de aftrap gegeven en Silver Machine (Silver Sundown Machine, maxi, 2012) zette meteen de toon voor de rest van de avond: bonkende drums, gierende gitaren, redelijk wat elektronica en melodieuze songs. After You are Dead (uit de recente album Snakes), met harde gitaren (Alice Genese, Jeff Berner) en roffelende drums (Edward O'Dowd), heel veel echo en de ambitie van een stadionrocker, passeerde hijgend en snoeihard, en met het wah-wah-wah op het einde werd een zeer geapprecieerde singalong gebrouwen waarmee Genesis Breyer P-Orridge het publiek op temperatuur bracht. Heel mooi was het uitgebreide en ballade-achtige Burning, opnieuw met stevig gitaarwerk en felle drums, maar ook pianogeluid en een hitsige gitaarsolo als bonus.
Na een korte onderbreking wegens een onduidelijk technische defect (maar een zeer storende pieptoon als gevolg), ging Psychic TV opnieuw in een hogere versnelling met Hookah, waarin we korte fragmenten uit o.a. Love, War, Riot (maxi, 1989) en Suck or Know (Ultradrug, 1994) herkenden. De zaal ging uit z'n bol, want dit is pure arenarock zoals die niet meer wordt gemaakt. Aan het slot zaten psychedelische gitaargeluiden, stemmetjes, distorted gitaren en apengeluidjes. En uiteraard mocht voodoo (het troetelkind van het recente album) niet ontbreken. Na een lang verhaal over slangendrankjes, zwart & wit poeder, werd het prachtige Snakes ingezet met staccatodrums, felle gitaren en sisgeluidjes (de slangen); een atmosferische song, donker en dreigend, met een bezwerende stem tegen een achtergrond van Afrikaanse drums. Helemaal voodoo. Na een grapje tussendoor om de sfeer te ontladen (korte jarenvijftigrocker) volgden nog twee snoeiharde rockers (Greyhounds en Mountaineer), waarvan de eerste nog traag en nadrukkelijk begon, maar daarna snelheid nam. Iemand meende een fragment van een Captain Beefheart-song te herkennen, maar dat kunnen we niet bevestigen (geen Beefheart-fan zijnde), doch het terrein was alvast voorbereid voor de laatste song uit de set, de prachtige rockballade Have Mercy (Papal Breakdance, maxi, 1986) waarvoor bassiste Alice Genese vocale ondersteuning leverde. Veel mooier kan een concert niet eindigen.
De encores dan. In Jackie bracht Alice Genese – een basgitariste met een indrukwekkende eigen carrière – een eerbetoon aan Lady Jaye, Gens in 2007 overleden echtgenote, een ballade waarvoor hij/zij zelf vocale ondersteuning leverde, met minimaal gitaargeluid en nauwelijks hoorbaar geschuifel van de drums. Mooi en fragiel. En wie het was ontgaan dat dit een concert was dat uit de jaren zeventig en/of tachtig leek te zijn opgebeamd, die werd er met z'n neus opgedrukt in het zeer naar Lou Reed lonkende Suspicious, dat niet zou misstaan op Transformer of Sally Can't Dance. Een mooie afsluiter trouwens voor een naar Psychic TV-maatstaven uitstekend concert.
Het Bos is een kleine locatie ten noorden van het Antwerpse stadscentrum en de concertzaal is goed voor zo'n 200 man. Tot onze grote verrassing mocht er worden gerookt in de zaal. Vreemd, want Het Bos is geen openluchtconcertpodium, maar wel degelijk en overdekte en gesloten ruimte. Maar dit is een punkkot!, was de reactie van één van de bezoekers. Wat dus betekent dat alles wat zich 'kot' noemt boven de wet staat? Als de wet op het rookverbod voor iedereen geldt, dan ook voor Het Bos? En als Het Bos toevallig in een pand van de stad Antwerpen zou zijn gehuisvest, wat is dan de rol van de schepen van Cultuur?
William LIÉNARD
29/03/2015
---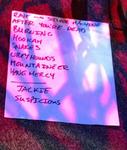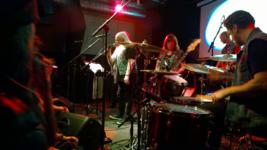 ---