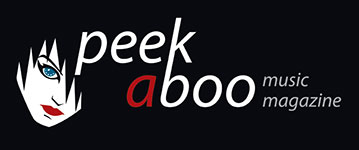 like this concert review
---
QUAL
Brussels, Beursschouwburg (11/01/16)
Concert
13/01/2016, Jurgen BRAECKEVELT
---
On a rainy Monday night we went to Brussels, still feeling the rhythm of the weekend. After strolling through the city of Brussels and the company of some rain drops, we went towards the Beursschouwburg (venue-ed.) The black box was our destiny. It's tiny, and with 38 music fans completely sold out! Mad About Music presented someone special on 11th January: William Maybelline, the half of Lebanon Hanover, who was here to present his project Qual. The majority of the audience sat on the three steps, but your reporter was standing. Sitting down during such a performance? Of course not!
The whole masterpiece Sable was played. IIt was not a question of starting the machines and performing some lyrics! No, the man used the three square meters of the stage for the most frenetic dance antics we've seen since Ian Curtis. He moved, he contorted, he enjoyed and he was full of emotion. The way Maybelline performs his music is almost beyond human. It is full of integrity and full of depth. The way the pain is reflected in his vocals is touching. The stone walls were vibrating because of the hard sound, and that in a venue with the size of a doghouse.
The basses were given some extra strength, and sometimes it sounded a bit like EBM. The audience enjoyed it, even though seated. Maybelline's emotion is not played, the cry is not hypocritical, it comes straight from his body. Regularly he slammed with full force on his flight case with a steel chain, so the energy became more intense. What a great musician and performer!
When I left the Black Box, there was still that same rain, the cold hit me, the winter was coming, and I got the feeling: damn, I already saw the best show of the year. Heavenly!
Jurgen BRAECKEVELT
13/01/2016
---
Op een druilerige maandagavond trokken we naar Brussel, het weekend nog maar half verteerd. Na een wandelingetje door Brussel en vergezeld van wat regendruppels gingen we de richting van de Beursschouwburg uit. En dan afdalen naar het heilige hok: de zwarte doos. Piepklein en met 38 muziekliefhebbers meteen uitverkocht! Mad About Music had op 11 januari iemand extra uitgenodigd, nl. William Maybelline, de helft van Lebanon Hanover die er met zijn project Qual kwam optreden. Het overgrote deel van het publiek zat op de 3 treden in de Black Box, maar uw verslaggever stond recht. Zitten bij zo'n optreden? Natuurlijk niet!
Het volledige meesterwerk Sable werd opgevoerd. En niet zomaar pijlsnel de machinerie op gang trekken en de teksten afratelen. Neen, de man benutte de drie vierkante meter van het podium met de meest krampachtige danscapriolen die we sedert Ian Curtis hebben gezien. Hij bewoog, hij verkrampte, hij genoot en zat vol emotie. De manier waarop Maybelline zijn muziek brengt is bijna vloorbij het menselijke. Ze zit vol integriteit en wordt met diepgang gebracht. De manier waarop de pijn doorklinkt in de vocalen is aandoenlijk. Reken daarbij ook nog het feit dat het geluid letterlijk de stenen muren deed trillen en je hebt een idee van hoe de sfeer in een zaal was, die amper de grootte van een veredeld hondenhok heeft.
De bassen werden met extra kracht bijgezet en soms ging het in de richting van EBM uit. Het kwam op ons af en het raakte ons. Het publiek genoot, hoewel zittend, van een stevige set, net zoals Maybelline die zichzelf volledig overgaf. De emotie is niet gespeeld, de schreeuw die weerklinkt is niet geveinsd, maar het komt regelrecht uit zijn verkrampte lijf. Met een stalen ketting ramde hij regelmatig met volle kracht op een flightcase zodat de energie nog meer ventileerde. Vocaal is hij misschien niet het allerbeste talent, maar wat een geweldige muzikant én performer! Tijdens het laatste nummer werden alle registers nog een keer volledig opengetrokken. Of toch niet, het publiek vroeg om meer en kreeg dat ook met een kersvers nummer dat alweer hard en meedogenloos klonk.
Toen ik de zwarte doos verliet, was er nog steeds diezelfde regen, de kou overviel me, de winter net iets meer tastbaar, en ik kreeg het gevoel: verdomme, ik heb nu al het beste optreden van dit jaar gezien. Hemels!
Jurgen BRAECKEVELT
13/01/2016
---
---