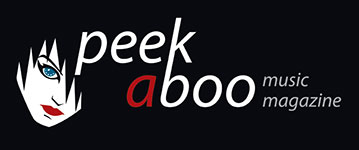 like this concert review
---
QUEEN KWONG, LUSHES
Ghent, De Charlatan (05/12/2015)
Concert
06/12/2015, Didier BECU
---
Since long, De Charlatan is a venue (in Ghent, Belgium) that is known among music fans as a rock temple in which already many fine musicians played. Even if you did not notice it as a result of the small crowd (we guess 50), a super group was on stage. Ten years ago Queen Kwong was discovered by NIN frontman Trent Reznor and today she shares the stage with Fred Sablan (indeed, the bassist of Marilyn Manson) and Wes Borland (yes, the guitarist of Limp Bizkit).

First our ears were spoiled by Lushes. Singer James Ardery apologized for the fact that the night before he was drunk. Indeed, James, just like drummer Joel Myers, looked as if he just got out of bed. However, the two noise makers performed a powerful set that can be situated somewhere between Nivana (that voice!) and Dwarves (that noise!). The duo has been around for ten years now, and although their experimental noise grunge can't be considered as popular, the two showed that they are able to have a concert hall under their (noisy) spell within minutes.
Pretty soon afterwards, Queen Kwong appeared on the stage. This band is formed by singer Carré Callaway, whose singer-songwriter material was noticed by Trent Reznor, and who asked her to go on tour with him. Afterwards, Carré momentarily disappeared from the music scene and rose again as Queen Kwong, and Trent asked her for a second time to go on tour with Nine Inch Nails.

Today, however, she's not the support of Nine Inch Nails, and it is clear that in Belgium only a few people know who she is. That is very sad, because you rarely saw such a rock chick at work. The musician from Los Angeles knows what rock 'n' roll stands for, which is not syrprising as her father owned a hip goth club. Musically, the tunes are a bit the same (just think of Hole with a good dose of Suicide), as the songs are at times a bit too monotonous. No worries thought as you got excitement, with the hyper-nervous and sexy Carré who was walking among the public like a madman. There was no verbal contact with the public, and they even refused to give an encore (the microphone that was smacked to the floor at the end of the show speaks for itself), but Queen Kwong is a rock sensation. So far, Ghent is not in love with her, but the few people who showed up at De Charlatan last Saturday night, certainly are!
This concert review is a colloboration with Concert Monkey.
Didier BECU
06/12/2015
---
Binnenkort is De Charlatan het decor voor de nieuwste film van Felix Van Groeningen, maar voor heel wat muziekliefhebbers is deze club op de Vlasmarkt in de eerste plaats een rocktempel waar al menig schoon volk op de scène stond. Ook al merkte je het niet aan de opkomst, stond er een supergroep op het podium. Queen Kwong werd tien jaar geleden ontdekt door NIN-frontman Trent Reznor en zij staat tegenwoordig samen met Fred Sablan (inderdaad, de bassist van Marilyn Manson) en Wes Borland (jawel, de gitarist van Limp Bizkit) op het podium. En dat voor zo'n 50 gelukkige mensen die het belangrijk vonden om de concertagenda uit te pluizen.
Eerst werden we verwend door Lushes. Zanger James Ardery verontschuldigde zich voor het feit dat hij de avond daarvoor net iets te diep in het glas had gekeken. James zag er inderdaad, net als drummer Joel Myers, uit alsof hij net uit zijn bed was gevallen. Dat belette de twee lawaaimakers echter niet om een krachtige set neer te zetten die ergens het midden houdt tussen Nivana (die stem!) en Dwarves (dat lawaai!). Het duo is al tien jaar bezig, en ofschoon hun experimentele noisegrunge niet echt populair genoemd kan worden, toonden de twee dat ze in staat zijn om een concertzaal binnen enkele minuten in te palmen.
Vrij vlug nadien verscheen Queen Kwong op het podium. Deze band wordt gevormd door zangeres Carré Callaway, die toen ze nog singersongwritermateriaal maakte, werd opgemerkt door Trent Reznor, die haar prompt mee op toer vroeg. Nadien verdween Carré eventjes van de muziekradar en verrees ze nadien als Queen Kwong en mocht ze nadien voor een tweede keer met Nine Inch Nails de wereld rond. Vandaag stond ze er echter alleen voor, en het is duidelijk dat in België niemand van haar bestaan afweet. Dat is bijzonder triest, want zelden zag je zo'n rockchick als Carré aan het werk. De muzikante uit Los Angeles weet waar rock 'n roll voor staat, wat niet zo moeilijk is als je vader de eigenaar is van een hippe gothclub. Muzikaal tapt ze misschien net iets te veel uit hetzelfde vaatje (denk aan Hole met een flinke dosis Suicide), maar de soms wat te monotone nummers worden mooi opgevangen door een hypernerveuze sexy Carré die als een bezetene door het publiek loopt. Verbaal contact met het publiek wordt niet gezocht, en men vindt het zelfs niet nodig om een bisnummer te geven (de microfoon die op het einde op de grond wordt gesmakt, spreekt boekdelen), maar Queen Kwong is een rocksensatie. Tot dusver ligt Gent niet aan haar voeten, maar de weinige aanwezigen in de Charlatan deden dit zaterdagavond wel!
Deze concertbespreking is ezen samenwerking met Concert Monkey.
Didier BECU
06/12/2015
---