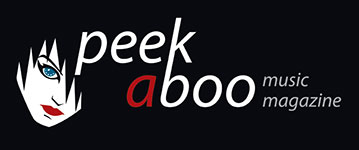 like this cd review
---
RELIGIOUS TO DAMN
Glass Prayer
Music
•
CD
Gothic
•
Indie
•
Rock
[97/100]

13/06/2011, Ward DE PRINS
---
I was tipped off by a friend to listen to Religious To Damn. He compared the singer to Kate Bush. I was immediately intrigued.
The album begins with "To Love The Machine", initially simple acoustic guitar and cymbals, where the Afghan-American singer Zohra Atash pontificates as Patti Smith in her twenties. Patti's biting, angry nature gets more polished over here and Zohra's voice carries us directly away, with her intensity and full sound. By the way, Zohra is not only a blessed singer but also a multi-instrumentalist. Traditional Middle Eastern instruments such as the rubab and harmonium are seamlessly incorporated alongside modern guitars and synthesizers.
In the next song, "Drifter", this intriguing voice gets a divine rocking accompaniment that makes me just repeat my previous comparison. These delightful rocking guitars may luckily often appear on the album. Zohra's vocal range is very broad and her melancholic high and mesmerizing low notes can easily increase the intensity.
"Glass Prayer" begins almost as a Siouxsie-tune, but it gets a melancholic and almost poppy arrangement and high vocals, almost like Kate Bush, delicious. The same inspiration can also be found in "Let The Fires Burn", where sometimes you would swear your listening to Kate. The arrangements are however more obscure and more melancholy than La Bush would dare to use. Delicious nostalgia through the full sound of that tight drum accompaniment, great electric guitar, percussion, strings and Zohra's beautiful voice.
To list some more celebrities, "Serpent Song" makes me think about Cocteau Twins. The melancholic voice softly narrates and occasionally intense wails on the gently rippling music. It is so well balanced and creates the perfect atmosphere, similar to the Twins.
In the upbeat "Terra" electric guitars and fantastic drum create a great riff, onto which Miss Atash can throw open all the vocal stops - wonderfully intense.
The album is so diverse but it still represents a coherent piece. Even the tenth and final song, where semi-experimental noise of different instruments form the basics, fits beautifully. Noise with strings and acoustic guitar in an ethnically tinged song, where Zohra can blow us away a last time with her high voice.
Great album, great compositions, great voice!
Stupid that our rating system allows no decimal places, otherwise it was a big 9.7 / 10 (perfection simply does not exist, so a 10 is not likely for me, although this would be in the neighbourhood, and so, in our current rating system, a very big 9 - I should urgently appeal our webmaster to adapt this rating system :-)
Let's just hope that some concert organizers will bring this group very swift to Belgium.
[editorial note: the rating system changed in June 2011, hence a score of 97/100 was possible]
Ward DE PRINS
13/06/2011
---
Religious To Damn werd me getipt door een Gents smurfje waarbij de zangeres werd vergeleken met Kate Bush. Ik was onmiddellijk geïntrigeerd.
Het album begint met "To Love The Machine", aanvankelijk sobere akoestische gitaar en cimbalen waar de Afghaans-Amerikaanse zangeres Zohra Atash overheen orakelt als Patti Smith in haar twintiger jaren. Patti's bitsigheid is hier evenwel weggepolijst en Zohra's stem sleept ons onmiddellijk mee, zowel door haar intensiteit alsook haar mooie volle klant. Zohra is overigens niet alleen een begenadigd zangeres maar ze speelt ook een veelvoud aan instrumenten. Traditionele instrumenten uit het Midden-oosten zoals de rubab en de harmonium worden naadloos in de muziek geïntegreerd, tezamen met elektrische gitaar en synthesizer.
In het volgende nummer, "Drifter", krijgt deze intrigerende stem een zalig rockende begeleiding die me enkel mijn eerste vergelijk doet herhalen. Deze zalig vettig rockende gitaren mogen in dit album gelukkig vaak aantreden. Zohra's stembereik is echter zeer ruim en ze kan zowel met melancholische hoge alsook bezwerende lage noten de intensiteit opdrijven.
"Glass Prayer" begint als een Siouxsie-tune maar krijgt, door het melancholische en haast poppy arrangement en hoge vocalen een groot Kate Bush gehalte, heerlijk. Diezelfde inspiratie vinden we ook terug in "Let The Fires Burn", waarbij je soms zou zweren te luisteren naar Kate. De arrangementen zijn evenwel meer duister en meer melancholisch dan La Bush deze durft uitvoeren. Heerlijke weemoed door het mooie volle geluid van die strakke drumbegeleiding, heerlijke elektrische gitaar, percussie, strijkers en Zohra's prachtige stem.
Om het lijstje coryfeeën nog maar wat uit te breiden denk ik bij "Serpent Song" aan Cocteau Twins. De weemoedige stem die zachtjes verhaalt en af en toe intens jammert op de zacht voortkabbelende muziek is zo goed uitgebalanceerd en schept de perfecte vergelijkbare sfeer.
In het uptempo "Terra" creëren de elektrische gitaren en intense drum een fantastische riff waartegen Miss Atash alle registers mag opengooien – wonderbaarlijk intens.
Het album is zo divers en vormt tegelijkertijd toch een coherent geheel. Zelf het tiende en laatste nummer dat aanzwengelt met semi-experimentele noise van de verschillende instrumenten past prachtig in het geheel. Noise die met strijkers en akoestische gitaar in een etnisch getint nummer mag overgaan waarover Zohra een laatste maal met hoge stem uithaalt.
Fantastische plaat, heerlijke composities, superzalige stem!
Dom dat ons beoordelingssysteem geen cijfers na de komma toelaat, anders was dit een dikke 9,7/10 (de perfectie bestaat nu eenmaal niet, een 10 kan dus quasi niet voor me, al komt dit aardig goed in de buurt, en in ons huidig puntensysteem dus een hele hele dikke 9 - ik moet dringend die webmaster eens aanspreken om dat systeem aan te passen :-)
En nu maar hopen dat er snel concertorganisatoren zijn die deze fantastische groep naar België brengen.
[noot van de redactie: het beoordelingssysteem werd aangepast in juni 2011, waardoor een score van 97/100 nu wel mogelijk is]
Ward DE PRINS
13/06/2011
---