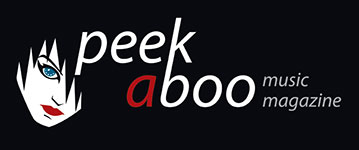 like this movie classics review
---
RICHARD LESTER
A Hard Day's Night
Movie
•
Movie classics
Musical
[70/100]

Dutch FilmWorks
08/07/2014, Didier BECU
---
You never will hear me answer the historical question if The Beatles are the best band of all time or not. Who can anyway? Fact is that you'll never find one band about whom so much has been written. There are books penned down about every phrase or musical note that is made by the Fab Four. Some even made Beatlemania a science, and it probably is. If you're fan or not, you absolutely have to agree that the four lads from Liverpool were always first. That's one of the reasons why A Hard Day's Night is considered as revolutionary. Without really wanting it, director Richard Lester who previously worked with Peter Sellers became the inventor of today's video clip. That is also why the movie was made for: getting fans to the theatre and hoping that afterwards they run to the record shop to buy the album. It's a trick producers from across the Atlantic Ocean already did with Elvis Presley, but there's a huge difference between them.


When the film saw its premiere on 6th July 1941 the band stood at the verge to conquer the whole world. At that moment the four lads had two albums out. Their manager Brian Epstein thought it'd be a good idea if their third album would contain only selfwritten tunes. It was of course important that the world could hear them. Nothing better than present them in a movie and so the band were put in touch with Richard Lester. A success as the movie gained two Oscar-nominations and one for a Grammy too. It looked like the filmmaker was pleased too as a year later, he teamed up with them for Help!


The story itself isn't important and rather silly. But so what? The four guys just played themselves. We follow Paul, John, George and Ringo from Liverpool to London. On their journey they meet Paul's (fictional) grandpa (Wilfrid Brambell) who causes chaos. The four are awaited in a television studio, but they are involved in so many adventures that it seems like they will miss their goal.


The funniest thing about the movie is that The Beatles never take themselves seriously. Something you can't say from Elvis whose rock musicals are at times quite silly. No, those guys from Liverpool are just the lads who they really are: four youngsters who still can't understand that British teenage girls faint when they see their faces. You really can't say that the four pop stars can act, but they're born to parade in front of a camera. The funniest of them all is, strangely enough, drummer Ringo Starr. The producers were so smart to make this production black and white that gives it a more authentic look. The movie also has influenced many others. Not only is the movie seen as the birth of the modern video clip, but it was also the great example for what later would be known as Monty Phyton.


And of course you have the songs. First of all there's the legendary title sing that's been written in one night, but you can also hear classics like Can't Buy Me Love, And I Love Her , I Should Have Known Better and If I Fell.

The version that you find on this 50th anniversary edition is a special one as it is the same restored version that was released on Criterion. The sound is remastered by Giles Martin (the son from Beatles producer George Martin) in the Abbey Road Studios.


There are lots of extra's included on here with a total length from about four hours! First of all there is You Can't Do That: a sort of making of-documentary that is presented by Phil Collins. The frontman from Genesis has all the right to do this as he was as a young boy one of the figurants of A Hard Day's Night!


In Things They Said Today you can see some conversations with director Richard Lester, producer George Martin, writer Alun Owen and filmmaker Gilbert Taylor. Anatomy Of Style is about the methods Richard Lester is using: a typical British director who had lots of Hollywoodfame during the 70's with Superman.


Fifty years after its release, A Hard Day's Night still has a fresh cinematographic look. It's certainly not a coincidence that the legendary critic Roger Ebert put him in the list from best rock movies ever.


A Hard Day's Night is out on DVD and Blu-ray.
Didier BECU
08/07/2014
---
Op de vraag of The Beatles nu wel of niet de allerbeste groep aller tijden zijn durf ik me niet uit te spreken. Wie wel trouwens? Feit is wel dat er over geen enkele band zo veel inkt is gevloeid als over de Fab Four. Over zo wat iedere uitspraak of muzieknoot van de heren zijn volledige boeken geschreven, de Beatlemania werd bijna een wetenschap (als het dat al niet is!). Of je nu fan bent of niet, moet je toch toegeven dat de vier gabbers uit Liverpool altijd de eerste waren. Dat is ook de reden waarom A Hard Day's Night zo'n revolutionaire prent is. Zonder het echt te beseffen werd regisseur Richard Lester die voordien vooral met Peter Sellers samenwerkte tot de uitvinder van de videoclip gekroond. Dat was ook louter de functie van de film: volk naar de bioscoop lokken om hun nadien nog eens naar de platenwinkel te sturen om de lp te kopen. Over de Atlantische Oceaan deed men dat al een tijdje met Elvis Presley, toch is er een enorm verschil tussen de twee.



Toen de film vijftig jaar geleden op 6 juli 1964 in première ging stond de groep aan de rand van een wereldwijde doorbraak. De vier muzikanten hadden op dat moment twee lp's uit, en het derde album moest hun van absolute wereldroem voorzien. Hun manager Brian Epstein dacht dat de tijd rijp was om zijn vier volgelingen een plaat vol eigen nummers te laten uitbrengen. Het was natuurlijk ook belangrijk dat de wereld die nieuwe nummers zou horen en daarom brachten de grote bonzen The Beatles met Richard Lester samen. Een succes omdat de film met twee Oscarnominaties en een Grammy-nominatie werd bekroond. Het is blijkbaar de Britse regisseur goed bevallen, een jaartje later regisseerde hij immers met hun opnieuw de opvolger Help!


Het verhaal is eigenlijk van zeer ondergeschikt belang. In deze film spelen The Beatles gewoon zichzelf. We volgen Paul, John, George en Ringo van Liverpool naar Londen. Onderweg komen ze Pauls (fictieve) opa (Wilfrid Brambell) tegen die voor de nodige chaos zorgt. De vier worden in een televisiestudio verwacht, maar onderweg halen de vier heel wat fratsen uit waardoor het er naar uitziet dat ze hun uiteindelijke doel niet zullen halen.


Het leukste aan deze film is dat The Beatles zichzelf nooit serieus nemen. Iets wat je niet kan zeggen van bijv. Elvis waardoor zijn rockmusicals eerder wat potsierlijk lijken. Neen, deze jongens zijn gewoon zichzelf: vier kerels uit Liverpool die het nog steeds niet kunnen begrijpen dat de Engelse meisjes hun stem kapot krijsen waanneer zij in aantocht zijn. Je kan moeilijk beweren dat de vier popsterren geboren acteurs zijn, wel zijn ze geboren om voor de camera's te schitteren. De grappigste van de hoop is, raar maar waar, drummer Ringo Starr. De producers waren zo verstandig om deze productie in zwart-wit uit te brengen waardoor de film vandaag nog een grotere meerwaarde heeft. Het is ook een film die vele anderen heeft beïnvloedt. Niet alleen werd A Hard Day's Night de basisversie van de moderne videoclip, ook zouden later hun fratsen het grote voorbeeld van Monty Phyton worden.


Uiteraard zijn er ook de songs. Allereerst is er het legendarische titelnummer dat nota bene op één nacht tijd werd geschreven. Verder hoor je klassiekers als Can't Buy Me Love, And I Love Her , I Should Have Known Better en If I Fell.


De versie die je op deze jubileumeditie te zien krijgt is niet zo maar de eerste de beste. Het gaat immers om de gerestaureerde versie waarvan het geluid door Giles Martin (de zoon van Beatles-producent George Martin) in de Abbey Road Studios werd herwerkt. Eerder was deze transfer alleen maar in de VS via Criterion verkrijgbaar, maar vanaf nu ook in de Benelux via Dutch Film Works en in Engeland via Second Sight Films.


Er staan heel wat extra's op deze uitgave, in totaal zelfs meer dan vier uur! You Can't Do That is een uitgebreide making of-documentaire die aan elkaar wordt gepraat door Phil Collins. De gewezen Genesis-man heeft recht van spreken, want hij was als jonge knaap één van de figuranten in A Hard Day's Night!


In Things They Said Today zijn er gesprekken met regisseur Richard Lester, producer George Martin, schrijver Alun Owen en filmmaker Gilbert Taylor. Anatomy Of Style is een bonus die het over de methodes van Richard Lester heeft, een typische Britse regisseur die in de jaren 70 Hollywood inpalmde met zijn Superman-verfilming. Ook de extra In Their Own Voices is een hebbeding voor Beatles-fans.


Vijftig jaar na datum oogt A Hard Day's Night op cinematografisch vlak ontzettend fris, het is dan ook niet zo maar dat de legendarische filmcriticus Roger Ebert de prent in zijn lijstje van allerbeste rockfilms plaatste.

A Hard Day's Night is nu op dvd en Blu-ray uit.
Didier BECU
08/07/2014
---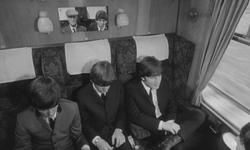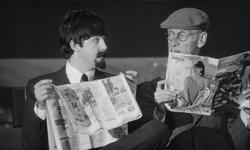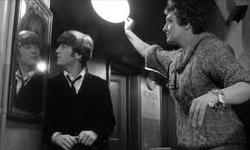 ---